Clemson Football
'Something to prove' brings Favre, Swinney together
---
---
CLEMSON -- Towards the end of his pro football career, quarterback Brett Favre played every game more and more as if he had something to prove.
That was his mindset.
The NFL Hall of Famer was a 20-year veteran of the NFL, and we believe he probably still thinks he can throw with the best of them. No matter how old he may have seemed on the field, he could still sling it and continued to play like one of the most historical quarterbacks of all time.
During the course of his career, Favre collected plenty of accolades. He's the only player in NFL history to collect three consecutive MVP awards. He still holds records for most consecutive starts (297, 312 including playoffs), completed passes, and pass attempts. Favre is also a champion, winning a Super Bowl ring in 1996 with the Green Bay Packers.
So how did he end up on Clemson's campus for the day?
Well, that story took place before Favre's professional days even began. In 1990, Dabo Swinney, a sophomore at the University of Alabama, played against Favre when Favre was a senior at Southern Mississippi.
Fast forward to April 2018 where Swinney and Favre crossed paths once again. Swinney was speaking at an event at Southern Mississippi and the two got to hang out for an hour right before it began. The two southern football players hit it off, exchanged numbers, and have been friends ever since.
Swinney always admired Favre as a competitor. He even admitted Wednesday night that one of his dreams was to catch a pass from him. Fortunately for Swinney, that dream came true on Wednesday night in sort of a different way when Swinney invited Favre out to practice.
The head coach has a practice routine of throwing the football with a manager while the team warms up and stretches. Wednesday, with Favre on the field, there was a substitution.
"I traded out the manager today for Brett Favre," Swinney said. "That was a little different velocity coming at me. It was really cool."
"I traded out the manager today for Brett Favre," Swinney said. "That was a little different velocity coming at me. It was really cool."
Favre got on campus early Wednesday morning and spent the entire day with Swinney and his team. The 11-time Pro Bowler had never been to Clemson before so Swinney took full advantage of it. Favre sat in on a team meeting and got to talk with the players for a while.
Yes, even a Hall of Famer couldn't resist watching the Clemson quarterback battle firsthand.
"We always bring in different people from time to time just to kind of give a different voice and another perspective," Swinney said. "Here's a guy that played 20 years in the NFL and obviously has a very documented career.
"He's exactly how you think he is - great with the guys, very interactive," Swinney continued. "He kind of had some things he wanted to talk about in the meeting and he kind of opened it up and went wherever the players wanted to go."
There's another reason Swinney wanted Favre to be around the program he's built. There's something the former NFL quarterback and wide receiver from Alabama have in common.
On Friday before Clemson's first practice, the national championship-winning head coach said the mission this August camp was to come out with the mentality of still having something to prove. Clemson has the pieces, the ranking, and all the outside praise in the world, and the goal is to prove everyone right.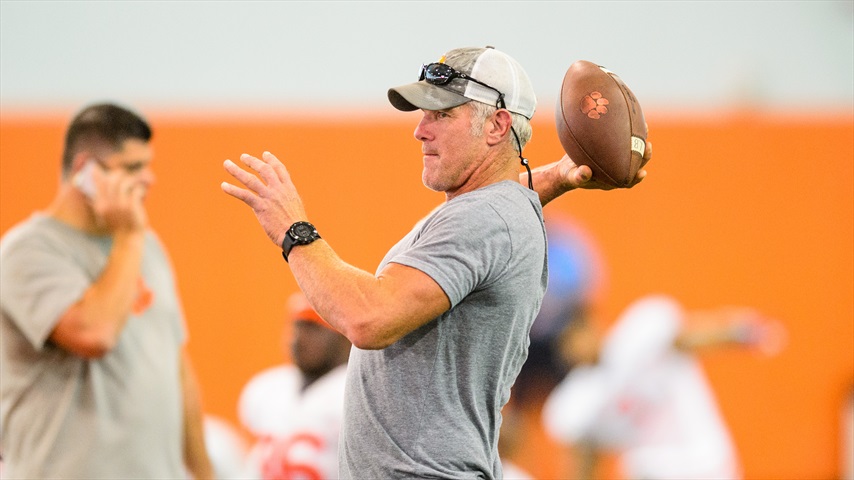 Clemson Sports Talk
"I come to work every day and I have something to prove," Swinney said Friday. "To me, I am still an interim head coach that has to prove I can lead this program every single day… That is something that you have woven in your culture and you reinforce that when you get those opportunities."
Favre had that same type of leadership and mentality all throughout his football career. Ever since before the duo met on the playing field in 1990.
Having Favre, and outside source, around the team to reinforce Swinney's value of "something to prove" could only have tightened the cultural grip Swinney has on his program.
"He always had that mindset of something to prove."
"He always had that mindset of something to prove," Swinney said. "That's one of the things that made him great is no matter how many touchdowns he threw or whatever, he kind of approached every day with something to prove. I think that's the kind of mindset that you have to have to be great at anything and to sustain success."
It sounds like Clemson heard the message loud and clear. After a bit of a sloppy Tuesday practice, the intensity and competitiveness was there for all 11 periods of Wednesday's practice.
It was pretty cool to watch an NFL champion/Hall of Famer play catch with a national championship coach as if it was a backyard on Thanksgiving Day.
The two friends have a connection - something in common - so naturally, Swinney had to get Favre to where the Blue Ridge yawns its greatness for a visit.
Never miss the latest news from Clemson Sports Talk!
Join our free email list