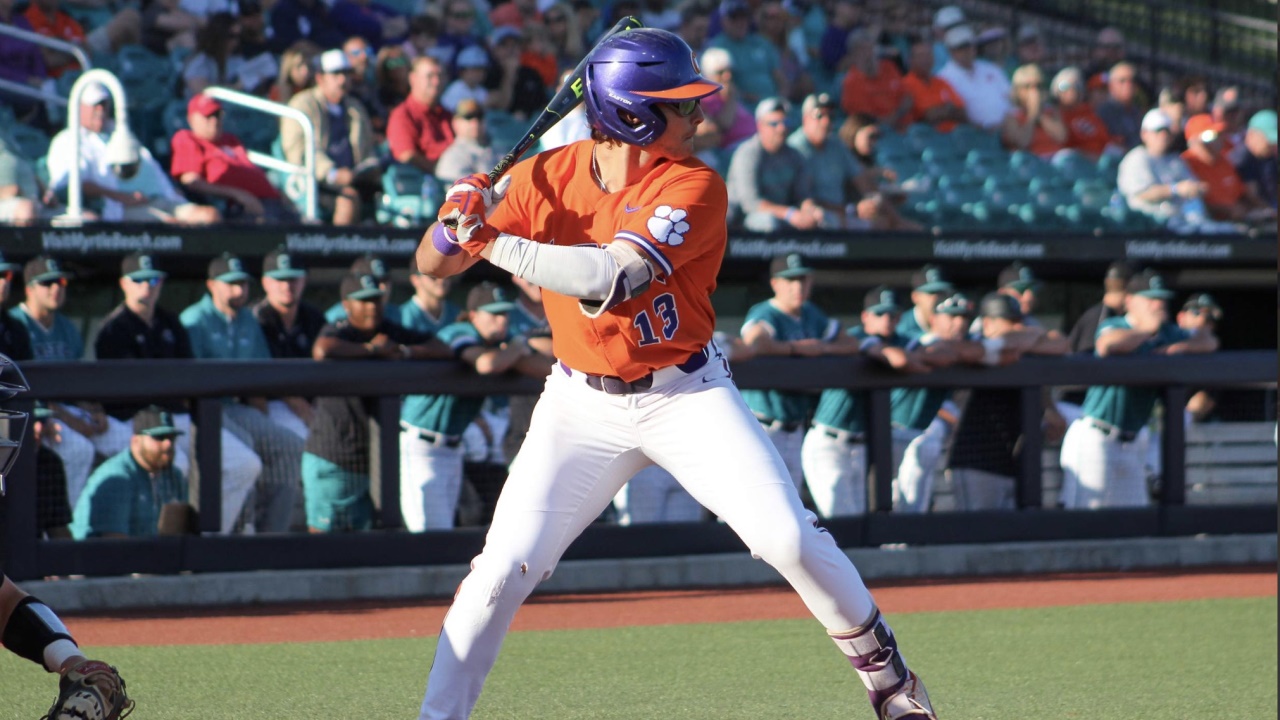 Photo by www.ClemsonTigers.com
Clemson Baseball
Clemson falls to Boston College in extra innings in first game of ACC Tournament
---
Peter Burns' hard-hit ground ball off Chad Fairey's glove gave the Boston College Eagles a 6-5 lead in the top of the 11th inning they would not give up. The error was deflating, and a Dante Baldelli single on the very next at-bat scored the important insurance run as the Eagles defeated the Tigers 7-5 in the first game of pool play in the ACC Tournament.
It was Boston College's first win in the ACC Tournament since 2010.
The Eagles scored seven runs on 11 hits and a season-high four home runs.
Cody Morissette had only hit two home runs total all season for the Eagles as he entered the ACC Tournament. But against Clemson, the second baseman hit two home runs to elevate the Eagles to a 5-2 lead over the Tigers.
Morissette hit two, Joe Suozzi hit one in the fourth inning, and Brian Dempsey hit one in the eighth to give the Eagles their three-run lead. The trio of Eagles had combined to hit six home runs all season long, but hit four on Tuesday against the Tigers.
The Tigers had plenty of chances all afternoon, including in the bottom of the tenth inning with runners on second and third with two outs. Michael Green, who broke through Clemson's threshold of not scoring runners in scoring position to tie the game 5-5 in the eighth inning, hit a hard ground ball to second which ended the inning and brought a collective sigh from Clemson fans everywhere.
The Tigers collectively had seven hits on five runs but left 11 runners on base. Clemson batted 2-for-14 with runners in scoring position.
Grayson Byrd, the reigning ACC Player of the Week, was red hot coming into Tuesday's contest with 10 home runs in the last 13 games. He went 0-for-6 on Tuesday and left seven runners on base by himself, including in the seventh inning when he had the bases loaded with two outs. Kyle Wilkie also went 0-for-4 and ended the game by striking out looking.
Joey Walsh, who pitched three innings in relief for the Eagles picked up the win. Carson Spiers, who pitched 2.1 innings in relief in extras received the loss. The Tigers threw eight pitchers total during Monday's loss.
The Tigers are one of three ACC teams in the last five in, according to D1 Baseball. If they lose to No. 1 seeded Louisville on Thursday, things could get a bit tricky in terms of their NCAA Tournament hopes. Nonetheless, Thursday's contest is important for Monte Lee's club.
The Tigers play Louisville on Thursday at 11 a.m.
Never miss the latest news from Clemson Sports Talk!
Join our free email list