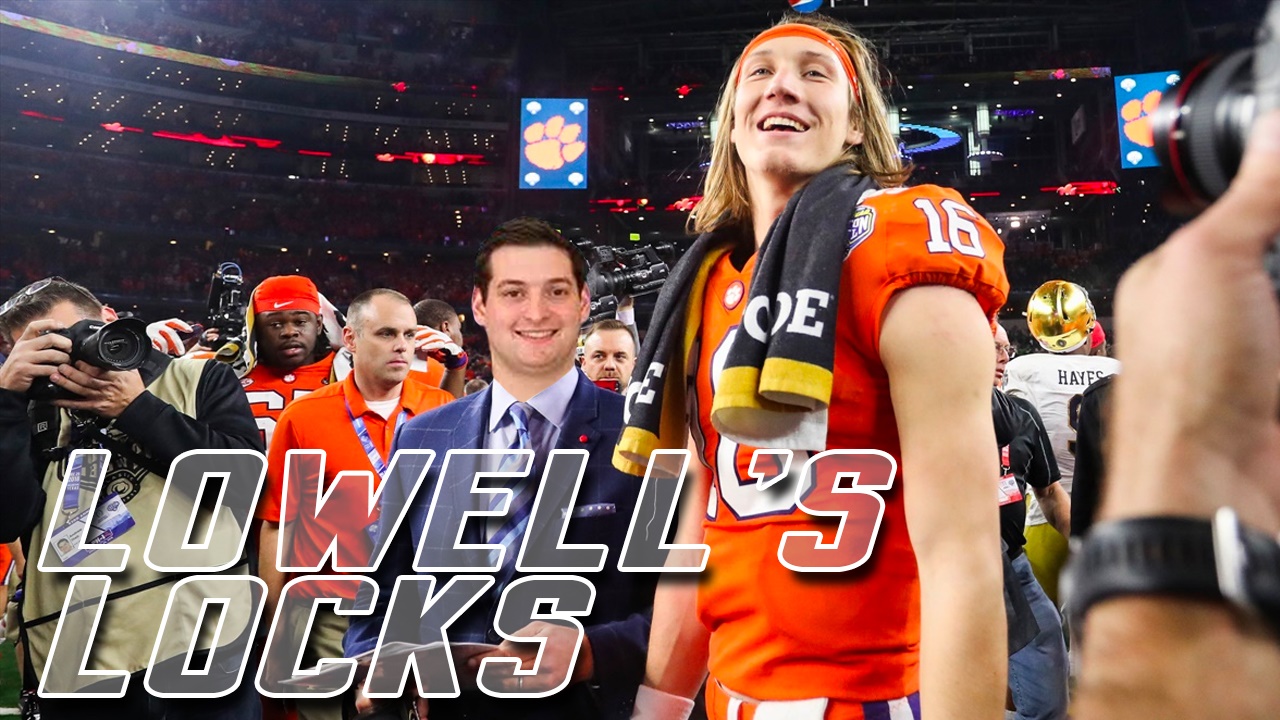 Lowell's Locks: Week Two
---
I wanted to start off this week's set of Locks with this. It is the weekend of 9/11, and I know tributes will be pouring in all across college football. No matter where you were, or what you were doing, if you were around for that tragic event you remember it and will never forget it. As we move forward with another slate of college football, let's remember not only the lives lost that day, but the people still suffering from the psychological and medical implications today.
With that said, last week was what we experts* call a "tough" week. A 1-3-1 record was not what I had in mind to start the college football season (thanks for nothing on the push, Minnesota). However, just like Dabo Swinney's Tigers, all of our goals are still on the table. I'm attacking this week with a windshield mentality. Let's go get it!
*Expert has a very loose definition here.
Saturday, September 11th
South Carolina (-2.5) at ECU:
South Carolina looked pretty good last week, albeit against a dreadful Eastern Illinois. They were able to run at will, and Zeb! looked like a more than capable game manager. ECU, meanwhile, got punked by App State to the tune of 226 yards allowed on the ground and 259 through the air in a 33-19 loss. South Carolina expects to get running back Kevin Harris back, which is terrible news for the Pirates' defense. Expect the Gamecocks to take over both lines of scrimmage and pull away in the second half.
Lowell's Lock: South Carolina covers -2.5
#12 Oregon at #3 Ohio State (-14.5):
This was one of the most talked about matchups of the offseason. Oregon and Ohio State both managed to pull out closer-than-comfortable openers. Unfortunately for Oregon, star defensive end Kayvon Thibodeaux suffered an injury and his status is still up in the air. Without him, the Ducks' entire defense takes a massive hit. Oregon is still talented enough to hang, but that makes things tougher for the Ducks as CJ Stroud continues to try to find his legs and chemistry with Ohio State's star wideout duo of Chris Olave and Garrett Wilson. At times, it will appear Ohio State is headed for a blow out as they strike with big plays, only for the Ducks to make a play of their own and stay within striking distance. A backdoor cover may be on the table here.
Lowell's Lock: Oregon covers +14.5
Pittsburgh (-3.5) at Tennessee:
The ACC needs a non-conference win in the worst way after a brutal opening weekend. Tennesse offers a chance at a reprieve. Pitt rolled over hapless UMASS last week, as the Vols let Bowling Green hang around longer than they should have. Tennessee quarterback Joe Milton struggled badly with his accuracy, and things aren't going to get easier as Pitt loads the box and dares the Vols to throw. Panthers quarterback Kenny Pickett is a veteran who has been around the block, and will come up with enough big plays through the air to free up the running game.
Lowell's Lock: Pittsburgh covers -3.5
NC State (-1) at Mississippi State:
Another opportunity for the ACC to get a solid win, the Wolfpack travel to Starkvegas to take on the Pirate Mike Leach and his air raid Bulldogs. Mississippi State had to stage the largest comeback in school history after falling behind 34-14 in the fourth quarter, defeating Louisiana Tech 35-34 late. NC State rolled over hapless South Florida, but showed strength in a lot of areas, particularly at forcing turnovers. That's bad news for a Bulldogs team that has looked incredibly undisciplined in the Mike Leach era. NC State is flying under the radar just outside the top 25 right now, but may be in a few more ballots after this one.
Lowell's Lock: NC State covers -1
#10 Iowa at #9 Iowa State (-4.5)
Iowa State liks to start seasons slow. It's seemingly been a staple under Matt Campbell, and it almost bit them last week against Northern Iowa. Iowa, meanwhile, suprisingly rolled over Indiana in a game that was never really all that close. However, with college gameday in town, I think Iowa State comes out with better energy. This one turns into a defensive slugfest (not Clemson-UGA level, but a slugfest nonetheless), and the Cyclones ride the home crowd to a tight, last second victory.
Lowell's Lock: Iowa covers +4.5
BONUS: SC State at #6 Clemson (-49)
Not a whole lot to say here. Angry Tigers. First home game. Dj Uiagalelei likely plays the vast majority of the game as Clemson works on offensive kinks, and don't be shocked if the defense pitches a shutout.
Lowell's Lock: Clemson covers -49
Lowell's Locks

Weekly Results
Season Results
Week 1
1-3-1
1-3-1
Week 2
Week 3
Week 4
Week 5
Week 6
Week 7
Week 8
Week 9
Week 10
Week 11
Week 12
Never miss the latest news from Clemson Sports Talk!
Join our free email list