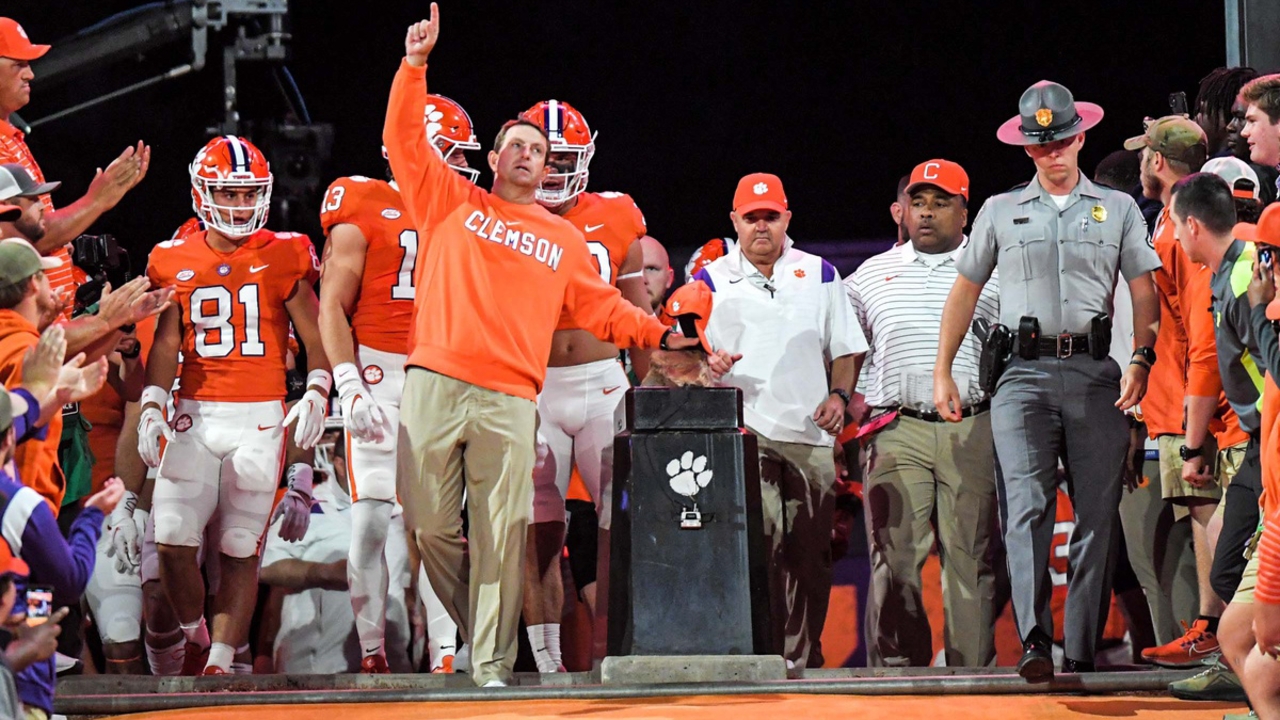 Photo by © Ken Ruinard / staff / USA TODAY NETWORK
Clemson Football
Keys to Victory: Clemson vs. No. 20 North Carolina
---

---
Each week, we review the game's history, three keys to success, and Swanny's prediction.
The Match-Up:
Clemson (6-4, 3-4 ACC) vs. North Carolina (8-2, 4-2 ACC)
Clemson is attempting to improve to 40-19-1 against North Carolina all-time. North Carolina would become the sixth program to be defeated by Clemson 40 times (South Carolina, 72, Wake Forest, 71; NC State, 60; Furman, 44; Virginia, 40).
The Tigers are also attempting to earn multiple home wins against AP Top 25 teams in a single season for the eighth time in program history (two each in 1991, 1993, 2003, 2005, 2011, 2015 and 2022).
Series History:
OVERALL: Clemson leads, 39-19-1
HOME: Clemson leads, 19-7
ROAD: Clemson leads, 16-11-1
NEUTRAL: Clemson leads, 4-1
LAST MEETING: Dec. 3, 2022 (39-10, W)
STREAK: Clemson, Won 5
Roster:
Stat of the Week:
Clemson's top-performing unit this year has been its defense, which enters this week leading the ACC and ranked sixth in the nation in total defense (271.8 yards allowed per game). This week, that group will face a (Carolina) blue-chip unit in North Carolina's prolific offense, which ranks third in the nation in yards per game (520.6) and eighth in the nation in points per game (39.9).
Chasing History:
Clemson is attempting to improve to 65-3 at Death Valley in the College Football Playoff era. The Tigers are tied with Alabama for the nation's best home record in that time frame.
Memorable Moments:
1981: The Tigers won a landmark game, 10-8, behind an outstanding defense led by Jeff Davis and Jeff Bryant. It was the first meeting of top 10 ACC teams in the history of the conference, as Clemson was undefeated and ranked second in the nation entering the contest, while the Tar Heels were 7-1 and ranked eighth. Bryant recovered a North Carolina lateral with a minute left to clinch the victory for the Tigers, a key win in Clemson's first national championship season.
2000: Redshirt freshman Willie Simmons came off the bench in 2000 to throw four touchdown passes in Chapel Hill and lead Clemson to a come-from-behind 38-24 victory. At the time, it was the most touchdown passes by a non-starter Clemson quarterback, a feat later matched by Trevor Lawrence at Georgia Tech in 2018.
Key 1: Drop Drake
On the radio show this week, I mentioned that Drake Maye is the best quarterback that Clemson has faced this season and it's really not close. I know there are aspects of Jordan Travis, Riley Leonard, and Sam Hartman's games that made fans nervous ahead of kickoff, but Maye is likely the third or fourth-best quarterback in the country. In order to knock off the Tar Heels, Clemson will need to get pressure on Maye throughout the game, forcing him to feel uncomfortable in the pocket.
If the Tigers' defensive front can wreak havoc, it could be a long day for Maye, much like last season's matchup in the ACC Championship. The Tigers rank seventh in America against the pass, and this week, the secondary will have their hands full.
The worst-case scenario for Wes Goodwin's group is a confident Maye sitting in a clean pocket dissecting the Tigers. If that happens, winning gets a heck of a lot harder for Clemson.
Key 2: One-Two Punch
Since Phil Mafah has gotten the bulk of Clemson's carries at running back this offense just seems more steady. It was nice to see Will Shipley back out there last weekend, possibly driven by what he witnessed the week prior when Mafah turned into an absolute machine against Notre Dame. With both backs in the fold, Clemson's offense could pack even more punch.
As we saw last weekend, there is still plenty that Shipley brings to the table, but I contend that the bulk of the carries should go to Mafah based on performance.
If these two can continue to play at a high level, I think it will comfort Cade Klubnik to settle in and make throws against a suspicious Tar Heel secondary.
Key 3: Protect the Ball
Last weekend against Georgia Tech, Clemson jumped out to a 42-7 lead aided by four Tiger interceptions. When Clemson has protected the football this year, they've been a really good team-- when they haven't-- incredibly, they've still been very competitive outside of the opener in Durham.
Last season, it was Nate Wiggins' 98-yard pick-six of Maye that busted open a 24-10 contest into a blowout in the ACC Championship and it's not that Clemson has to have a pick-six to win today, but just winning the turnover margin would be a big deal given some of the gaffes we've seen this season.
If the Tigers win the margin-- or even score off a turnover, that should be enough to bring home another win.
Prediction:
I'm still not 100% comfortable picking this Clemson group to win each week, even though they feel like a new team since beating Notre Dame and Georgia Tech on back-to-back weekends. As I noted earlier, I think a lot of the Tigers' recent success has come because of Mafah's ability to change the game on the ground, and I hope to see more of that this weekend.
I think Klubnik is in a better spot because of his comfort with how the offense has been playing, which has allowed him to settle down some as the season has progressed. Additionally, the Tigers are playing at home, which gives me more faith that another victory is on the horizon.
Clemson 31, North Carolina 27
Swanny's Predictions:
Date
Matchup
Swanny's Prediction
Actual Score
✅ or

❌

9-4-2023
No. 9 Clemson at Duke
38-17 Clemson
28-7 Duke
❌
9-9-2023
No. 25 Clemson vs. Charleston Southern
45-10 Clemson
66-17 Clemson
✅
9-16-2023
Clemson vs. Florida Atlantic
45-10 Clemson
48-14
✅
9-23-2023
Clemson vs. No. 4 Florida State
31-24 FSU
31-24 FSU (OT)
✅
9-30-2023
Clemson at Syracuse
31-20 Clemson
31-14 Clemson
✅
10-7-2023
Clemson vs. Wake Forest
42-17 Clemson
17-12 Clemson
✅
10-21-2023
Clemson at Miami
27-23 Clemson
28-20 Miami (2 OT)
❌
10-28-2023
Clemson at NC State
28-17 Clemson
24-17 NC State
❌
11-4-2023
Clemson vs. Notre Dame
31-20 Notre Dame
31-23 Clemson
❌
11-11-2023
Clemson vs. Georgia Tech
35-17 Clemson
42-21 Clemson
✅
11-18-2023
Clemson vs. North Carolina
31-27 Clemson
❓
❓
✅ = Correct Prediction
Never miss the latest news from Clemson Sports Talk!
Join our free email list