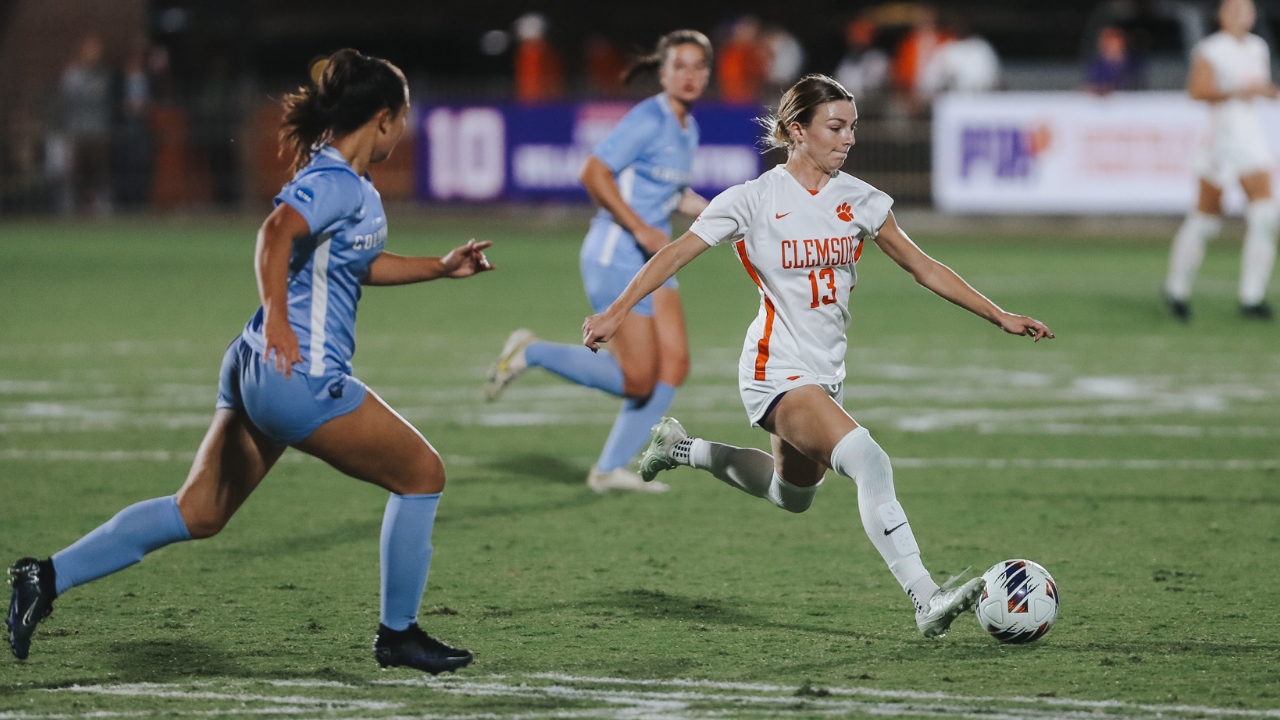 Clemson Advances to Third Round of NCAA Tournament
---
CLEMSON, S.C. – Behind two first half goals, No. 1 seed Clemson women's soccer downed No. 8 seed Columbia, 2-1, on Friday night in front of 1,785 fans at Historic Riggs Field. With the win, the Tigers have earned a spot in the third round of the NCAA Tournament for the first time since 2020.
"We were very dominant in the first half and came away with two goals, we played really well and kept the pressure on Columbia," Head Coach Eddie Radwanski said. "This the NCAA Tournament, we are not playing weak teams, these are good teams so credit to Columbia for resiliency. We had the lead and we kept our composure. These kinds of things happen when you get in these knock-out competitions and the kids are not invincible to do it so sometimes you have to handle a little bit of adversity and all these games have it. I liked the fact that we passed the test, liked the fact that we dominated statistically and we were, for the most part, in control."
The Tigers started the match off strong as the defensive line held the Lions to only one shot in the first half. Clemson also put pressure on Columbia on the offensive end, taking nine shots in the first half, with the Lion keeper making three saves.
Senior Megan Bornkamp was the first to get the Tigers on the board as she netted her fourth goal of the season at the '28 mark. Junior Renee Lyles found possession of the ball and was able to pass the ball to Bornkamp, who was in scoring position. Bornkamp launched the ball towards the middle of the net, out of Colombia's keeper's reach to give Clemson the 1-0 lead.
Four minutes after Bornkamp's goal, Lyles sent one in at the '32 mark to give Clemson the 2-0 advantage. Bornkamp crossed the ball to sophomore Emily Brough, who was able to pass it to Lyles to lead to the goal. Lyles snuck the ball in on the right hand side of the goal as the Columbia keeper was unable to make the save.
In the second half, Columbia put more pressure on the TIgers, with the shots even at three. In the 62', Columbia used a goal from Nata Ramirez to cut into the Clemson lead at 2-1. The Tigers continued to pressure the Lions, however, and kept them off the board for the remainder of the night to secure the victory.
Next up, the Tigers will take on No. 4 seed Georgia on Sunday afternoon at 2:00 p.m. with a trip to the NCAA Tournament quarterfinals on the line. The match will be shown on ACCNX and tickets are $8 for adults, $3 for children under the age of 12 and children under the age of two get in for free.
Never miss the latest news from Clemson Sports Talk!
Join our free email list