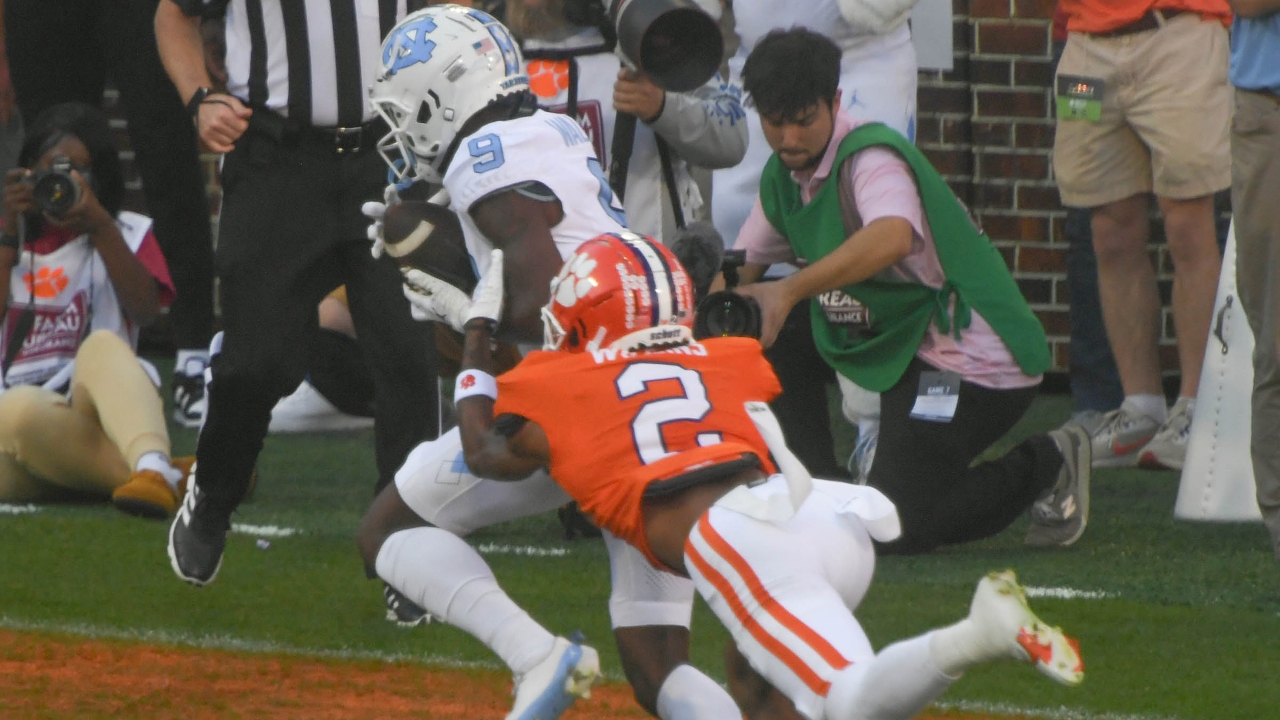 Clemson Football
Tigers Close Three-Game Homestand with 31-20 Victory over No. 20 North Carolina
---
CLEMSON, S.C. - Will Shipley recorded 179 yards from scrimmage and Clemson's defense harassed North Carolina quarterback Drake Maye all day as the Tigers upended No. 20/22 North Carolina, 31-20, at Memorial Stadium on Senior Day. Clemson improved to 7-4 overall and 4-4 in league play, while the Tar Heels fell to 8-3 overall and 4-3 in league play.
North Carolina jumped out to a 7-0 lead and was poised to take a two-touchdown lead when cornerback Nate Wiggins stripped UNC running back Omarion Hampton at the goal line for a touchback. Wiggins ran nearly 70 yards in chasing down Hampton, and Clemson scored on its ensuing drive. Wiggins later added an acrobatic interception of Maye with 2:37 to play.
Clemson registered four sacks, five tackles for a loss, two forced fumbles, 10 pass breakups and held North Carolina to 4-of-14 mark on third downs and 2-of-5 on fourth down attempts. Jeremiah Trotter Jr. continued his top-level play, finishing with 11 tackles, including 1.5 for loss, a sack, two quarterback hurries and broke up a pass. The Tigers held Maye to 16-of-36 passing for 209 yards and one touchdown, the lowest completion percentage of his career.
Clemson's offense totaled 466 yards on 89 plays, its second straight game with totaling more than 400 yards including 200 both rushing and passing. Clemson's offensive line helped pave the way for 247 rushing yards and did not allow a sack. Quarterback Cade Klubnik was 21-for-32 for 219 yards and also ran for 44 yards and a touchdown with three seconds to play in the first half. Shipley had a big night as he ran for 126 yards on 18 attempts, totaled 53 yards in receiving and scored a touchdown. Fellow running back Phil Mafah added 84 yards rushing and a touchdown of his own.
Clemson's defense started the game strong with Peter Woods forcing a fumble inside the 10-yard line to keep UNC scoreless. Following a Clemson punt, the Tigers' defense forced a three-and-out.
Klubnik gave Clemson momentum when he took the ball 22 yards with his legs, but an unsuccessful fourth-and-one attempt ended its second drive at the 46 yard line. UNC capitalized on the good field positioning and opened the scoring with a 33-yard touchdown pass to J.J. Jones with 4:31 left to play in the first quarter.
On UNC's next possession, Wiggins chased down Omarion Hampton after 63 yards and punched the ball out of Hampton's hands just before he crossed the goal line, preventing a touchdown and giving Clemson the ball back as it was ruled a touchback.
With 10:10 left in the first half, Clemson got on the board and tied the game 7-7 off a three-yard touchdown pass to Jake Briningstool, capping a 14-play, 80-yard drive.
Jeremiah Trotter Jr. tackled Hampton to stop the Tar Heels from converting on 4th-and-2. Clemson's defense produced another quick stop, giving Klubnik and company the ball back with 3:34 left in the first half. After driving the ball 62 yards, Shipley fumbled the ball at the five-yard line.
A sack from T.J. Parker paired with a sack from Trotter produced 13 total yards lost and gave Clemson another opportunity to score before the end of the first half.
Klubnik hit Troy Stellato over the middle for an 18-yard gain that put Clemson just outside the red zone. With eight seconds left, Klubnik escaped the pocket, ran the ball three yards and extended himself over the goal line to give Clemson a 14-7 lead heading into halftime.
In the second half, Clemson's defense picked up right where it left off as Khalil Barnes sacked Maye for a two-yard loss on fourth-and-six. On the first play of Clemson's second possession, Klubnik found Adam Randall for a 31-yard gain. Mafah later finished the job and extended Clemson's lead to 21-7 with a three-yard touchdown run on fourth-and-one.
UNC responded with a quick 55-yard touchdown run from Hampton to make the score 21-14 with 6:20 left to play in the third quarter. On Clemson's first play of the ensuing drive, Will Shipley found a hole and gave Clemson a 31-yard gain. Seven plays later, Shipley ran 33 yards to the end zone, making the score 28-14 with 3:01 left in the third quarter.
After another defensive stop, Klubnik completed a 36-yard pass to Shipley that put Clemson on the nine-yard line. Clemson came away from that drive with three points as Jonathan Weitz kicked a 21-yard field goal to increase Clemson's lead to 31-14 with 10:28 left to play.
On UNC's ensuing drive, Hampton ran for a three-yard rushing touchdown with 7:03 left in the game. Andrew Mukuba then broke up Maye's pass on their two-point conversion attempt, leaving the score at 31-20.
Following several scoreless drives between Clemson and UNC, Wiggins came up with an interception to give Clemson the ball back on the 25-yard line with 2:37 left to play. Clemson then ran the clock out to win the game, 31-20.
Clemson will renew its rivalry with South Carolina next week when the teams meet for the 120th time in series history on Saturday, Nov. 25. Kickoff in Columbia, S.C., is slated for 7:30 p.m. ET on SEC Network.
Never miss the latest news from Clemson Sports Talk!
Join our free email list