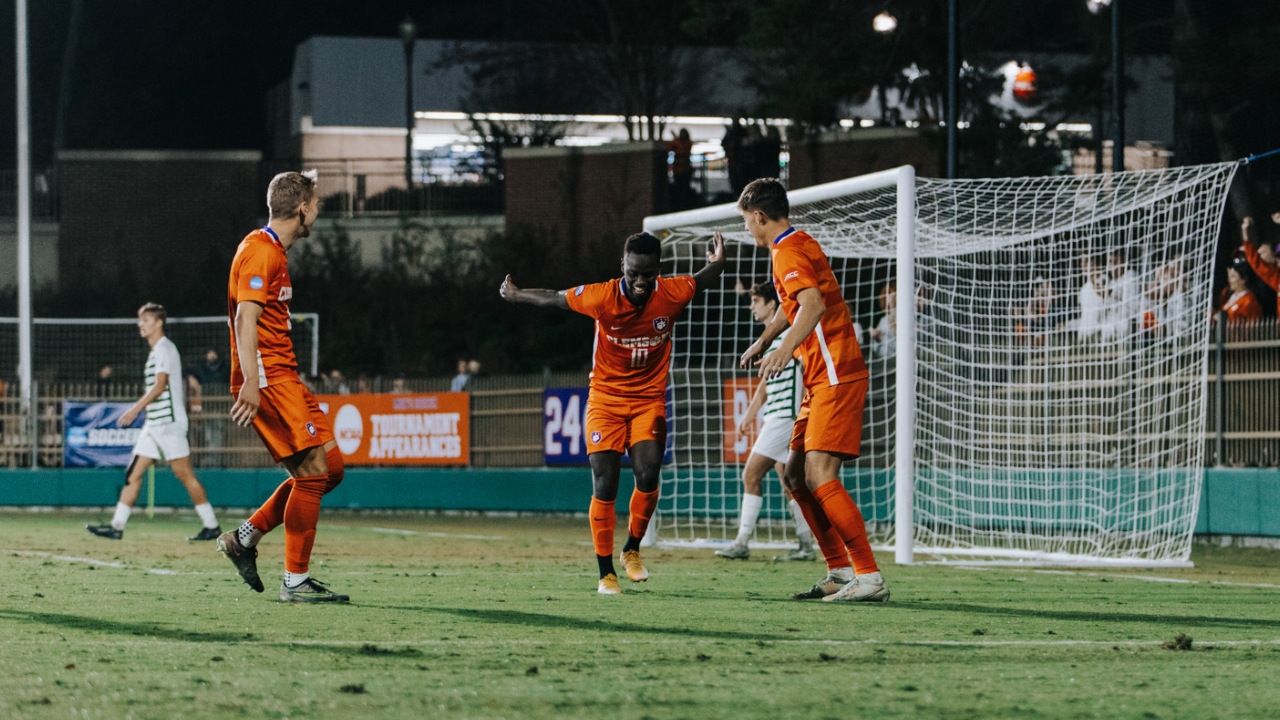 Clemson Shuts Out Charlotte to Advance to NCAA Third Round
---
CLEMSON, S.C. – Behind goals from three different Tigers and the team's sixth shutout of the season, Clemson men's soccer downed Charlotte, 3-0, to move on to the NCAA Round of 16 for the fourth time in five seasons. The Tigers shined in front of 2,897 fans and moved to 10-1-2 at Historic Riggs Field this season.
With the win, Head Coach Mike Noonan now has 388 career victories, tying Clemson Hall of Fame coach I.M. Ibrahim on the NCAA's career wins list.
"Very proud of this team, and we played well tonight," said Noonan. "Riggs is a charmed place for this team, and we hope we get to play here again. The crowd we gathered for a Sunday night match-up was massive, and were so lucky to play in front of these fans."
The Tigers came out strong in the first half as they were awarded nine corner-kicks and recorded two shots on the 49ers. Clemson impressed defensively as Charlotte was unable to find an opportunity to score.
At the 34', senior Brandon Parrish was able to knock one in as the Tigers earned an early, 1-0 lead. Freshman Remi Okunlola was able to take control of the ball and cross it over to Parrish who slid past the Charlottle goalkeeper to find the back of the net. Okunlola now has four assists on the season.
In the second half, the Tigers continued to bring the pressure as senior Ousmane Sylla netted one in at the 48' mark. After receiving the pass from Alex Meinhard, Sylla went on the breakaway and was able to slip the ball past the keeper and increase the lead for the Tigers. In the final three minutes of the match, freshman Arthur Duquenne netted his second goal of the season and helped Clemson secure the 3-0 victory over the 49ers.
The Tigers advance to the Round of 16 in the NCAA Tournament and will play the University of New Hampshire Wildcats on Sunday, Nov. 26 at 5 p.m. at Wildcat Stadium on ESPN+.
Never miss the latest news from Clemson Sports Talk!
Join our free email list