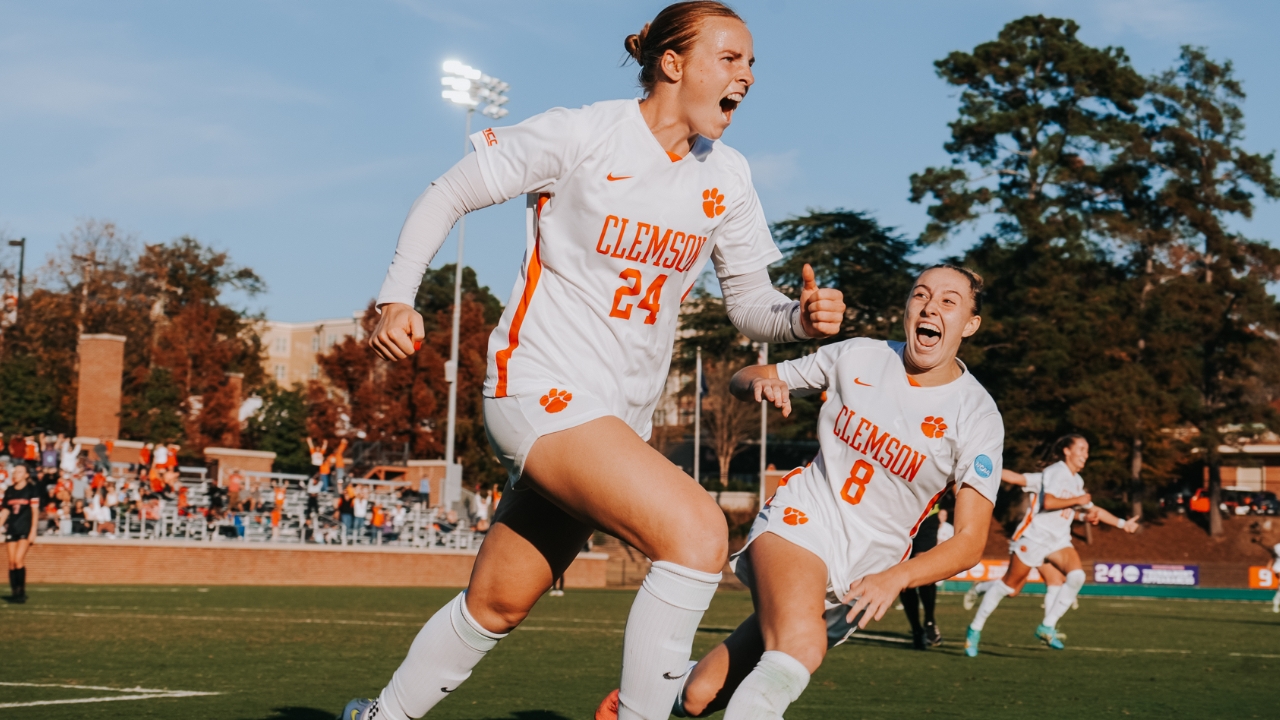 Clemson Outlasts Georgia in PK Shootout to Advance to Elite Eight
---
CLEMSON, S.C. – Megan Bornkamp netted the equalizer in the game's 88th minute and Halle Mackiewicz recorded a clutch penalty save and No. 1 seed Clemson women's soccer advanced past Georgia, 1-1 (5-3 PK) to earn a spot in the Elite Eight for the sixth time in school history and first time since 2020.
"I think you saw two very good teams today and this is what the NCAA Tournament is all about," Head Coach Eddie Radwanski said. "We knew Georgia was going to be a formidable opponent and I thought we played really well today. This game is about taking chances, great response from our team with coinciding a goal so late and you just saw what the Clemson Tigers are all about. They dug down, they never gave up, reached deep inside and found a way to make it happen. I'm just impressed with our kids' resiliency and the fact that they wanted to win, they wanted to advance and sometimes you have to do whatever it takes."
Both teams started the match off strong as the Tigers and the Bulldogs impressed both offensively and defensively in the first half. Clemson's back line allowed zero shots on goal for Georgia as goalkeeper Halle Mackiewicz remained tough in the box.
In the second half, Clemson and Georgia continued to battle as both teams worked hard to find the back of the net. At the '83, Georgia's Croix Bethune found a scoring opportunity as she netted one in to give the Bulldogs the 1-0 advantage.
As the clock continued to run, the Tigers tried to find opportunities to score and even the score. With three minutes left in the match, Bornkamp was able to find possession of the ball as she shot the ball towards the net and the Georgia keeper stepped out to try and save it but ultimately missed the ball. Bornkamp moved around the keeper and shot the ball to the empty net and evened the score, 1-1.
Both teams had chances in each of the two overtime periods, with Georgia taking two shots in the first and Clemson two in the second. Makenna Morris nearly ended the game in the 110', but her shot was saved by Georgia's keeper to send the game to penalty kicks.
In penalty kicks, the teams traded makes in their first three attempts. Renee Lyles sent one past the Georgia keeper on Clemson's fourth attempt, before Mackiewicz made the key save on Georgia's attempt to put the Tigers up by one. Sami Meredith then sent home Clemson's final attempt to give Clemson the 5-3 penalty win.
Up next , the Tigers will host No. 2 seed Penn State at Historic Riggs Field next Saturday, November 25, at 1:00 p.m.
Never miss the latest news from Clemson Sports Talk!
Join our free email list