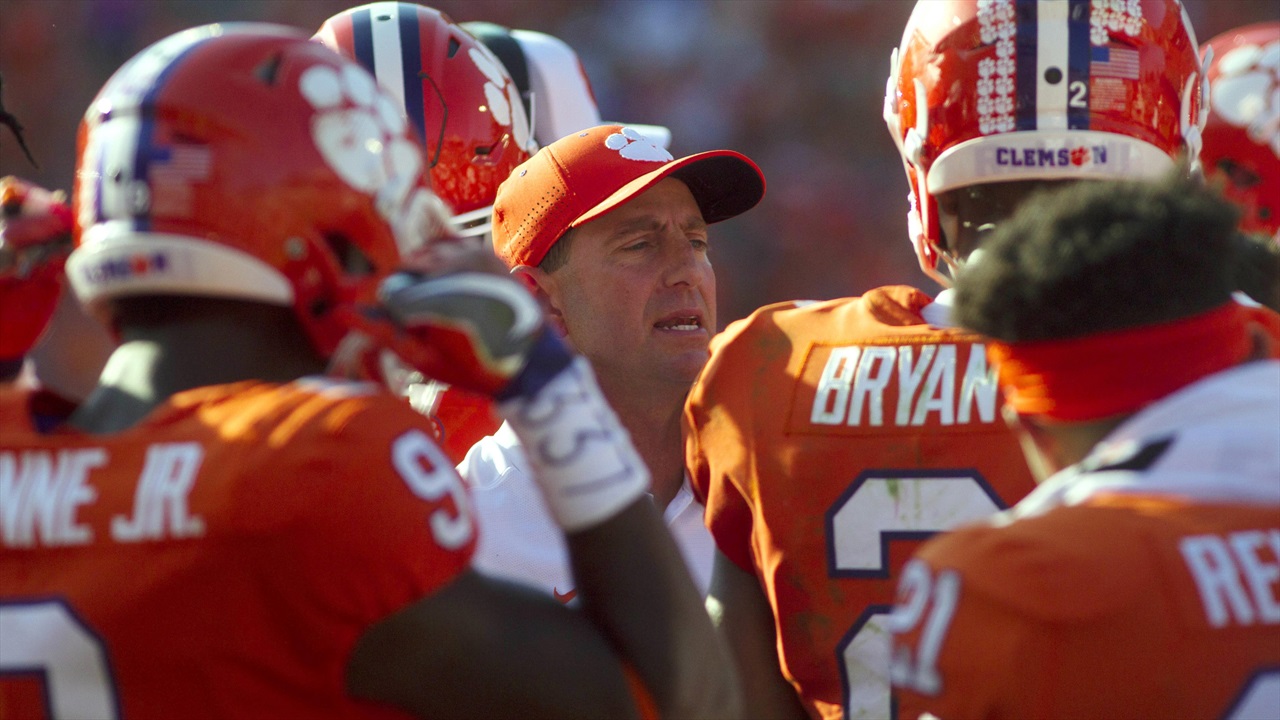 Photo by © Joshua S. Kelly-USA TODAY Sports
Clemson Football
The Last Look: Virginia Tech
---
A few final thoughts of things to look for this evening as Clemson prepares to battle Virginia Tech under the lights in Lane Stadium:
Travis Etienne will take the next step:
The talk all week amongst Clemson's coaches has been that Tavien Feaster and Etienne have separated themselves from the pack at the running back position.
Etienne is coming off of a nine carry, 113-yard performance that has left Clemson fans hungry for more of the freshman from Louisiana.
It sounds like Feaster will still get the start like last week, but look for number nine to get some carries in the first quarter against a strong Hokie defense.
© Jamie Rhodes-USA TODAY Sports
It'll be interesting to see how Etienne stacks up against a defense with fresh legs if he indeed gets earlier carries in the game.
Expect quarterback Kelly Bryant to still get a bulk of the carries on Saturday night, but look for Etienne to have 12 to 17 carries depending on how the game plays out.
Virginia Tech has not allowed a rushing touchdown all season while Etienne has four touchdowns in 3 games on 23 carries. When Virginia Tech played West Virginia, the Hokies allowed 221 yards rushing. The Tigers are averaging 272 yards on the ground so far this year.
Clemson has won 38 in a row when rushing for over 200 yards.
The Battle at Defensive Coordinator:
Two of some of the best assistant coaches in the country will be on opposing sidelines Saturday night.
Bud Foster has been defensive coordinator at Virginia Tech since 1996 while Brent Venables has been at Clemson since 2012. Both coaches have been able to produce top defenses consistently and similar in how they approach the game.
Clemson offensive coordinator Jeff Scott said earlier in the week that both coaches are in a league of their own at their positions. Clemson is third in the country in points allowed with 9.3 per game and the Hokies are sixth with 10.3 per game. Both are top two in the ACC.
"I think their background speaks for itself. They're certainly two of the best if not the best," Clemson coach Dabo Swinney said. "I think consistency is what you look for. To be great at something you've got to do it for a long period of time and be very consistent and Brent is the epitome of that and so is Bud. Two outstanding coaches."
Nobody's done it better for longer and more consistently than Bud Foster and all of the varieties and styles of play on offense.
Venables and Foster have both said nothing but nice things about each other all week. There is a big-time mutual respect between both coaches and they know they have their hands full this week.
"I think his track record of sustaining success, stopping people. He's got incredible credibility." Venables said. "Nobody's done it better for longer and more consistently than Bud Foster and all of the varieties and styles of play on offense."
Foster said Venables is the "best in the business," but Venables just laughed it off and said, "I beg to differ."
Don't be surprised if Foster dials up some of the same types of pressures Boston College ran last week to try and make Bryant feel uncomfortable in the pocket. Venables' aggressive scheme will be similar to what Clemson fans are used to seeing to try and rattle first-year starting quarterback Josh Jackson.
Whoever can scheme up and get to the quarterback the most will win Saturday night.
Can Cam Phillips be stopped?
It sure doesn't look like it so far this season.
With great offensive threats like Bucky Hodges and Isaiah Ford taking their talents to the NFL, Phillips was ready to step right into the spotlight as the Hokies' number one option.
The senior has 523 yards and five touchdowns on 34 catches so far this season putting him among the top receivers in college football.
Phillips is to Virginia Tech's offense what Travis Etienne is to Clemson's offense: explosive.
Phillips had 12 catches for 92 yards last season in the ACC championship against a Clemson defense that was ranked 10th in the country at the time. He's only been held under 100 yards receiving once so far this season.
Look for the Hokies to try and utilize Phillips as much as possible against a Clemson secondary that still needs to prove itself. The Hokies will look for the big play early so look for some early deep balls and play-action passes when he lines up in the slot.
Phillips is at the top of his game right now and one too many big plays could be costly to Clemson in this matchup.
Virginia Tech's atmosphere:
There is no disbelief that Clemson lives for playing in hostile environments.
The Tigers have won 11-straight road games, most recently against the reigning Heisman winner. Bryant shined under that spotlight passing for a career-high 316 yards. That game gave Bryant a taste of that kind of hostility, but Lane Stadium under the lights will be the true test.
© Derik Hamilton-USA TODAY Sports
Virginia Tech fans are hungry for a big win at home. The Hokies have not beaten a ranked team at home since September 26th, 2009. They have not beaten a top-5 team since 2003 and are 1-30 against top-5 teams all-time.
Per ESPN statistics and information, Virginia Tech has never defeated a defending national champion. The Hokies are 0-7 and have lost each game by 11 points or more.
All that being said, the Hokies think they are due for a big win. When teams see Clemson on their schedule, they circle that game. Lately, it feels like every team's biggest game of the year is against the Tigers.
Clemson is battle-tested and is used to being in the spotlight and having a target on its back.
"Each week we feel like is a big game for us, because we know we're going to get everyone's best shot going into the week," Bryant said when asked about the primetime matchup. "We're going to have to prepare like we do every week, we're not going to change anything. No matter what time we're playing, where we're playing at, we're just going to go about it how we've been doing it these last few weeks."
Look for Bryant's body language as he leads the offense Saturday night in Blacksburg.
If he adjusts to the pressure of the environment and stays cool, calm and collected, then he should perform as well as he did two weeks ago in Louisville.
Never miss the latest news from Clemson Sports Talk!
Join our free email list