Photo by © Adam Hagy-USA TODAY Sports
100 Days Until Kickoff: An inside look at the offense
---
Fifty days ago we took a look at Trevor Lawrence and the potential for him to have an impact in Clemson as a true freshman. Little did we know he would bust on the scene ten days later at the spring game and instantly create an even bigger stir this offseason.
It may seem like a long way off, but Clemson football is now just 100 days away. The Tigers will open the 2018 season on September 1st against the Furman Paladins (12:20 p.m., ACC Network) as announced by the Atlantic Coast Conference a few days ago.
With this in mind and yesterday's release of the preseason depth chart, we wanted to provide three storylines as we head into the dog days of summer.
Quarterback depth
Clemson's quarterback room thinned significantly when Hunter Johnson decided to transfer. Johnson's decision to leave was unusual given the fact that Trevor Lawrence‍'s body of work at this point consisted of just 14 practices and the spring game. It would appear that Johnson saw all he needed to see from the true freshman which is probably a good thing for Tiger fans.
On the flip side, the loss also brings the offseason quarterback transfer number to three. Clemson lost both Tucker Israel and Zerrick Cooper previously. For most programs, that would be a sure-fire sign of the destruction yet to come, but Clemson should feel confident about both Lawrence and incumbent Kelly Bryant.
Lawrence looked sharp in the spring and Bryant led this team to the No. 1 ranking in the College Football Playoff a year ago.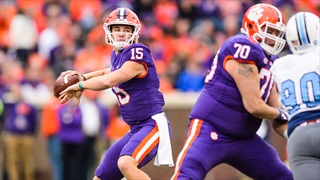 Clemson Sports Talk
While the battle between Bryant and Lawrence should continue into the summer and fall camp, the biggest concern should perhaps be the depth behind those two. Redshirt freshman Chase Brice and true freshman Ben Batson would be called upon at this point if the injury bug hits the Clemson quarterback room.
Dabo Swinney is on the record saying that he would be comfortable with any of these guys running out there, but you can't help but think there has to be more concern there minus Johnson.
Dabo Swinney is on the record saying that he would be comfortable with any of these guys running out there, but you can't help but think there has to be more concern there minus Johnson.
Brice, saw action in the spring game completing 12-of-19 for 231 yards including a 50-yard touchdown pass to Diondre Overton.
Brice proved that he is capable of coming in and running the offense, but that's not something Tiger fans would be interested in seeing.
Let's face it, Brice will probably not play much outside of mop-up duty, but he would become mighty important if Bryant or Lawrence were to get hurt. Brice needs to take advantage of the summer months, and his time at fall camp just in case his number gets called.
The 2019 recruiting cycle for Clemson quarterbacks is going to be very important for the Tigers. They got a nice boost with the commitment of Taisun Phommachanh‍, but still need to find one more quality take in the class.
Tight End Competition
Two years ago, Jordan Leggett was an integral part of Clemson's run to the national title. The 6'6 inch stud was a monster and became one of Deshaun Watson's most reliable targets.
Getting Garrett Williams back should be significant, but the Tigers will need more from the tight ends if they want to achieve the ultimate success. It's easy to point fingers at the quarterback when the downfield passing game isn't clicking, but in fairness to Bryant, last season the tight ends weren't a big factor at all.
If the spring game is any indication, the tight ends still have a long way to go in 2018. Milan Richard only had one catch for eight yards, and Cannon Smith had two catches for 25 yards before being injured.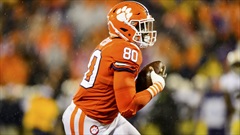 Clemson Sports Talk
Braden Galloway‍, a true freshman tight end has to look of a Leggett and could potentially earn some snaps this season. He was held out for most of the spring after surgery but has the build and athleticism to make some noise in the fall, but wasn't listed on the initial preseason depth chart.
Which freshman on the offensive side of the ball (not named Trevor Lawrence) will contribute early?
Clemson, over the last several seasons, has had plenty of impact freshman, and Braden Galloway could be one this year. However, in our estimation, the most likely candidate to break-out is Derion Kendrick.
Kendrick, much like Tee Higgins‍ and Amari Rodgers‍ last season, is on a team that will put the ball in the hands of the playmakers. The Tigers are known as "Wide Receiver U", and Kendrick could be a star student as a freshman.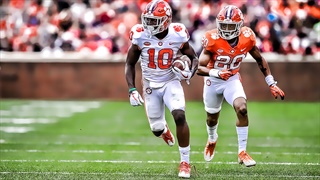 Clemson Sports Talk
Kendrick, a Rock Hill native, has drawn early comparisons to Sammy Watkins by co-offensive coordinators Jeff Scott and Tony Elliott. The 6'1, 190-pounder is fearless with the ball in his hands. He has excellent hips and is elusive in the open field. Put it this way, Kendrick is another weapon that Clemson will use in the downfield passing game. As Swinney would say, "Tweet that."
One other intriguing offensive player is 350-pound offensive lineman Jackson Carman. Carman is listed as a backup at tackle and guard on the depth chart. For a guy with that size, he his very versatile and athletic. Keep an eye on him to see how he's improved over the summer. Don't be shocked if the big man from Ohio ends up seeing some significant playing time this year.
We will look at the defensive side of the ball tomorrow as we hit 99 days until the season.
Never miss the latest news from Clemson Sports Talk!
Join our free email list