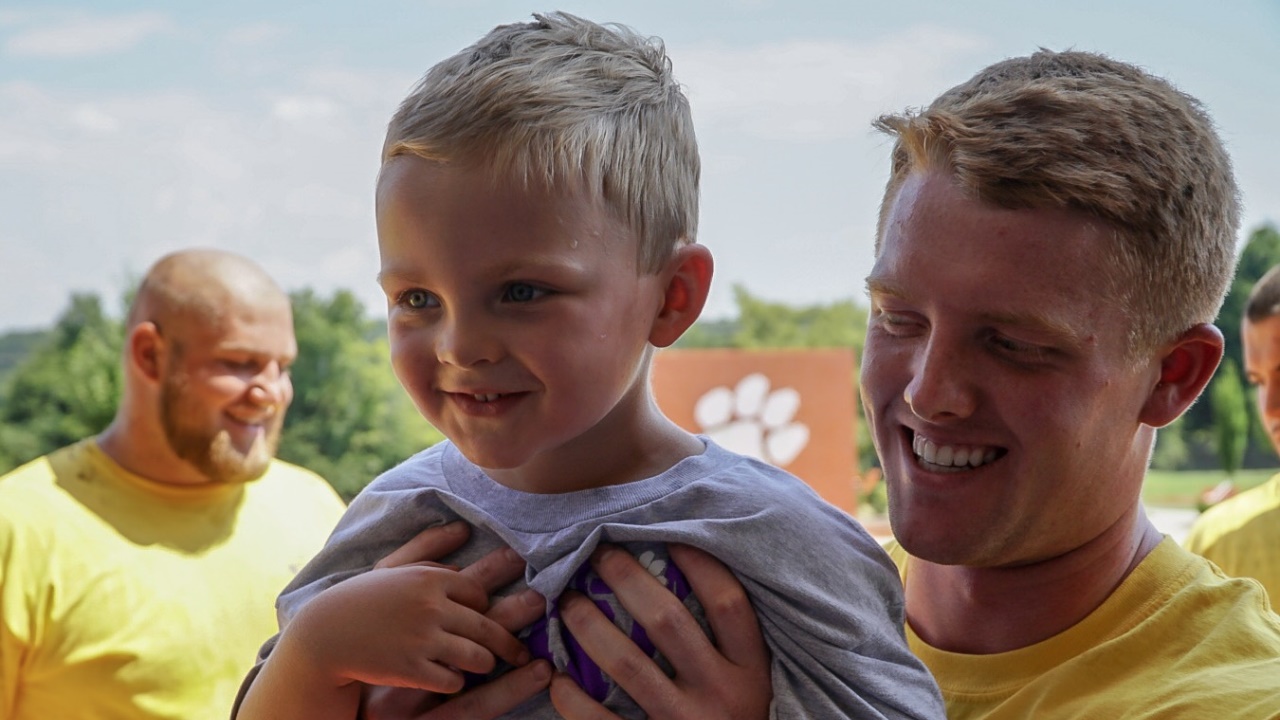 Clemson Football
No treatments, no pain - only joy as Clemson athletes come together for kids with cancer
---
CLEMSON -- The presence of God was felt just over a year ago in the truck of Clemson starting right guard Sean Pollard.
Pollard was leaving a hospital in the Upstate of South Carolina after he had spent some one-on-one time visiting kids with cancer. He colored with them, played games with them, and developed plenty of new friendships.
With a heavy heart, the offensive lineman was in tears his entire 50-minute drive home and felt a calling to do something more.
That same presence of God was felt Wednesday afternoon outside of Clemson's indoor practice facility during Pollards second "All-Off for Cancer" event. Student-athletes, coaches, and athletic staff members sat in chairs surrounded by over a dozen children with clippers in hand and the word "cancer" not on their minds.
Last year's first event was relatively small yet successful. Pollard's goal was to raise $5,000 for Clement's Kindness, an organization designed to help families impacted by pediatric cancer deal with the physical, emotional, and financial turmoil faced on a regular basis. Members of the community shattered their goal by raising $10,000.
The goal this year was to bump it up to $15,000.
Pollard met Sandra Miller, a Clement's Kindness staff member, at the hospital last year and the two immediately clicked. Miller helped Pollard organize the event and claims Clement's Kindness is Pollard's biggest fan not because of his athletic ability, but because of how big of a heart he possesses.
"He's kind of like my big little brother," Miller said.
A large crowd was on hand as families, men's and women's soccer players, cheerleaders, and football players either participated or were there to support. Kelly Bryant, Christian Wilkins, Dexter Lawrence, and Clelin Ferrell were a few notable players who watched from the sidelines.
"My teammates have my back," Pollard said. "I went to Christian Wilkins, who is one of the leaders of our team, and said, 'Hey man, I need y'all out here. I understand if you don't want to cut your hair but I need my teammates.' It was awesome they came out."
Clemson Sports Talk
There were plenty of veteran athletes taking part in getting their heads shaved, including kicker Greg Huegel who was one of the first guys to get behind Pollard's cause. But one of the only freshman on Clemson's football team in attendance was Jake Venables, son of defensive coordinator Brent Venables.
With a smile on his face, Jake picked up three-year-old Lucas Powell by the arms and introduced him to the surrounding crowd. Powell did the honor of cutting Jake's hair as Powell's parents, Nickie and Chris, looked on taking plenty of photos.
Lucas is a two-year veteran of this event. In June of last year, Chris and Nickie's worlds were rocked once they received news that Lucas was diagnosed with Wilms tumor, a type of kidney cancer.
Wilms tumor, or nephroblastoma, is the most common type of kidney cancer found in children. Last year's event was a perfect afternoon for Chris and Nickie to step away from living a parent's worst nightmare for a moment.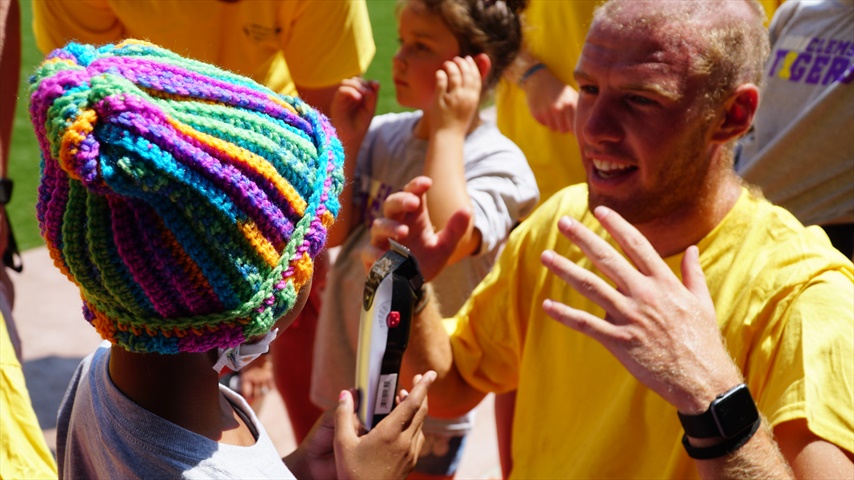 Clemson Sports Talk
"It just means a lot to us," Nickie said. "It's your worst fear to hear that your kid has cancer. Just to see what Sean's done and to bring awareness to that is pretty incredible for us."
Lucas endured an eight-hour surgery on his right kidney as well as had his lymph nodes removed. The next steps were six days of radiation, then 25 weeks of chemotherapy.
In February of this year, Lucas was finally deemed "cancer free" and is now in remission. The emotions from this year's event for the Powell family carried a completely different tune than this time a year ago.
Both Chris and Nickie graduated from Clemson in 2010 and 2011 and live nearby in Easley. Lucas is a massive Clemson fan so getting to spend time with Venables and other student-athletes was a real treat.
"It's pretty incredible to see them and the support – I mean, you saw how many athletes were here that had really no ties to the organization other than just having a heart," Chris said.
"It's amazing that it's not just about them," Nickie added. "They come out here for the kids and they take the time to get to know them and talk to them and ask them about themselves and play with them and that that just means a lot to us."
"They come out here for the kids and they take the time to get to know them and talk to them and ask them about themselves and play with them and that that just means a lot to us."
Lucas will celebrate his fourth birthday in November, right in the heart of Clemson's football season.
There was a harsh reality to yesterday's event. A few children were unable to attend due to the heat outside and discomfort from their treatments. Life spent in a hospital at such a young age can be so disheartening.
Pollard was well aware of what Wednesday afternoon meant to the kids who were fortunate to get out of the hospital for a little while.
"I lost my grandma my senior year of high school so I know she's up there sitting right next to (God) looking down all excited," Pollard said. "That's why I do it, for her and for God. These kids are out here smiling and it's the happiest these kids have looked in a while. When you go to the hospital and see them strapped up, these kids look like they have no life left in them. Then you come out here and that's just God's work that they are still here."
But inside Dabo Swinney's playground, there was no fear of any life-threatening illnesses.
No pain, no treatments – only joy. Only the presence of God.
You can donate to the "All Off for Cancer" cause here.
Check out our photo gallery from the event!
Never miss the latest news from Clemson Sports Talk!
Join our free email list