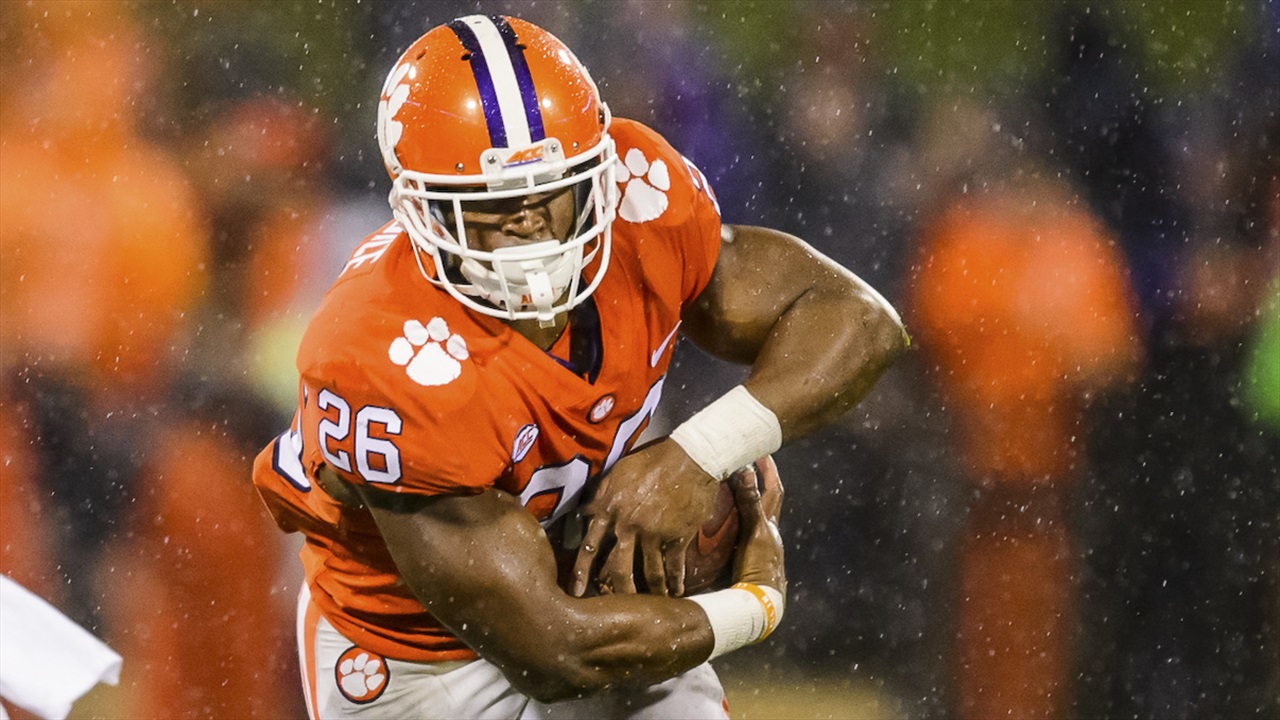 Clemson Football
Falling Forward: Adam Choice ready for final season in Clemson
---
Adam Choice has always been taught to fall forward whenever he touches the ball.
Every play. Every rep.
It started with his older cousins Joe Burns and Tashard Choice, two former notable Georgia Tech running backs. It continued after Adam tore his ACL during his freshman season at Clemson-- fall forward.
The road has been long and winding for the redshirt senior running back from Thomasville, GA. But as the dust settled after a strong final August camp, Choice found himself second on the depth chart ahead of Tavien Feaster.
Or, at least his mom did.
"I actually didn't see it," Choice said Tuesday afternoon. "My mom called me last night to congratulate me, and I didn't know what she was talking about."
Head coach Dabo Swinney has repeatedly said the running back group is one of the best position groups on the team and has the potential to be one of the best groups in the entire country. Choice, usually so even-keeled, is the leader of the pack.
Freshman sensation and soon to be sophomore starter Travis Etienne is still coming into his own when it comes to acting like the starting running back. Feaster is still working his way back from meniscus surgery, one of the reasons he is the No. 3 running back heading into Furman.
"I still felt like I was on the backburner," Choice said. "That's when talking with Joe and Tashard; they just told me I can only control what I can control. If I'm on the field and I am making plays, there's no reason the coaches shouldn't put me back on the field."
After a season where Feaster and Etienne really hit the scene, there were not many people talking about Choice.
"I still felt like I was on the backburner," Choice said. "That's when talking with Joe and Tashard; they just told me I can only control what I can control. If I'm on the field and I am making plays, there's no reason the coaches shouldn't put me back on the field."
Coming out of high school, Choice was the No. 10 running back in the country and one of Clemson's top backs in 2014. It's hard to believe Choice is one of the only players still around from that 2014 team, the last Clemson team to not win an ACC title or make a College Football Playoff appearance.
He had no idea what he was in for when he stepped on campus for his freshman season.
"Pass protection was something I had never done. It didn't make it any easier going up against Stephone (Anthony), Tony Steward, Ben (Boulware) and BJ Goodson," Choice said. "It was a nightmare. They ran through me every single time."
But Choice stayed the course and managed to get more playing time early than he expected. DJ Howard and CJ Davidson were the veterans of the running back room, but Choice held his own and was having a good year before a torn ACL at Boston College ended his season.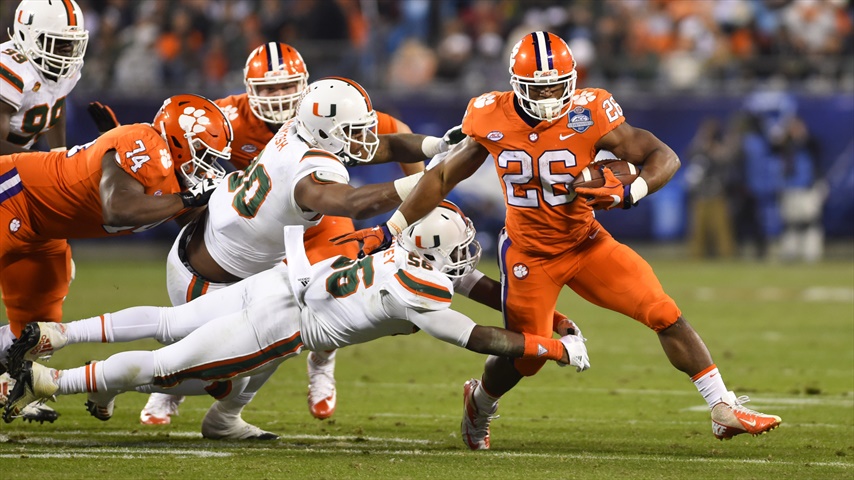 © Bob Donnan-USA TODAY Sports
The injury was a minor setback at first. Choice dealt with a similar injury in high school as a starter and told himself he had bounced back before; he could do it again.
But this was different. Choice was jockeying for a starting position when the injury occurred. Once Choice was given a redshirt in 2015, a running back by the name of Wayne Gallman hit his stride and became a star alongside Deshaun Watson in a run to the national championship game.
Coming back in 2016, Choice did not have the season he was hoping he would have production-wise. He only got 45 carries for 158 yards in 11 games. In comparison, Choice accumulated 218 yards on 50 carries and also caught nine passes for 90 yards in just six games in 2014.
"Coming back from that and redshirting the next year, I still didn't necessarily trust my knee," Choice said. "It was more of a mental battle than it was physical. I was scared to get hit and scared I was going to get re-injured. There was something that was always nagging about it."
After Clemson won its second national title in school history, Choice began to have his doubts.
"Do I even belong here?" Choice asked himself.
"I was doubting myself more than anything. I had an experience talking with my parents that I just got to get back to the basics. That's when faith and how I was raised came back into play. Just kind of getting back into myself and started believing in myself. I Just started doing the simple things that I did that made me the player I was when I got here."
At his lowest, Choice got back to the basics and did what he's always been taught to do: fall forward. The redshirt senior has stayed the course, similarly to quarterback Kelly Bryant who could have walked away from Clemson this summer amidst a quarterback competition full of young guns.
Now Choice is coming off a beneficial fall camp where his now 220-pound frame performed on a consistent basis. He's gotten high praises from Swinney and co-offensive coordinator Tony Elliott who said Choice has taken on the new leadership role and has done well so far.
The journey for Choice has been tremendously long, and even he admits with a laugh it hasn't been an ideal one. But Choice is thankful for all the lessons he's learned along the way.
Whether it's learning to run with an aggressive mentality over defenders again or overcoming some adversity in life in his way, Choice has picked up the momentum needed for a solid final season.
"It's not like I have to be mad to try and run through an arm tackle or break an arm tackle," Choice said. "You should take pride in the fact that you shouldn't allow anybody to stop you one-on-one. You should be confident enough in yourself that you should always win every matchup."
Never miss the latest news from Clemson Sports Talk!
Join our free email list