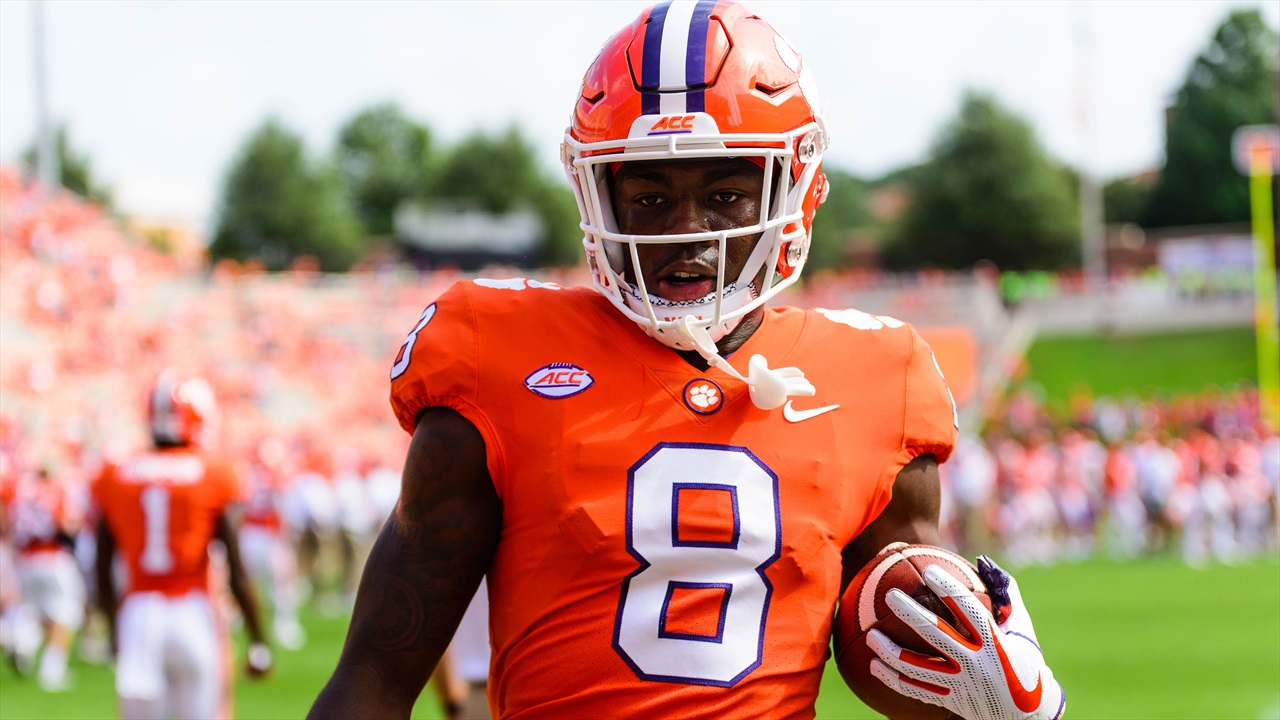 Clemson Football
Keys to Victory: No. 4 Clemson at Wake Forest
---
---
After completing a perfect 5-0 month of September in thrilling fashion last week, Clemson heads to Winston-Salem, N.C., to face the Wake Forest Demon Deacons.
Last week, trailing 16-7 at halftime against Syracuse, Dabo Swinney told co-offensive coordinators, Tony Elliott and Jeff Scott, that it was time to lean on the team's running game to deliver the win.
The team did that, rushing for 293 yards in a 27-23 comeback victory. "I told Tony and Jeff in the third quarter, 'Boys, we're going to have to do this the old-fashioned way," Swinney said of the team's commitment to the run in the second half. "Somewhere, Danny Ford and Gene Stallings are probably drinking a beer and celebrating. That was old-school."
Clemson has outrushed its opponents in all five contests this season, outgaining its foes on the ground by an average margin of 148 yards per game. Clemson opened the 2017 season by outrushing their opponents in the first six games last year, and the Tigers can match that streak in 2018 by outrushing a sixth consecutive opponent this week.
The Match Up:
Clemson (5-0, 2-0) at Wake Forest (3-2, 0-1)
Clemson vs. Wake Forest 2017 Highlights:
Clemson vs. Wake Forest 2016 Highlights:
All-Time Series:
Clemson leads: 65-17-1
at Clemson: Tigers lead 38-7
at Wake Forest: Tigers lead 24-10-1
Neutral: Tigers leads 3-0
Last Meeting: Clemson won 28-14 in 2017
Last Wake Forest win: 12-7 in 2008
Last 10 Meetings: 9-1 Clemson
Streak: Clemson has a nine-game winning streak in the series
Listen Live: Fox Sports Radio 1400 on iHeart Radio
Stat of the Week:
The dominant rushing attack has been spearheaded by sophomore Travis Etienne, who posted only the 16th 200-yard rushing game in school history with 203 yards against the Orange last week. If he were to repeat the performance with another 200-yard day against Wake Forest, he would become the first player in school history to record back-to-back 200-yard rushing games.
Key 1: Keep the Power Running Game
The Tigers needed the running game more than any other time this season against Syracuse last weekend. The Orange knocked starter Trevor Lawrence out of the game, and Clemson was forced to put in Chase Brice early in the contest.
The coaches quickly turned to the power running game showcasing their ability to move the ball with Travis Etienne, Tavien Feaster, and Adam Choice. If the Tigers stick to the script that they brought against Syracuse, there is no reason to think that they can't power their way into the end zone several times this afternoon.
Being able to rush the football can be demoralizing, and Clemson's got more than enough talent to turn that into a staple of the offense.
Key 2: Catch and Stretch
Clemson is still looking to establish the tight end as a valuable weapon and hopefully the move the Lawrence will spark more productivity from the position.
When you look back at Clemson's success during the 2016 season, it was Jordan Leggett's impact in big moments that gave Deshaun Watson an extra option downfield.
Heading into the Wake Forest game, Clemson tight ends have only been responsible for ten receptions. Not exactly breaking out of the gates in 2018.
| | | | |
| --- | --- | --- | --- |
| Player | Receptions | Yards | Touchdowns |
| Braden Galloway | 4 | 54 | 1 |
| Milan Richard | 3 | 27 | 0 |
| Cannon Smith | 2 | 23 | 0 |
| JC Chalk | 1 | 6 | 0 |
| Total | 10 | 110 | 1 |
While the tight end position might not be a real key to victory in Winston-Salem, it might be a big deal moving forward. If the offense can make the tight in a valuable resource, it will give opponents, even more, to worry about when they face Clemson's loaded offense.
Key 3: Seek and Destroy
Heading into the Wake Forest contest Clemson's defense has given up 16.7 points per game. While it's not a terrible number, the reality is that most people thought this would be a top 10 if not top 5 defense in America and they just haven't looked dominant.
In fact, of the top 20 defenses in the country, Clemson has yielded more touchdowns (10) than any other squad this season.
Given the returning defensive front, the question has to be asked if they've gotten everything out of the starters possible. In fairness, the team has run a deep rotation and perhaps as the season progresses things will level off as the starters and team as a whole remain fresh.
That being said, I loved the "Indy" defensive line scheme against Syracuse, and I think we will see it even more. Make a note. Freshman defensive end Xavier Thomas will get to several more quarterbacks before the season is done-- Eric Dungey sends his regards.
Prediction:
Given how the ACC has looked so far this season, Clemson's remaining games don't seem to be all that impressive, so winning big feels like a big deal right now. Frankly, I think Clemson has to be impressive from this point forward.
Last weekend, minus Lawrence following his injury, it was understandable that Clemson was in a battle to the finish with the Orange. Unfortunately, pundits and voters didn't see it the same way dropping the Tigers to No. 4 in the polls.
This feels like one of those games that Clemson needs to punch early and often to deliver the knockout blow. The Tigers need a confidence-building performance before hitting the halfway point in the season. Clemson has a bye next week and perhaps their biggest remaining test in NC State the following week.
Clemson is the far superior team, and if they play like it, this one shouldn't be close.
Final Score Predictions:
Clemson vs Wake Forest
Pick of the Week
Season Score
Lawton
45-13 Clemson
Furman, Syracuse
9
Sanders
35-21 Clemson

Texas A&M

Georgia Southern

9
Lowell
38-20 Clemson
-
5
Brandon
31-13 Clemson
-
5
Simulation
41-17 Clemson
Georgia Tech
6
Perfect Prediction = 5 points Best Prediction = 3 Points Correct Prediction = 1 Point
**Pick of the Week: Indicates the best prediction given for that game.
Never miss the latest news from Clemson Sports Talk!
Join our free email list