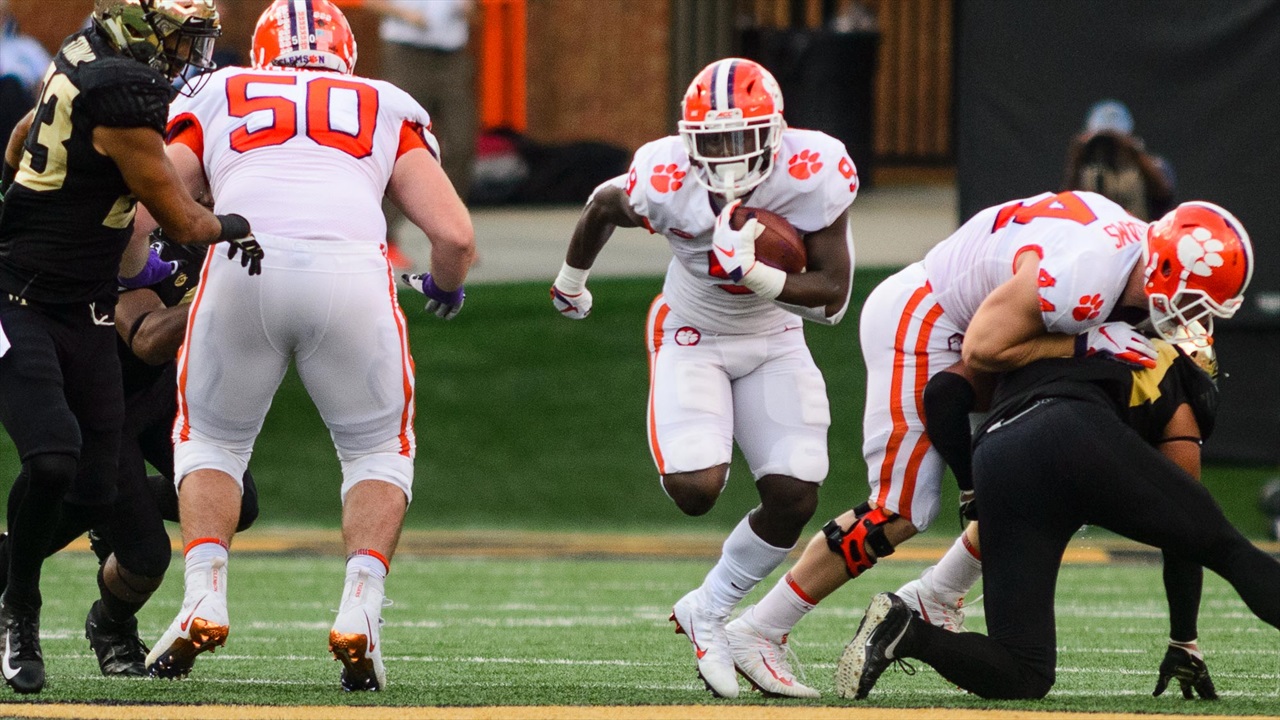 Photo by © David Grooms/Clemson Sports Talk
Clemson Football
Last Look: Boston College
---
---
The mindset has now become an annual tradition: "Championship Phase."
The fourth quarter of Clemson's season begins Saturday night, on the road, with the Atlantic division on the line against No. 17 Boston College. With everything on the line, it's hard to look past the Eagles, but the past two years, Clemson has fallen abruptly in the regular season when you wouldn't have expected it.
The difference between this year's game against and previous contests against Syracuse and Pittsburgh is that a division title is on the line - not just for Clemson, but in some respects, for the opposition as well.
This is arguably the biggest game for Boston College in the last decade. It's a chance for the Eagles to take control of the Atlantic Division and knock off Clemson, a team that has beaten them seven consecutive years.
Clemson has won 15 of its last 17 games against opponents ranked in the AP top 25 since 2015. The Tigers have also won their last four true road games against ranked opponents.
The Tigers are traveling back up north for a night road test with ESPN's College GameDay in town. These are the games where it feels like Clemson shines the brightest. Games where the atmosphere should be electric and everyone's focus is on them during primetime.
Clemson has won 15 of its last 17 games against opponents ranked in the AP top 25 since 2015. The Tigers have also won their last four true road games against ranked opponents.
Since 2015, Clemson has not lost a Saturday night game.
Boston College has Clemson's full attention, and when Clemson has your full attention - watch out (See Miami in 2017 ACC Championship, 2018 North Carolina State, etc.).
Oh, and there will also be orange pants on display.
Here are a few final things to look for as No. 2 Clemson looks to wrap up the Atlantic division for a record-setting fourth consecutive year against No. 17 Boston College.

The biggest challenge yet for Clemson's secondary: AJ Dillon
We've seen Clemson's secondary answer every call that has been placed in front of them. Aside from some shaky play at Texas A&M and a bust or two against Syracuse, Clemson's back seven have gotten the job done.
But this week presents a new wrinkle for that backside unit to prepare for.
Not only does Boston College's offense do a tremendous job in their identity of using tight end sets, they manipulate what you see with their usage. Boston College will find a way to get the ball to its playmakers in creative ways.
Clemson has struggled at times with its coverage over the middle and with tight end Tommy Sweeney being a future pro, the focus will be to limit him as much as possible.
But a lot of the success from the tight ends comes from the running game. And 250-pound running back AJ Dillon is one of the best in the league.
Dillon is coming off of an ankle injury and will be a game-time decision against the Tigers. He's played in seven games this season but still has 897 yards rushing with eight touchdowns. Dabo Swinney called Dillon a "sledgehammer" at his Tuesday press conference.
So that brings us to the secondary and its biggest challenge to date: bringing the sledgehammer down. Allow defensive coordinator Brent Venables to explain.
"He's got great instincts and great physicality. Runs well behind his pads so he runs through a lot of trash and they force your secondary to tackle him by scheme."
"He's got great instincts and great physicality. Runs well behind his pads so he runs through a lot of trash and they force your secondary to tackle him by scheme," Venables said Tuesday.
"So big guy vs. a little guy creates a big advantage. It'd be like running the PAW Drill and a 200-pound linebacker is going against a 300-pound tackle. We know how that is going to go most of the time and it's not going to be good."
When Dillon gets to the second level of a defense is where he does his damage. Sure, it'll be a challenge to get through Clemson's front (especially after only rushing for 57 yards against Clemson a year ago). But there is an added stress to this matchup to bring Dillon down so he doesn't create chunk plays by running through trash.
We asked safety Tanner Muse if he thought Dillon is one of the hardest running backs he's ever had to tackle.
"He's the hardest in different ways," Muse told Clemson Sports Talk. "He's a bigger dude. I always think the quicker dudes are harder to defend because I'm bigger and they are a lot quicker than me. Getting through the holes, trying to meet them in the holes a little more difficult for me. At a physical standpoint, he will one of the tougher dudes to tackle.
"He's definitely a load. He's one of the hardest, for sure," Christian Wilkins added. "Everyone is just going to have to do their job, whatever that is. Whether your job is to take on the double teams, shoot the gaps, just whatever, you know? You gotta play team defense and sound defense. Just be discipline, be clean, be sharp."
Of course, a game between Clemson and Boston College is going to come down to the trenches. It's going to come down to Clemson's ability to drop the sledgehammer.

Christian Wilkins returning home.
Christian Wilkins will be a team captain for Clemson on Saturday night. It won't be anything new to the leader of Clemson's defense.
But as the Tigers hit the road to Boston, it'll be a homecoming for the Clemson defensive lineman, which causes one to think that anything could happen.
Wilkins grew up a Boston College fan, following the careers of Matt Ryan, B.J. Raji and others. Growing up, Wilkins said Boston College was his dream school.
"If you're from Massachusetts, New England, you know what it means to be able to go to Boston College," Wilkins said. "That's really the dream for everybody. So that was me. I really wanted the opportunity to play there and everything. Like in recruiting I got really close with them. Obviously, things changed as I got older, but that was my dream school as a kid. I know how special it is."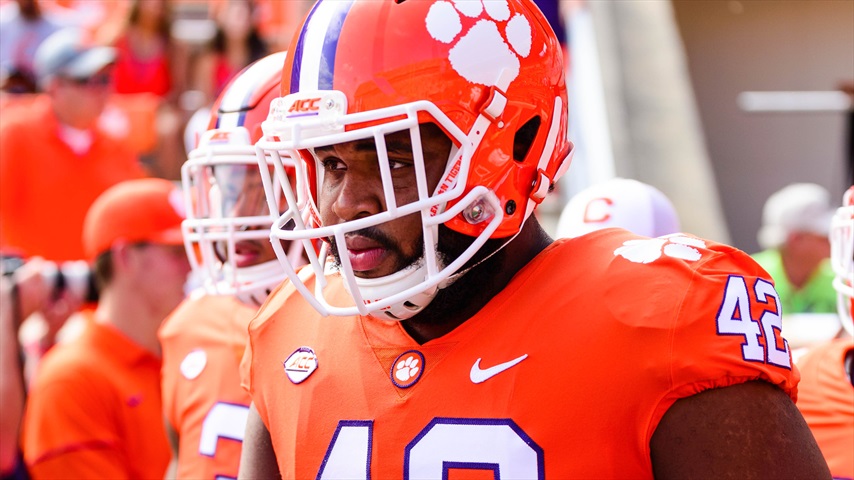 Clemson Sports Talk
As Wilkins said, things changed and now he is at Clemson leaving a Boston legacy in Tiger Town. As kickoff approaches, you'd think Wilkins will put on a show back home in primetime with all of his allotted tickets being used for friends and family. Could this be the week we finally see Wilkins line up at quarterback and throw a pass?
Time will tell. But we do know that an amped-up Wilkins going back home has a chance to do something no one has ever done before: win the Atlantic division for the fourth consecutive year.
The motivation is there and Wilkins can add to his own legacy by adding another division title in the place he calls "title town"
"That's actually my word for this year is legacy, not only leave a legacy but live the legacy," Wilkins said. "We're doing some great things. That's something coach talks about all the time, and that's really what I'm trying to do."

Trevor Lawrence in primetime - from start to finish.
We saw a glimpse of what Clemson's freshman quarterback can do in a hostile atmosphere on his first pass attempt at Texas A&M. Tee Higgins soared high, came up with the catch, and took off for a touchdown.
That feels like forever ago. Now, the Georgia native goes to Boston College as the guy in his first ever game up north. Lawrence has been fantastic so far since taking over the reins on offense.
Since Clemson was managed to escape Syracuse in Lawrence's first start, Clemson has outscored its opponents 240-36. As our Lawton Swann wrote and Dabo Swinney said, Lawrence is not a freshman anymore.
He's grown in confidence every week and you can tell how much more comfortable he is pre-snap. Nothing seems to bother him. Co-offensive coordinator Jeff Scott was asked if he knew what makes Lawrence so stoic on the field.
His reply: "That may be a good research project."
Another good research project would be to find out what makes Lawrence nervous. What rattles him, gets under his skin? Because we'd say it's unlikely some 30-degree weather and windy conditions in Boston would be the results.
Deshaun Watson didn't win the Atlantic division as a freshman. A win on Saturday in primetime would just be another accomplishment for Lawrence that he achieved sort of nonchalantly.
---
Follow us on Twitter: @ClemsonSports
Never miss the latest news from Clemson Sports Talk!
Join our free email list