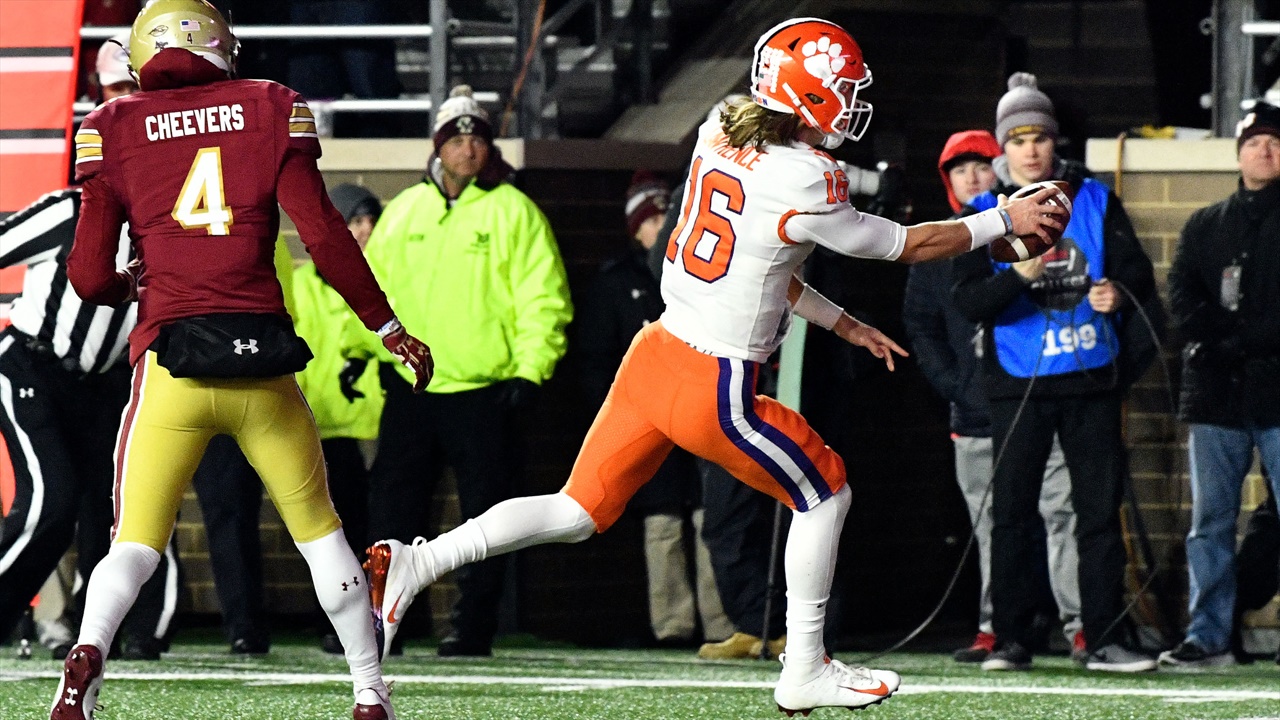 Photo by © Brian Fluharty-USA TODAY Sports
Clemson Football
With the Win: Clemson 27, Boston College 7
---
With Clemson's 27-7 win over Boston College...
Clemson won the ACC Atlantic crown for the fourth consecutive season to become the first team since the formation of the conference's divisions to win four straight division titles.
With the division title, Clemson will appear in the ACC Championship Game for the sixth time, the most of any ACC Atlantic program. In doing so, it will tie Virginia Tech for the most ACC Championship Game appearances in either division.
Overall, the division title is Clemson's seventh, including a co-championship in 2012 in which the Tigers did not appear in the ACC Championship Game.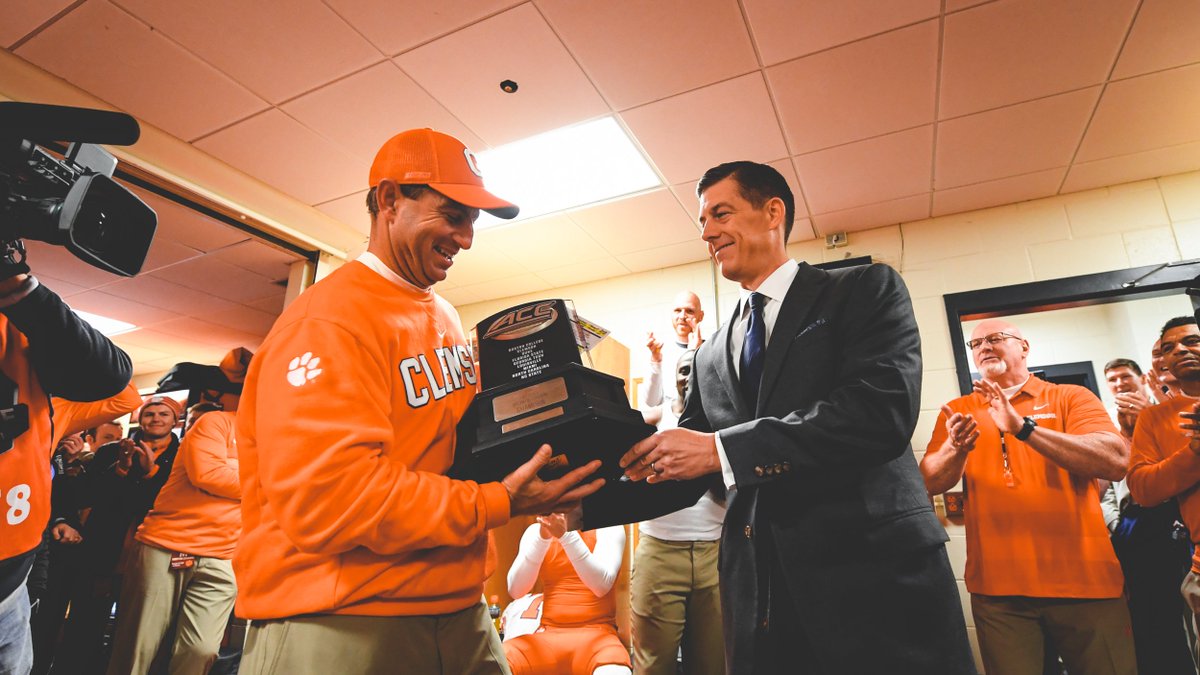 Clemson opened a season 10-0 for the fourth time in program history, joining 10-0 starts in 1948, 1981 and 2015. Including ties, it is Clemson's fifth undefeated start through 10 games, including a 9-0-1 season in 1950.
Clemson won the first 10 games of a season for the second time under Head Coach Dabo Swinney (2015). Swinney became the first coach in Clemson history to coach the school to multiple 10-0 starts, as legendary coaches Frank Howard and Danny Ford only accomplished the feat once each, in 1948 and 1981, respectively.
Clemson has now won 10 games for an eighth consecutive year, adding to its current school-record streak. In pushing the streak of 10-win seasons to eight, Clemson tied Miami (1985-92) and Virginia Tech (2004-11) for the fourth-longest streak of 10-win seasons in FBS history.
Clemson's 10 wins this season are tied for the ninth-most wins in a season in team history.
Clemson won its 50th game in the last four years to tie the 2018 senior class with the 2017 senior class for the most wins in school history. It also tied that group for the most wins of any class in ACC history.
© Brian Fluharty-USA TODAY Sports
Clemson played its final true road game of the season and finished undefeated in true road games for the third time in a four-year span for the first time in school history.
Clemson secured its 19th victory in its last 20 true road games.
Clemson earned its 26th victory in its last 29 games away from home, including neutral site contests.
Clemson won its eighth consecutive game against Boston College, dating back to 2011. Clemson's eight-game winning streak over Boston College is its second-longest active streak against an ACC opponent (10, Wake Forest).
Clemson is now 17-9-2 against Boston College all-time, including a 10-4 mark against since the Eagles joined the ACC in 2005.
Clemson has now four straight road games at Boston College for the first time in school history. Clemson had previously posted a three-game road winning streaks in the series across the 1948-52 seasons.
Head Coach Dabo Swinney improved to 10-1 against Boston College. His 10 wins against the Eagles are tied for his most against any single opponent (10, Wake Forest).
Clemson won the 28th of its last 29 games against ACC Atlantic Division opponents.
Clemson defeated an ACC foe for the 32nd time in its last 34 opportunities, including conference championship games, dating back to 2015.
Clemson improved to 36-0 when scoring first since 2015.
Clemson led, 13-7, at halftime, and has now won 61 of its last 63 games when leading at halftime.
With a 20-7 lead after three quarters, Clemson also improved to 82-2 since 2011 when leading entering the fourth quarter.
Clemson held a 19-8 advantage in first downs and has now posted an 83-2 record when recording more first downs than its opponent since 2011.
Clemson extended its winning streak in Saturday games to 26 to extend the longest Saturday winning streak in school history. The current 26-game streak is the longest of any school in the country.
Clemson has now won 64 straight games when holding teams under 23 points, dating back to 2010.
Clemson improved to 12-7 in contests featured on ESPN's College GameDay. Clemson has won its last eight games featured on College GameDay, dating back to 2016 (vs. Louisville, Ohio State and Alabama in 2016; vs. Louisville, Virginia Tech and Miami in 2017; Texas A&M and Boston College in 2018).
Clemson's eight-game winning streak in College GameDay-featured contests is the longest active streak in the nation.
Never miss the latest news from Clemson Sports Talk!
Join our free email list