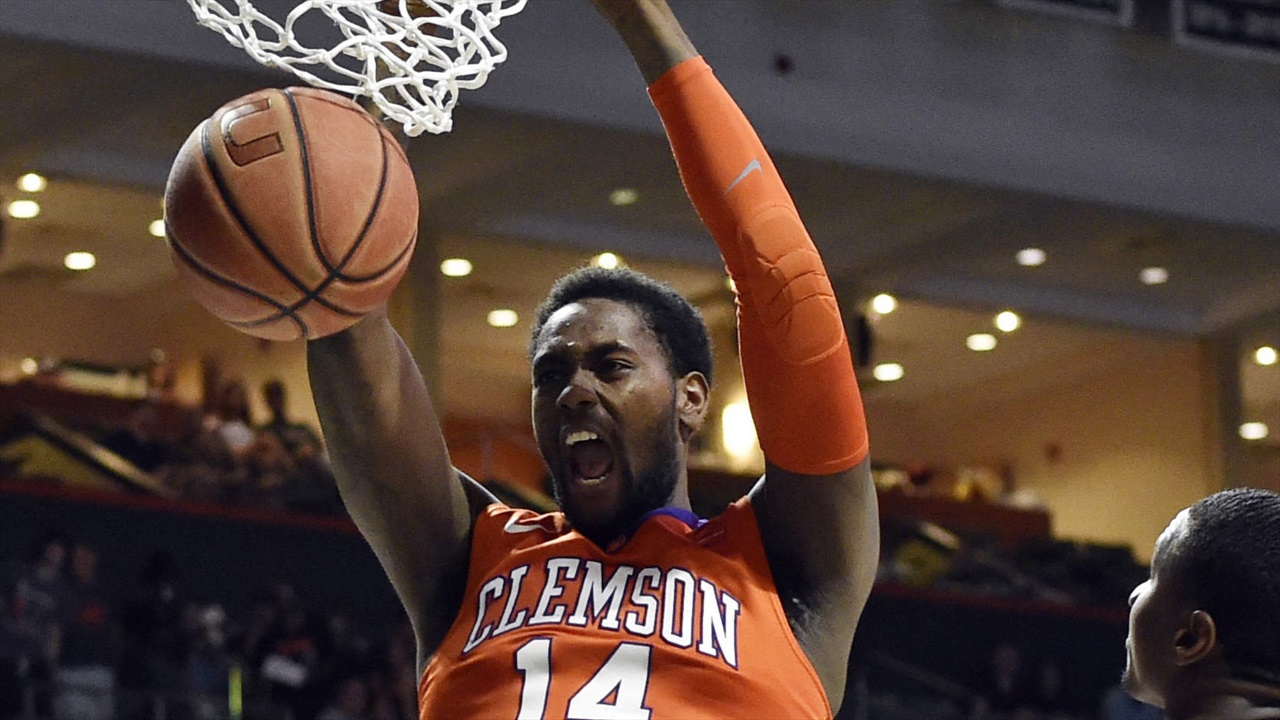 Photo by © Steve Mitchell-USA TODAY Sports
Clemson Basketball
Brad Brownell previews Sam Houston State, Elijah Thomas is day-to-day with the flu
---
Brad Brownell was visibly frustrated on Tuesday afternoon as he previewed the upcoming matchup with Sam Houston State.
The main reason behind that is one of his best players, Elijah Thomas, continues to not be at full health. Thomas was diagnosed with the flu and didn't practice on Monday. He had a temperature close to 101 degrees.
His status right now is day-to-day and Brownell doesn't know if he's going to be able to go on Wednesday night.
Thomas has also been battling an ankle injury he's had prior to the regular season beginning. He's started the first two games of the season, playing 24 minutes against The Citadel and 19 minutes against NC Central.
"It's been a little disappointing," Brownell said. "He hasn't had very many consecutive days of good practice during this fall. I know he's frustrated by it, I know we're a little frustrated by it because he needs to be out there."
Thomas is averaging 10.5 points and six rebounds per game. Clemson, which is 2-0 for the 16th time in the last 17 seasons, will play Sam Houston State on Wednesday night at 7:00 PM.
-- On if there is a silver lining for Thomas being out and other players being able to step in:
"Not really, to be honest. We've had so many guys out, especially the big guys. In fact, Johnathan Baehre has been out the last couple of days with concussion-like symptoms. So it's been a little frustrating for practice, I'm not going to lie. I was really frustrated the other day on Sunday because we needed a great day of practice and it was hard to get one. We just don't have enough healthy bodies to consistently go at it… I thought we got some good work in yesterday… It's been a little bit of a start-stop year for us."
-- Anything new on Malik Williams?
"He's improving, done a little work on the side. No real work competitively."
-- On being more comfortable with the way the defense is playing so far:
"We're doing better. We've had a good couple days and good end of the week last week in preparation for North Carolina Central. Our defense was better. Our numbers were good as far as field goal percentages but our rebounding wasn't as good. It was not a hard week, but it was a different week in terms of playing two different styles. Guys showed pretty good focus to handle our business in those games."
-- On the matchup with Sam Houston State:
"Kind of a proud program. They've had a lot of success in their league, winning it several times in the last five years or so. Experienced team with good players that really score the ball. They are not big in our world, but they have enough size to be able to play big if they want to. They also can downsize and play small with four guards and spread you out and shoot the three. I'm anxious to see how we play. I thought we kind of played a team that is semi-similar in The Citadel. Our guys did a good job last week in adjusting to both (different styles), playing in different ways. Hope to continue our good play."
-- On David Skara's offensive output so far this season:
"Confidence. At the end of last season when David was working out with us in the spring, he was really shooting the ball exceptionally well. We felt like he was turning a corner. He was out for so long that when he came back to our team, there really wasn't a need for another scorer. We just needed a guy to come in and defend and plug some holes for us. I thought he did that. He never got into a good rhythm last year." Sometimes, there are a few things with language that Skara has trouble understanding. "He is more comfortable now and understands what they are looking for in certain situations… He knows he's put in the time so he's knocking down shots and playing with confidence."
-- What the biggest thing he is looking for in these non-conference games:
"Energy level, competitive spirit, focus, attention to detail, game planning. Are we putting our guys in positions to be successful as a coaching staff? Do we need to adjust? And obviously, just development of your players. You watch guys like Aamir and David take steps forward and do that. That gives you confidence and you are constantly evaluating young players."
Never miss the latest news from Clemson Sports Talk!
Join our free email list