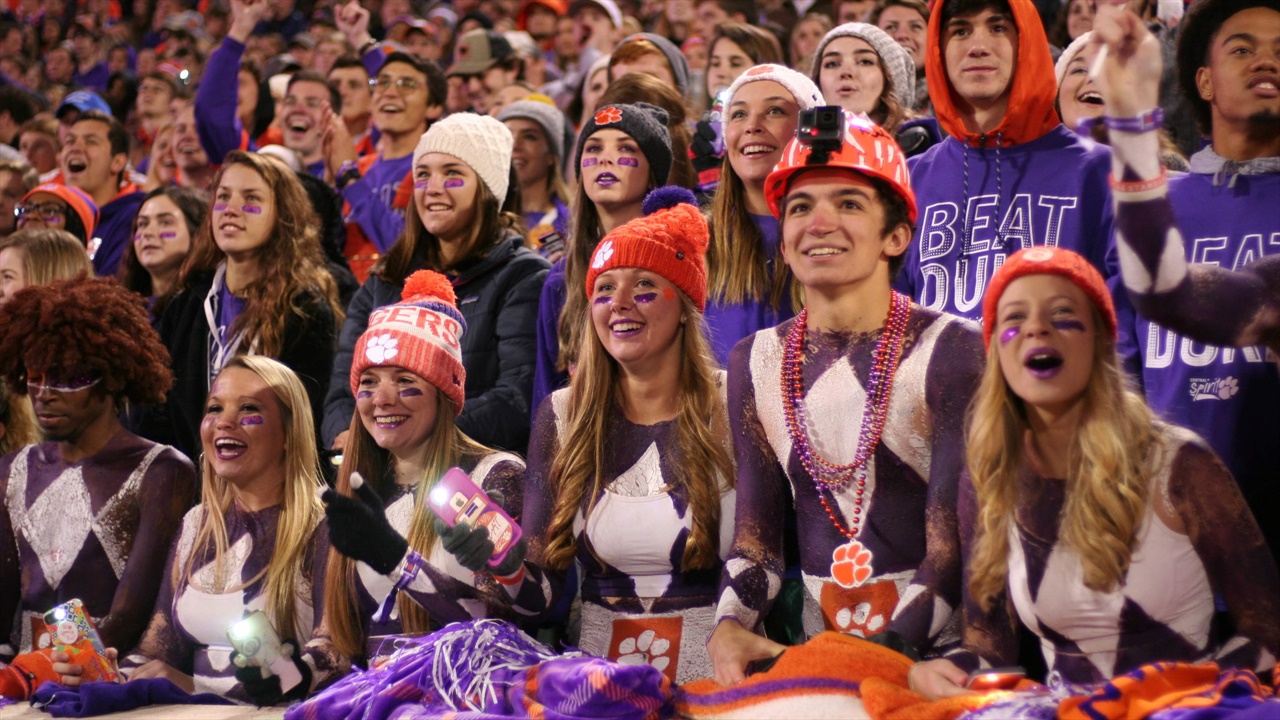 Clemson Football
One Last Rewind: Duke
---
After the smoke had cleared on Saturday night from the Tigers running down the hill in Death Valley, everything looked as if Clemson would jump on Duke early and often, but there were a few bumps in the road. Despite all of that, Clemson still rolled to a 35-6 victory over Duke.
Getting synched up on offense
Was the pageantry of Military Appreciation Day and Senior Day a little too much for Clemson early? It sure looked like it as Clemson once again struggled out of the gate on offense.
The main problem seemed to be drops from the wide receiving core, as our Sanders Sullivan mentioned earlier this week. The JUGS machine will definitely be used heavily during this week of practice.
Trevor Lawrence displayed leadership, encouraging his teammates on the sidelines while they were trying to figure out what they were doing wrong. All the while, the freshman quarterback was also figuring out what Duke was doing defensively. From my perspective, it seemed like the Blue Devils presented a loaded box to take away Travis Etienne and the Tigers were held to a pedestrian-like 17 yards.
"They were jumping back in Cover 2, doing a lot of line twists that's really going to stop your run game, so it just took us a little bit of time to get settled in and once we were able to commit to establishing the run, we had some success," said co-offensive coordinator Tony Elliott
Etienne came to the sideline frustrated with his performance at one point, and it took a conversation with a senior leader to get him refocused.
"Adam (Choice) came and talked to me, just gave me some words of encouragement just to get my mind focused on the next play and it really helped me out," Etienne said.
"Adam (Choice) came and talked to me, just gave me some words of encouragement just to get my mind focused on the next play and it really helped me out," Etienne said.
Clemson responded, leaning on the running game and Etienne cashed in on two long runs for touchdowns in the second half.
As for the wideouts, Derion Kendrick reeled in a long reception, making up for a sure touchdown that he dropped earlier in the game.
As for Lawrence, he still made some beautiful throws, including a 41-yard touchdown strike to Justyn Ross finishing 21 of 38 for 251 yards and two touchdowns.
"Just leave no doubt. That was kind of our thing and we just wanted to come out and play well and execute, do some things that we weren't doing in the first half," Lawrence said.
The last two weekends have not been the best performances offensively. With that said, expect Clemson to come out playing focused and inspired football with the rivalry looming this coming weekend.
127 yards
Clemson gave up 127 yards to Duke in the first quarter, the Blue Devils could only muster 135 yards in the final three quarters of action. It's fair to say that Clemson's defense was a bit off early on as well.
Duke quarterback Daniel Jones deserves some credit for his play as he managed the game well in the first quarter, including a hook up with Daniel Helm for a 37-yard strike, setting up Duke's first points of the game.
Jones came into Death Valley riding high after his record-setting performance in a shootout against North Carolina and Clelin Ferrell knew that.
"Obviously, that quarterback (Daniel Jones) is really good and the margin for error is really, really small. The type of throws that he made and the rush lanes and things like that, the running back was good so we really needed to wrap him up so, just honing in on our details, man," Ferrell said.
Ferell made an impressive play in the first half, batting the ball away from Jones instead of just chasing him, which is a credit to the Tigers' preparations for the game.
"They (Duke) like to get the ball out quick and particularly over the middle and inside so, thought there were certain calls, hey, in these x, y, z calls, there's a good chance he's going to do what? He's going to hold the ball," said defensive coordinator Brent Venables.
Kickin' Chicken Time
This week is the annual battle for state bragging rights in South Carolina as the Tigers and Gamecocks will meet up in a prime-time matchup. Clemson will be looking for their fifth-straight victory over their in-state rival over South Carolina. We'll have more thoughts before the Palmetto Bowl on Saturday night.
Til then, wishing you and yours a happy and blessed Thanksgiving!
Loading gallery...
Never miss the latest news from Clemson Sports Talk!
Join our free email list