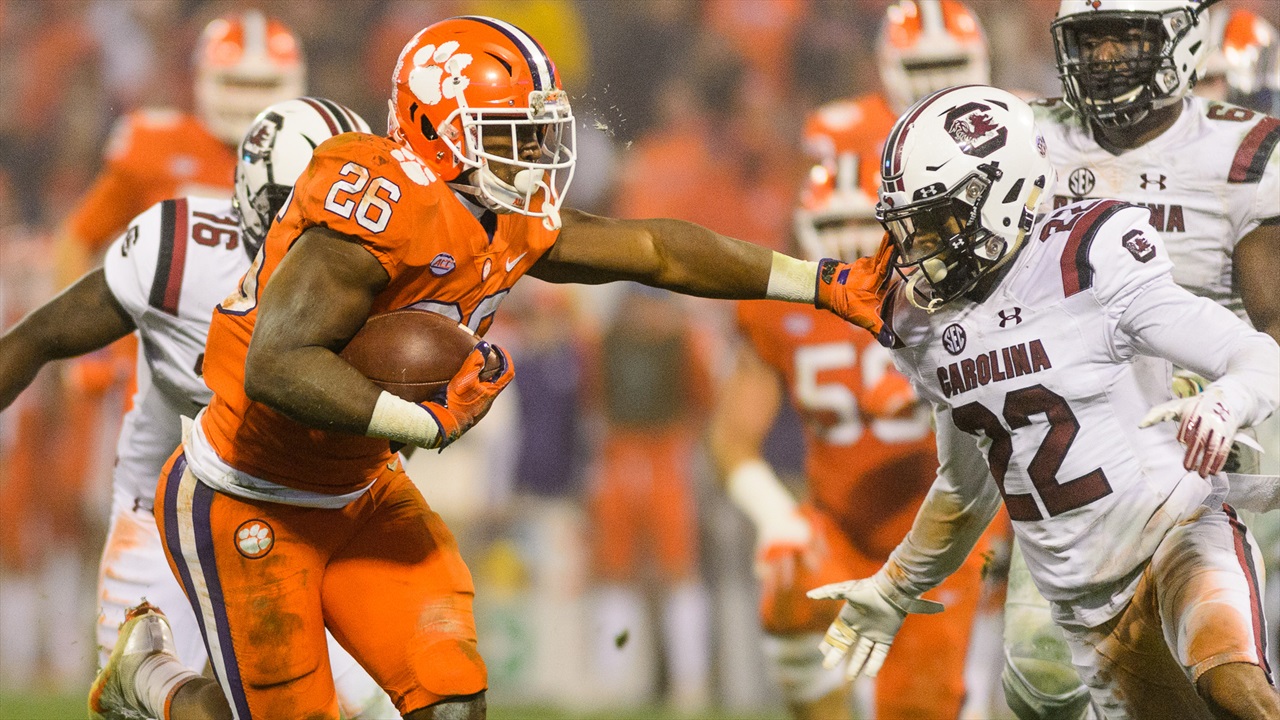 Clemson Football
Fog-Bomb
---
CLEMSON -- What's that old saying when rivalry week comes around?
Throw the records out the window when South Carolina and Clemson get together.
Everyone scoffed when Clemson head coach Dabo Swinney said it at his weekly Tuesday press conference, but maybe he was on to something. Because what we witnessed in the latest installment of the Palmetto Bowl was something very few people saw coming.
Turned out the record books were thrown out the window as both teams racked up 1,344 yards of offense and 91 points combined.
But when the dust settled, and the Death Valley fog rose, No. 2 Clemson was able to hold on for a 56-35 victory over its hated in-state rival. In case you hadn't heard, it was Clemson's fifth consecutive victory over South Carolina for the first time since 1940.
The last two meetings between Clemson and South Carolina, the game was hardly competitive. And as exciting as it was for Clemson fans as the Tigers piled on the points and shut down the Gamecocks, to people on the outside the games were downright boring.
The feeling all week was that this year's contest would be just as bad, if not worse. What we got in return once the game kicked off was record-breaking performances from both sides.
South Carolina quarterback Jake Bentley had the performance of his life. Clemson fans have mocked the junior quarterback for his past statements in this rivalry, but you this year's loss isn't pinned on his arm. Bentley threw for five touchdown passes and a career-high 510 passing yards on a 32-of-50 clip.
It was the most passing yards a South Carolina quarterback has thrown against Clemson in the rivalry's history.
It began on his first drive where he marched right down the field for an 80-yard touchdown drive that lasted 12 plays amidst the loudest Clemson's crowd has been in over a year. He converted three third downs on the drive.
It was the first time Clemson's defense had given up a touchdown in the first quarter all season and the first competitive touchdown they had given up since September. This was only the beginning of a night that would make defensive coordinator Brent Venables want to pull his hair out.
Clemson's defense gave up 600 yards. 600. Most of which came through the air to South Carolina's playmakers on the perimeter. Deebo Samuel led the Gamecocks in receiving with 10 catches for 210 yards and three touchdowns. Shi Smith added nine catches for 109 yards and one touchdown.
There was no slowing down that offense on this night, much like what we saw in the second half against Texas A&M earlier in the season. Clemson's secondary couldn't seem to get into position and the Gamecocks made them pay pass after pass.
"Defensively, they just got a big ol' dose of Robitussin," Swinney said. "That's not going to taste good looking back at it tomorrow."
"Defensively, they just got a big ol' dose of Robitussin," Swinney said. "That's not going to taste good looking back at it tomorrow."
South Carolina was going to need a career-night from Bentley to have any shot of pulling off the upset of the season, and that's just what it got. Unfortunately for the Gamecocks, the quarterback on the other side had a career-night as well.
Welcome to the Palmetto Bowl, Trevor Lawrence.
Clemson's true freshman quarterback left his mark on the rivalry by throwing for a career-high 393 passing yards on a 27-of-36 clip and one touchdown. He also rushed four times for 42 yards and looked his most comfortable running the ball this season. Clemson needed every throw and every big play it could on a night where it was the defense that was flat a little bit.
Of course, it was the most passing yards a Clemson quarterback has ever had facing South Carolina.
"To see Trevor go out there and play the way he did tonight in his first state championship game, in that arena - that stage - was awesome," Swinney said.
After South Carolina scored on its opening drive, Clemson came right back with a 10-play, 75-yard touchdown drive of its own. The Tigers scored on their first four possessions, and we'd list all of them for you, but that would take up another page.
Tee Higgins lead the Tigers in receiving with 142 yards on six catches, one of which was Lawrence's lone touchdown pass of the game. The 22-yard strike to make it 14-7 looked like playing catch with your dad in the front yard on Thanksgiving. Hunter Renfrow also caught five passes for 80 yards.
So back-and-forth we went. At one point in the second quarter, three touchdowns were scored between the two teams in a 2-minute span. We asked ourselves if a BIG 12 game had somehow broken out in Death Valley.
South Carolina's masterful performance from Bentley was matched by Clemson's balance. Of their 744 yards of offense, 393 were through the air and 351 were on the ground. Clemson carved up the Gamecocks with a rushing attack that couldn't be stopped.
Travis Etienne led Clemson's backs with 150 yards and two touchdowns on a career-high 28 carries. He broke the record for most rushing touchdowns in a single season in Clemson history with 18. Adam Choice added 56 yards on seven carries, fittingly enough, and scored three touchdowns in his final game inside Memorial Stadium.
Heck, even Christian Wilkins scored his second rushing touchdown of the year even with the game still in balance and added a Heisman pose shortly after.
Clemson's offense put together three touchdown drives of 95-plus yards in the same game for the first time in school history. We asked co-offensive coordinator Jeff Scott if he had ever seen anything like that before.
"Never," Scott said.
Scott and Swinney gave full credit to their offensive lines for the 95, 97, and 98-yard touchdown drives, which were more than crucial in a game where defense was lacking. Clemson scored 14 points in every quarter, while South Carolina going scoreless in the third quarter was almost the difference in the game.
Members of Clemson's defense approached the media with their heads hung low after the 100th win of the decade for the Tigers. Kendall Joseph addressed how a Brent Venables defense always corrects its mistakes.
Venables let it all out and put the defensive performance - or lack thereof - on himself. "Disgusted," "embarrassed," and "pathetic" were all words that came out of his mouth. South Carolina too advantage of faulty coverage from Clemson's linebackers and safeties for the entirety of the game. It was the second-most passing yards a Clemson defense had ever given up.
Even the people in the upper deck above the dense fog could see how wide open the middle of the field was as South Carolina added a Samuel and Smith touchdown in the fourth quarter to make it a two-score game with 3:37 to go.
But Clemson's offense ended the game by not slowing down and punching the ball in with Etienne with 39 seconds left. Swinney said you wouldn't see him giving out and five-bombs if Clemson were to win.
In our estimation, a 56-bomb on the scoreboard does the job for him.
To the outside world, Clemson's defensive issues almost overshadow the Tigers moving to 12-0 for the third time in school history. Almost. But even though Clemson's defense was historical for the wrong reasons tonight, they got the stands they needed to on fourth down twice, which ended up being the difference in the game.
"We gotta get that (defense) fixed, but you win by three touchdowns against your rival - it's a good day," Swinney reminded the media.
Sure, tonight wasn't the euphoric, unequivocal 56-7 beatdown we expected walking into the stadium like in 2016. The Gamecocks proved that perhaps if they get a healthy defense, this rivalry will get back to how it used to be.
But for now, the focus shifts towards Charlotte. And like the Death Valley fog, Clemson must roll on.
On to the ACC Championship game.
Never miss the latest news from Clemson Sports Talk!
Join our free email list