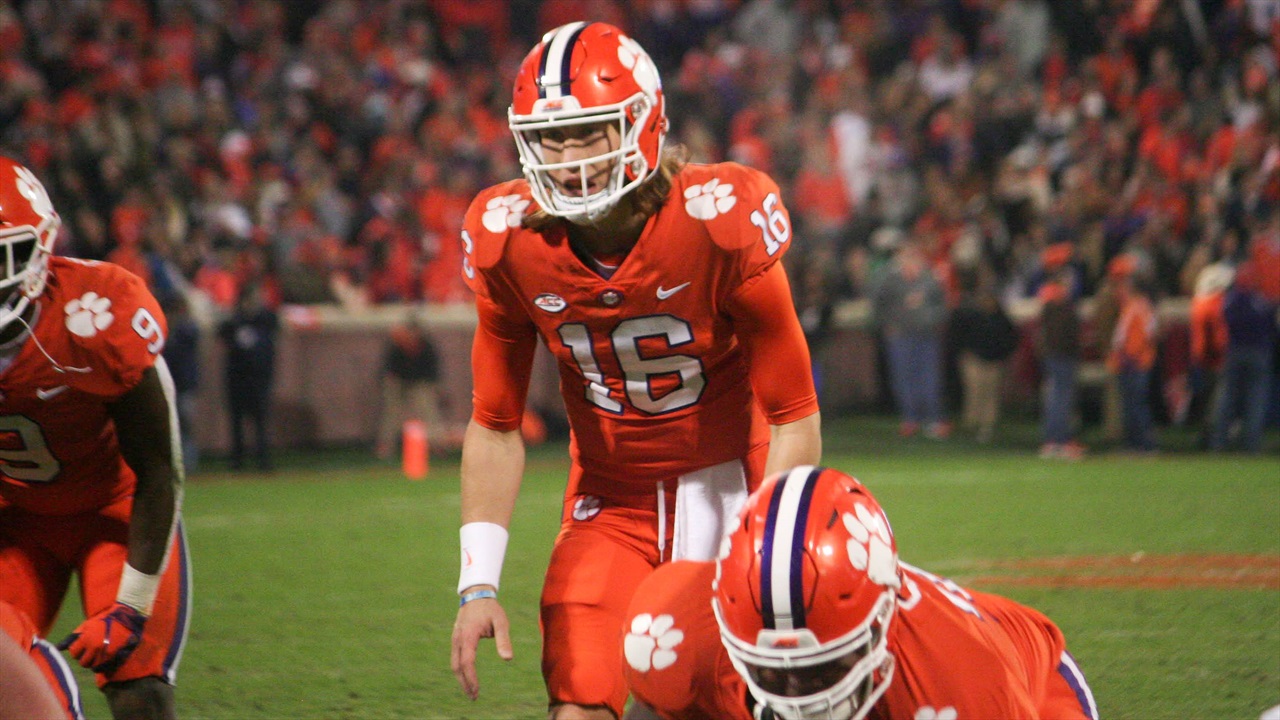 Clemson Football
One Last Rewind: South Carolina
---
Clemson came into Saturday night's game looking to defeat South Carolina for the fifth straight time and did just that winning 56-35. The win, however, didn't come without some obstacles for the No. 2 ranked team in the country. Let's dive into some of our intern Brandon Stockdale's takeaways.
A slice of humble pie for Clemson's defense
Clemson's defense had been outstanding all season and was it not for the late missteps against Texas A&M I would be hard pressed to find a bad stretch for the unit, that was until Saturday's game presented an was an obvious step back and defensive coordinator Brent Venables knew it.
"I thought South Carolina and Jake (Bentley) had a good plan and they played well. Obviously, I didn't coach them very well tonight. I'm embarrassed at different things that happened there tonight. Obviously, it's my responsibility to get our guys ready and we weren't as sharp as we have been."
Bentley torched Clemson's secondary to the tune of 510 yards and 5 touchdowns. South Carolina used tempo which has given this defense issues in the past and those problems reappeared Saturday night.
Christian Wilkins believes all the mistakes from the game are fixable, which is a good thing, but there is a lot of work to be done before the ACC Championship against Pitt. Not only that, but the Tigers have to improve if they are going to make a run in the playoffs against teams like Alabama, Notre Dame or Oklahoma.
"We've still got the same guys out there on the field, just gotta improve. Just got to look at the tape with critical eyes and see what we did wrong and just go from there, that's all you can do," Wilkins said.
There's going to be some tough love inside the facilities for the defense as they break down the tape, but sometimes it takes a little bit of humble pie along the way to reach your ultimate goal.
Roles reversed
While the defenses struggled, the offenses for both teams thrived on Saturday.
Many people didn't expect for game to be such a high scoring shootout, but that's exactly what it was. The teams combined for 1,344 yards of offense and you would've thought there was a Big 12 game being played on a foggy and cold night in the Upstate.
Trevor Lawrence got his first taste of the rivalry and was asked if a game would turn out to be a shootout.
"I didn't really know going into it. I knew we were prepared and played a good game so we did what we set out to do, win the game, so, really proud of the guys," Lawrence said.
In the past few weeks, it's been the defense that's had to bail the offense out while they figure things out. Saturday, the roles were reversed, which was surprising to Hunter Renfrow.
"That's a credit to South Carolina. They're a great team. I don't think they rushed for a lot of yards, but they threw for a lot of yards so hopefully, we can get back in practice and that's why it's a team game. Just play well offensively and try to help them because they saved our butts a bunch of times this year."
Adam Choice scored three touchdowns in his final game in Death Valley on Saturday which was special according to co-offensive coordinator Tony Elliott.
Elliott mentioned that Thanksgiving was C.J. Fuller's birthday and it was fitting that the late running back's classmate had such a big game. Elliott was reminded of that after seeing Fuller's mom in the pregame Tiger Walk. Hearing that story, it was fitting to see Choice go out as he did.
"An unbelievable leader, he's been the rock in my room and I've tried to express that as much as I can for everybody on the outside," Elliott noted. "Obviously, Travis and Tavien are highly talented, but Adam Choice is just a rock in my room and he makes me a better coach every time I step in there. For him to come out in his last game in the Valley, and have three touchdowns, that's really, really awesome."
Chasing another title
We turn the calendars to December this Saturday and once again, Clemson fans will invade Charlotte for the ACC Championship Game, this time the will face their fourth different Coastal Division champion in Pitt.
The national media may bring up the 2016 game when the Panthers defeated Clemson on a last-second field goal, but that game won't have any bearing on what happens on Saturday night.
Dabo Swinney's comments on Sunday were a good reminder to a small portion of fans that you have to recognize and appreciate the success of this program over the last few seasons. It wasn't long ago that Clemson lost to South Florida in the Meineke Car Care Bowl in Bank of America Stadium in Charlotte and finished 6-7 in 2010.
Clemson's senior class can continue to build on their incredible legacy with a win in the Queen City on Saturday evening, which would secure a fourth consecutive ACC Title and trip to the College Football Playoff.
Enjoy the ride.
Loading gallery...
Never miss the latest news from Clemson Sports Talk!
Join our free email list