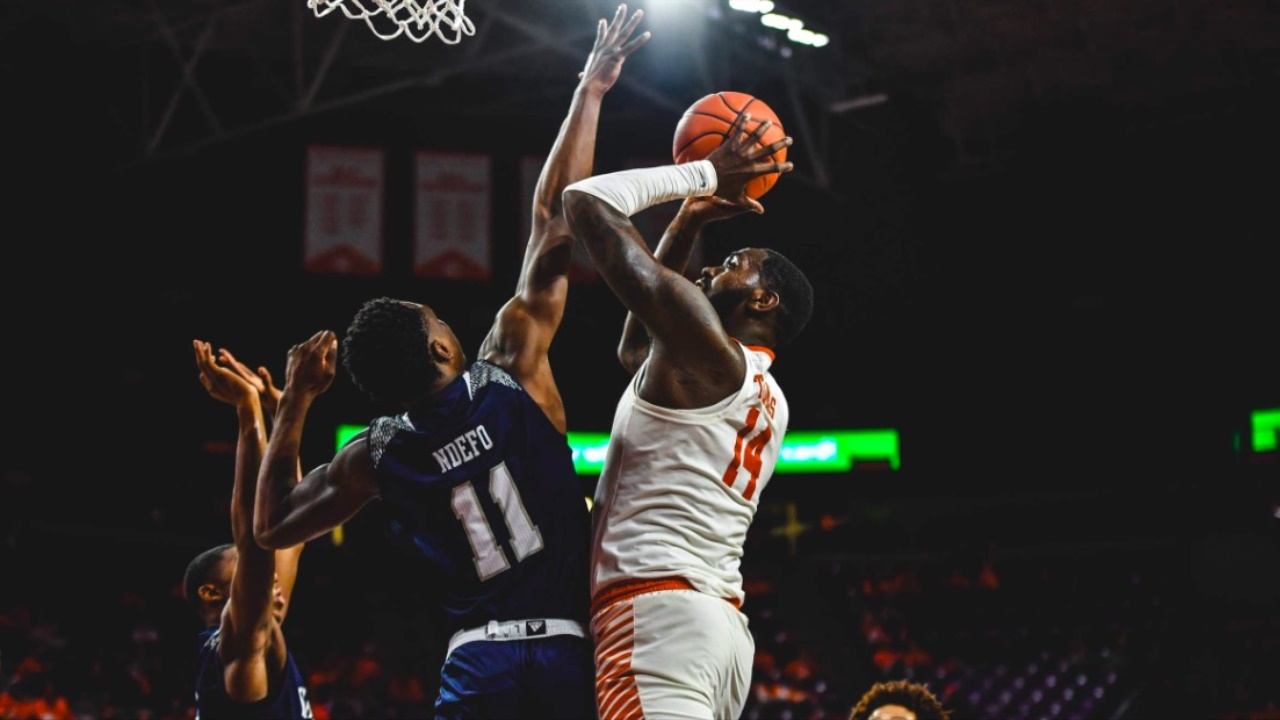 Photo by ClemsonTigers.com
Clemson Basketball
Clemson plays one of its best halves this season in win over Charleston Southern
---
CLEMSON -- Without Marcquise Reed on the floor, Clemson basketball played one its best halves of the season on Tuesday night.
Against Charleston Southern, the Tigers utilized an 18-0 run in the first four minutes of the second half to pull away from the Buccaneers and eventually win comfortably 78-51.
The win marked Brad Brownell's 157th win as Clemson's head coach, which quietly moved him to second all-time in school history. It wasn't just the second-half jolt that propelled Clemson to the win, it was the defensive effort all game.
"Pretty good defensive performance," Brownell said after the win. "They only had two assisted baskets and I thought that was a big key in the game. I thought our defense in the second half and the way we played in the second half was just much better."
Elijah Thomas led Clemson (8-3) with a game-high 25 points and 14 rebounds in 26 minutes. It was Thomas' 4th double-double of the season and 14th of his career.
Aamir Simms and Shelton Mitchell, who Brownell said looked like the senior guard he is, also contributed by each scoring in double-figures by shooting a combined 12-of-19 from the field. Mitchell scored his 1,000th career point in the first half en route to the victory.
It was Simms who provided the spark for Clemson to start the second half.
The Tigers held a 35-27 lead at the half. Thirty-three of Clemson's 35 points were either scored in the paint (26) or at the free-throw line (7). The Tigers were 0-7 from three-point range after giving up five to the Buccaneers' Christian Keeling, who had 18 points at the half to keep them within striking distance.
On Elementary Night in the crowd, the Tigers took Charleston Southern (4-7) to school in the second half, making four consecutive three-pointers coming out of the break. Simms made three of them and had an 8-0 run by himself at one point. A steal on the next possession after a Simms three was followed up by a Thomas slam, which gave Clemson a 26-point lead and put the Tigers in cruise control for the rest of the evening.
Simms finished with 15 points on 6-of-8 shooting in 23 minutes of play two nights after going scoreless in the first half against Radford.
In that second half, the Tigers shot 63-percent from the field (15-of-24) and made 50-percent of its three-pointers (6-of-12). In the same period, Clemson also outrebounded Charleston Southern 21-11, limited the Buccaneers to only ten made field goals on 31 shots, and forced 20 turnovers throughout the game as a whole.
The only problem in the game for Clemson was the 22 turnovers it committed. In the past two games, the Buccaneers have forced 49 turnovers with their aggressive full-court traps and different defensive schemes. But in return, Charleston Southern only scored nine points off those turnovers while Clemson scored 23 off of Charleston Southern's 20.
Charleston Southern head coach Barclay Radebaugh said Brownell's group is the best team defensively that his team has seen, and they've played against Marquette and Florida this season. He said Brownell has a solid program that is built to win every year.
Thomas' effort on both ends of the floor was evident as he looked like he's getting healthier and better every game. After the game, Thomas said he feels fine and is "pretty much" 100 percent.
Clemson is going to need him to continue his progression especially without the play of Reed, who is still sidelined with a knee sprain and is "doubtful" for the next game against South Carolina, according to Brownell.
"I think every game we play with or without Marcquise is very important especially with a team full of young guys," Thomas said. "It's all about growth for us this year. We miss him out there. He's a bucket-getter, he plays hard… it's tough, but we're adjusting. The key for us is to continue to grow in practice and I think with that we'll be fine."
The Tigers will look to build off their momentum from this win as they head to Columbia for their annual rivalry game against South Carolina. Clemson will play the Gamecocks at 2:00 p.m. on ESPN2 Saturday afternoon. The Tigers have won three of their last four against the Gamecocks.
"It's the next game. It's a rivalry game though," Thomas said with a smile. "We want to win for this school, but it's just like another game."
Never miss the latest news from Clemson Sports Talk!
Join our free email list