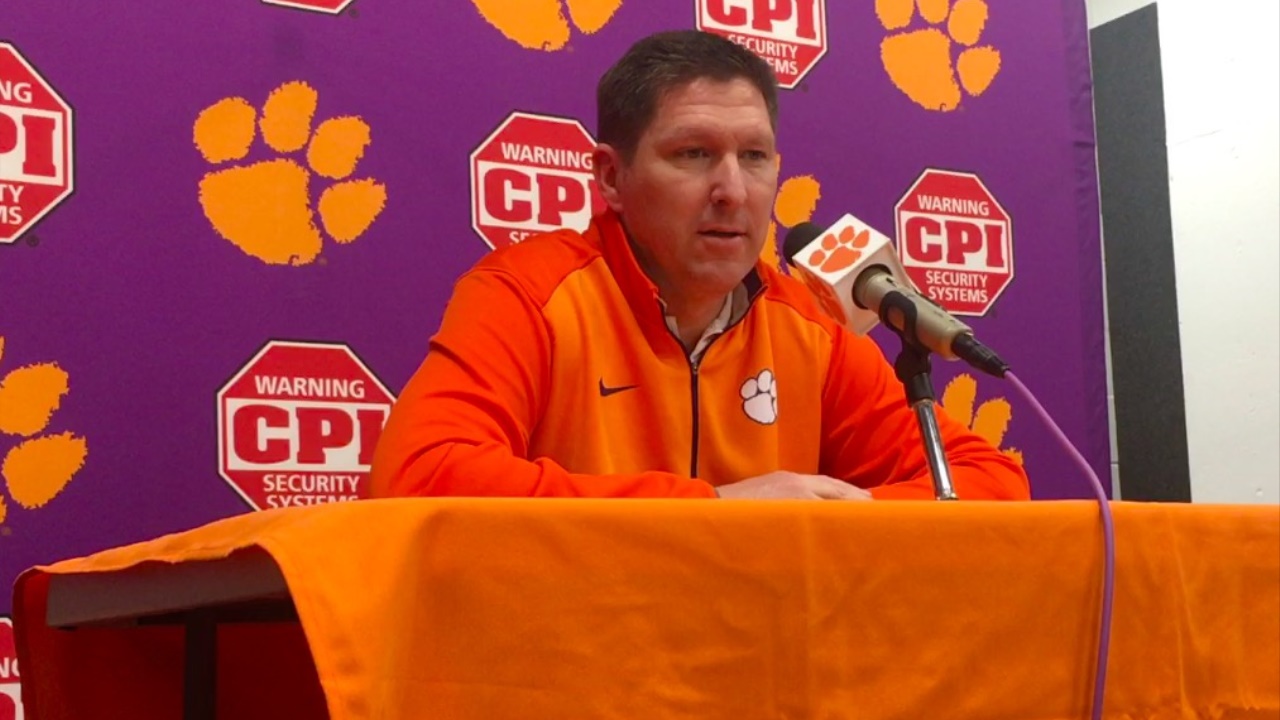 Clemson Basketball
Brad Brownell previews South Carolina, says Marquise Reed has "outside shot" of playing
---
Saturday afternoon will mark the 169th battle between Clemson and South Carolina on the hardwood with the Tigers winning the last two.
Both teams have had a rough go of it at times early this season because they've had to navigate through different kinds of injuries.
As for the Gamecocks, five players have missed a combined 20 games due to injuries. Junior forward Malik Kosar (concussion) and freshman guard T.J. Moss (high ankle sprain) are the latest players to have been bitten by the injury bug.
Even with the injuries, Clemson head coach Brad Brownell said Friday that the Gamecocks are getting better as this early portion of the season wears on. Their performances in losing efforts against top-5 teams Michigan and Virginia are evidence of that.
"Those are two teams that could be in the Final Four," Brownell said. "They've had good opportunities in both games. I think their guys are getting more comfortable. I think (Frank Martin has) got them playing more of the way he wants them to play and they are understanding some things."
South Carolina (4-6) comes into this game on a three-game losing skid and looks to right the ship while Clemson has gained momentum with two consecutive victories. And those games being won without lead-scorer Marcquise Reed.
Speaking of Reed, Brownell said Tuesday night after Clemson's win over Charleston Southern that Reed was "doubtful" for Saturday's game. Friday afternoon, Brownell upgraded Reed's status to a "game-time decision" which would be a significant development for the Tigers.
"He might have an outside chance of playing," Brownell said. "He suited up yesterday and did mostly non-contact work. We had him in a few defensive things that were probably at ¾ speed. Today he is going to try and do a little bit more and we'll just see how he responds, but he's improved a lot over the last two to three days."
With the way Elijah Thomas played on Tuesday in what was probably his best outing of the season with a game-high 25 points and 14 rebounds in 26 minutes of action. Getting Thomas back healthy has been crucial, but this team won't be able to mesh the way it can until Reed comes back 100 percent.
With both teams going into the game with their fair share of injuries, Brownell discussed how tough it is to get into a rhythm when you don't have a healthy team, especially at key positions.
"It's hard for both of us. I think you can see at times when it's just the rhythm and timing of your team is not as good as it should be," Brownell said." And you're not as confident because you've got guys out there that aren't quite as confident.
"Watching our film from last year's game, we looked like a confident team. Our guys were pretty poised, comfortable, and confident. We didn't always make good plays, but there was no hesitation. Frank's going through the same thing where your practices aren't as good so you're not competing as hard against each other as you need to. And then as you get into very challenging games, guys just break down."
Saturday afternoon is not only a big game in terms of the rivalry, but Clemson is going to need a quality road win over a nonconference opponent, especially after the loss to Mississippi State in New Jersey, to bolster its tournament resume.
It won't be easy as South Carolina plays a physical style of play and stretches out offenses by throwing in a zone defense. The Gamecocks hold opponents to shooting 40 percent from the field, which ranks 76th in the entire country. Clemson will come into the game shooting 48.7 percent, most of its damage coming from the inside.

"The way they compete is just a real challenge," Brownell added. "You got to be ready to go."
Clemson will tipoff against the Gamecocks at 2:00 p.m. on ESPN2.
Additional notes and quotes from Brownell:
- He said he respects the way Frank Martin coaches his players and how hard he gets them to compete.
- Compared South Carolina's play to Florida State with how aggressive they are on both ends. "They make it difficult for you to run your stuff. You have to simplify your packages and your players have to make more plays in these kinds of games." Added that you have to play confidently against them because they are going to force you to make plays.
- He said Eli Thomas is much better now than he was at the start of the season. He is confident and comfortable with the offense. When you don't have Thomas on the floor, you don't look inside as much and players weren't used to him being out there. Brownell has noticed players are looking inside more instead of moving the ball around the outside. "I'm comfortable and confident that he's starting to play his best basketball."
- He said South Carolina is turning the corner and improving. Said he's noticed Frank Martin becoming more comfortable with his lineups.
- The bright side of the Marcquise Reed injury is Clyde Trapp playing 29 minutes per game. John Newman, who is a freshman, is getting 8-10 minutes and other freshmen are getting more time than they probably would have, which is crucial for their early development. "It's nice that those guys are getting extra time right now, but what is best for everybody, in the long run, is that we need to get everybody healthy where we can practice against one another."
- Speaking of Trapp, Brownell added it's important for him to continue to take steps forward. He's the next experienced guy after Anthony Oliver left the program. "If he takes advantage of situations, his minutes should stay up for a good part of the season… We need somebody that is going to give us a lift."
- Said, "we've gotta get some juice off the bench." Can't keep playing guys off the bench and not getting any consistent productivity. Said there is no doubt they'll need more consistency and Trapp can help there.
Never miss the latest news from Clemson Sports Talk!
Join our free email list