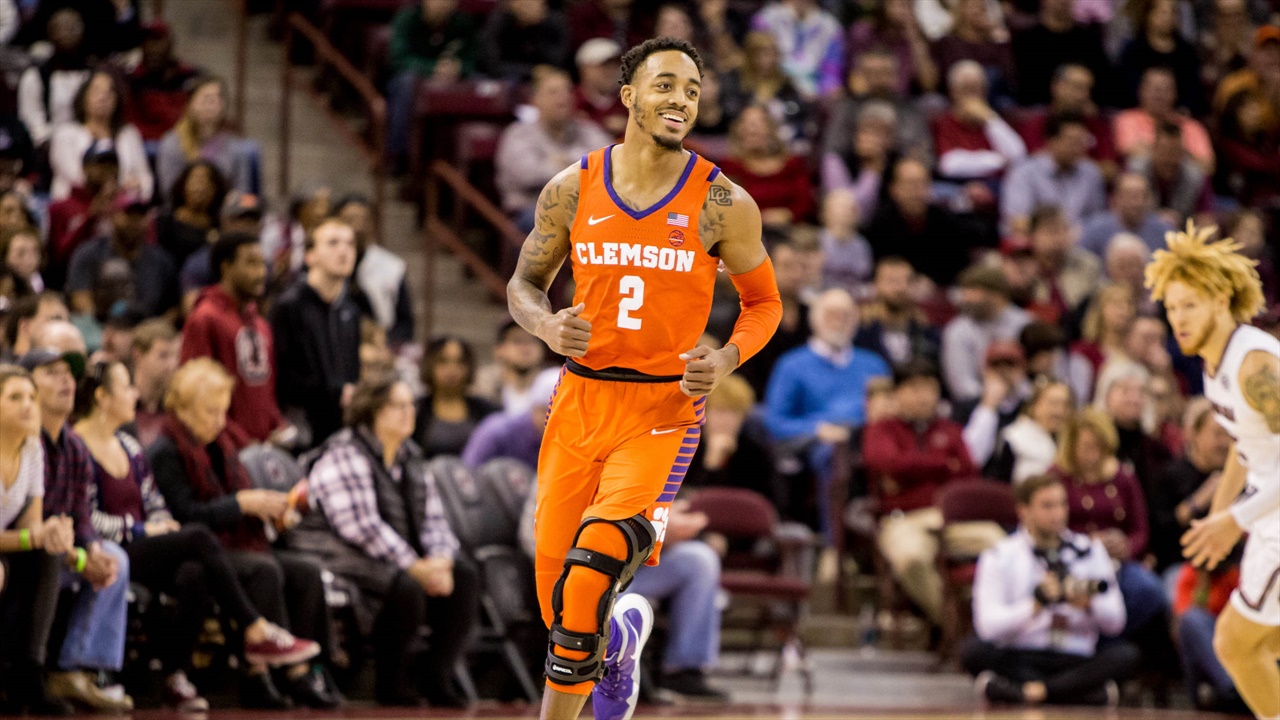 Marcquise Reed and Eli Thomas
Brad Brownell
Clemson Basketball
Marcquise Reed's return lifts Clemson to third consecutive victory over South Carolina
---
COLUMBIA -- Christmas came early for Clemson head coach Brad Brownell in Columbia on Saturday afternoon.
Marcquise Reed provided the first gift of the holiday season to Brownell and Clemson fans everywhere by being the best player on the court in his awaited return from his knee injury. His play lifted Clemson to a 78-68 victory over in-state rival South Carolina, the third consecutive victory against the Gamecocks.
Five players scored in double-figures for the Tigers, but it was Reed's game-high 20 points off the bench that helped lead Clemson to the win in the tough road environment.
"Marquise Reed is just a super talented player, scorer, that takes a lot of pressure off our team," Brownell said after the team's ninth win of the season. "He certainly played the game with a lot of confidence."
Reed, who still didn't look 100-percent, finished making 7 of his 12 shots while also having five rebounds and four assists in 29 minutes. It was a performance not many expected coming into the contest after Brownell said Friday there was an "outside shot" Reed would play.
But the fifth-year senior's contributions didn't just show up in the final box score. His mere presence on the court was a calming one and his play in the first half, his first bit of action in almost three weeks, allowed Clemson to pull ahead.
"It was a hard game to come back to after having an injury with South Carolina and their defense and the hostile environment," Reed said after the game. "I was willing to play and sacrifice for the team and get this win."
At the 16:44 mark in the first half, Reed checked into the game with a bulky brace on his right knee. Elijah Thomas and Aamir Simms both went to the bench for the rest of the half with two fouls each.
The Tigers didn't panic. Their ball movement and offensive flow with Reed and Mitchell controlling most of the action gave Clemson back its offensive mojo. Clemson shot 57-percent from the field and made eight three-pointers while the Gamecocks couldn't get much going, only shooting 37-percent.
Chris Silva led the Gamecocks with 18 points on 4-of-8 shooting and collected seven rebounds.
Clemson went on an 11-0 run with Reed scoring seven of the 11 points with ten minutes remaining in the first half. Then, the Tigers finished the first half on a 16-4 run to lead 45-34, and Reed led the charge with 13 points in 13 minutes.
"Marcquise is just another guy who has been through it all," Brownell added. "He knows our system; we can make adjustments quickly… He just gives confidence to the other players. Marquise plays the game with a lot of poise and very relaxed."
You could tell Reed's play was starting to affect his teammates and build their confidence, something that was lacking in the last three games with him being on the sidelines. His play also forced a lot of attention from the defense, which allowed teammates to find open spots on the floor.
Like David Skara, who had 14 points and made two key three-pointers while also snagging eight rebounds.
Or freshman John Newman, whose emphatic slam over Chris Silva provided a spark and will be on plenty of posters in the near future. Newman also collected six boards and two assists in 16 minutes of action.
The lead for Clemson grew to as many as 16 points in the second half, but a scrappy South Carolina defense began to claw away at the lead. Most of the damage came from the Gamecocks turning up the heat on defense, forcing Clemson into 21 total turnovers on the afternoon and scoring 26 points off those turnovers.
Brownell also mentioned how Clemson had to overcome foul trouble. At one point in the second half, the Tigers had nine fouls compared to South Carolina's zero. The Gamecocks turned those into possessions and points, which led the 16-point lead being cut to five with just over five minutes to go.
But coming down the stretch, there was a sight Brownell had not seen in quite some time – his oldest, most experienced players, on the floor at the same time.
Reed, Mitchell, and Thomas were the calming influences Clemson needed to keep the game from slipping away. When the crowd rose to its feet, Reed would make a tough shot. When Clemson needed a score, Thomas grinded away and did most of his damage at the free-throw line.
Thomas made 7 of 11 free-throw attempts, several of which came in the second half, to keep it from being a one-possession game. He finished with 11 point total.
But it was his teammate, Reed, who made the play of the game with a tough jump shot to give Clemson a 7-point lead with 1:40 left in the game and then came up with a steal on the other end.
"In close games, we are usually calm in these matters because we have been playing together for over 100 games," Thomas said. "I think we've sort of got it figured out."
After two Skara free throws, Clemson made a stop and found Simms for a breakaway slam and dagger that sent fans towards the exits.
"They're fifth-year seniors. They don't panic," South Carolina head coach Frank Martin said of Reed, Mitchell, and Thomas. "Old guys find their spots, and when they get to it, I don't care what you do defensively… When (Reed) got to his spots, he was lights out."
South Carolina fell to 4-7 on the season, and Martin is now 2-5 against Clemson. The Tigers have now won six of the last eight in this rivalry, which means everything to the players, especially the older guys who led the way.
"We wanted it real bad," Reed added. "We wanted to continue the streak in this rivalry –"
Thomas stood next to Reed and couldn't help but interrupt.
"3-0," Thomas added underneath a cough. "If I'm not mistaken, I think me, Marcquise, and Shelton are 3-0 (against South Carolina). I could be wrong though."
Nope. Thomas is right. And it was only fitting that the trio got to get the job done down the stretch all being on the floor together, which has been rare this season.
Going forward, Brownell said it'll take two weeks of everyone being healthy before this team starts playing its best basketball.
But Reed's presence on the floor was more than enough on Saturday – and that's the best present Brownell and his team could have asked for.
Never miss the latest news from Clemson Sports Talk!
Join our free email list