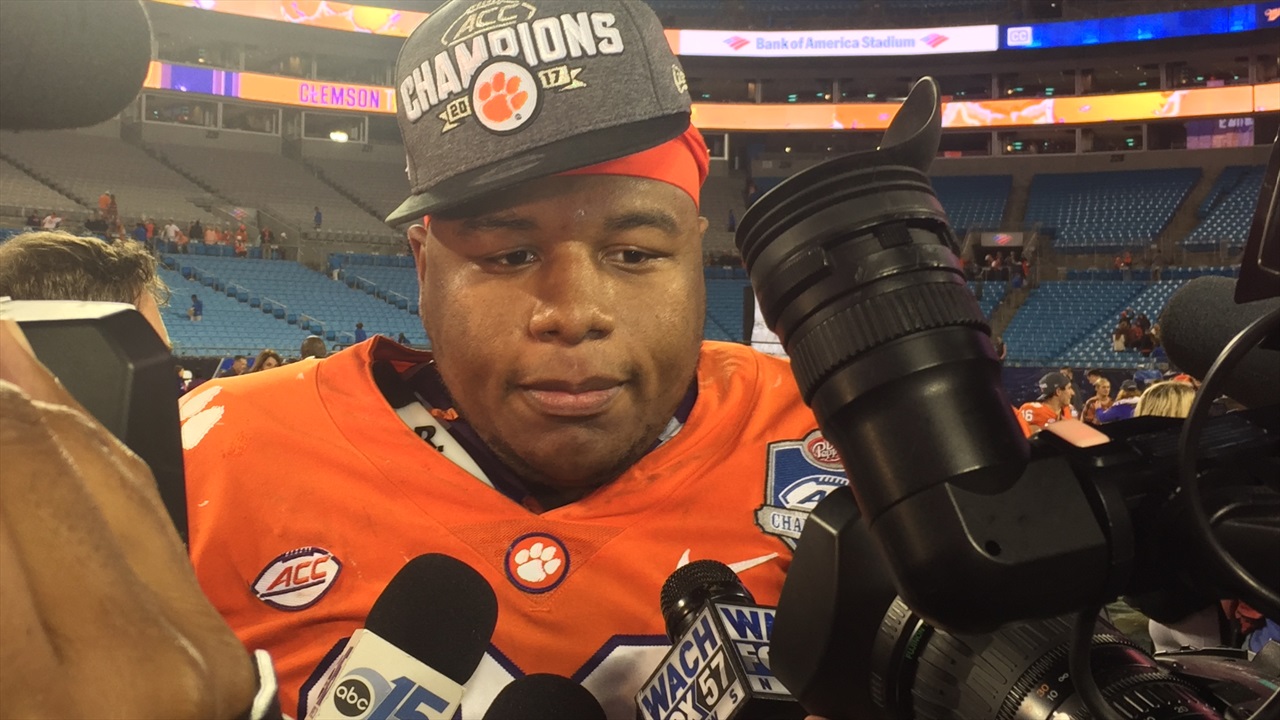 Clemson Football
Three Clemson players, including Dexter Lawrence, fail drug test prior to Cotton Bowl
---
Clemson will most likely be without one of its best players during Saturday's Cotton Bowl.
All-ACC defensive tackle Dexter Lawrence, as well as tight end Braden Galloway and offensive lineman Zach Giella, failed a drug test last week and could be facing suspension for the College Football Playoff. The NCAA said that the players had a "slither" or "trace" of the substance ostarine.
Clemson head coach Dabo Swinney told reporters on Monday that he believes the players did not willingly ingest the substance, which was banned in 2008 by the Anti-Doping Agency because the drug can produce effects similar to anabolic steroids.
Clemson is awaiting an appeal process, which will include a B sample taken after Christmas, and is "at the mercy of the process." Each of the three players has legal representation and are out of the Cotton Bowl barring a cleared sample before then.
The three players thought it was a joke when their head coach broke the news to them. Swinney said he had no idea what Ostarine was before, but has become an expert on the substance over the course of the last three days.
"I would be willing to bet that there's a likelihood that, if they tested all of us right now, we might all -- or some of us have something in our system that we have no idea how it got there," Swinney said Monday.
"They have no clue how this has gotten in their system. It could come from hair products. It could come from a cream. It could come from protein. It could come from a product that you order or buy online that you think there's nothing wrong with it. It could be anything."
Swinney also added that over 40 players have dealt with this same type of situation and plenty of them have been vindicated
So what the heck is ostarine?
The US Anti-Doping Agency describes ostarine as a trademarked name for a Selective Androgen Receptor Modulator (SARM) that is not approved for human use or consumption in the U.S., or in any other country.
"Research has shown that SARMs like Ostarine have fewer androgenic properties, meaning they have less influence on the development and balance of male hormones, including testosterone," the Agency's website says. "While they are not yet approved for human use, SARMs are of interest to the medical community because they might be effective at treating different health conditions without resulting in the negative side effects of steroids. Ostarine is currently being investigated as a way to treat a variety of muscle wasting diseases, such as osteoporosis, cancer, and hypogonadism."
As far as health conditions go, the common theme with these three players is that they have dealt with foot injuries over the course of their careers. Both Lawrence and Galloway have had a foot surgery at some time.
The Anti-Doping Agency: "There are in fact products that contain ostarine, but only illegal ones Given that Ostarine is not approved for human use or consumption in the U.S., or in any other country, there are no legal medications that contain ostarine.
"It's also important to note that ostarine is not a permitted ingredient in dietary supplements. However, you should be aware that some dietary supplement manufacturers illegally put SARMs like ostarine in their products and sell them as "legal steroids" or "research only" chemicals. Moreover, they may omit ostarine from the label entirely, or use misleading names to confuse consumers."
Now all Clemson can do is wait. Swinney hopes the B sample will come back in time for the players to be cleared for Saturday's game against Notre Dame. The Clemson head coach continued to advocate for his players, saying this wasn't a case of street drugs and they have not intentionally done anything wrong.
"I love all three of these guys. They're three special young people," Swinney added. "And, again, I know they've not intentionally done anything. And, again, this is a hair of a trace of whatever this substance is.
"And so we'll deal with it accordingly, hope for the best, hope that the B sample will come back and they'll be cleared to play. But, if not, we treat it as an injury. We've got to get ready to move forward. And our goal has not changed, just to play the best four quarters of the season."
We have video of the press conference where Dabo Swinney addresses this situation, which begins at the 5:30 mark.
Never miss the latest news from Clemson Sports Talk!
Join our free email list