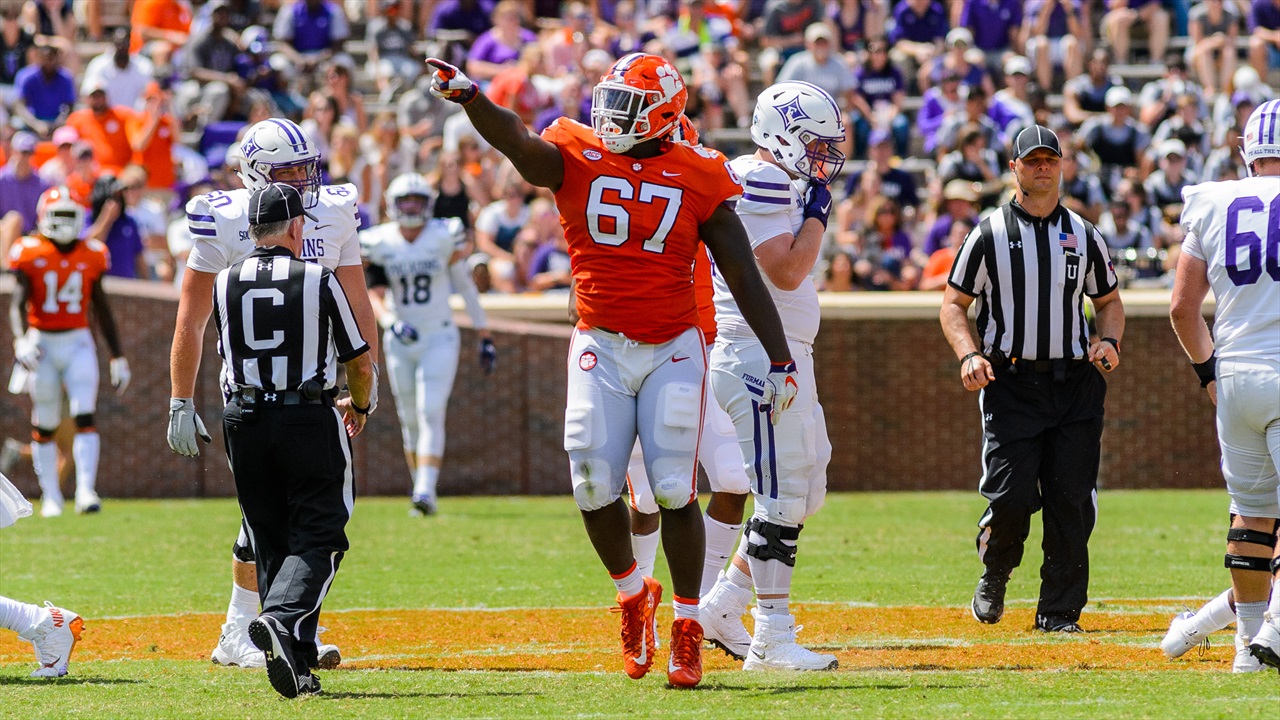 Clemson Football
It's morphing time for Albert Huggins, Clemson's interim Power Ranger
---
DALLAS, Texas – Every good hero needs a high-quality sidekick.
Batman had Robin. Han Solo had Chewbacca. Sherlock Holmes had Dr. Watson. Shrek had Donkey. And the Power Rangers had Alpha-5.
Allow us to geek out for one moment.
The talking robot known as Alpha-5 played an instrumental part in the Power Rangers' battle against the evil that existed in their universe. Alpha was with the group throughout the popular show's entire three seasons. His high-tech equipment was pivotal in assisting the Rangers in saving the day when necessary.
The Clemson starting defensive linemen, the fierce four who have emerged as one of the top units in college football, have notably identified themselves as the Power Rangers. On Saturday, Albert Huggins will have the chance to step up and help save Clemson's day.
"Albert, he's a high-NFL-caliber player, big time. And the fact that he stayed to be in a rotation with Dexter [Lawrence] and Christian [Wilkins]. I mean, those are two first-round guys for sure. And then you got Albert, who's -- he's not far off of that. He's a really, really, again, high-level guy for the next level."
With the absence of Dexter Lawrence due to the suspension from a failed drug test, the second-ranked Tigers will be without arguably their best player on defense in the Cotton Bowl against Notre Dame. The first man to step into that void will be Huggins, who will make his third-career start.
Forgive us for using the term "sidekick" to help describe Huggins, because he certainly doesn't look the part. The 6-foot-3, 315-pound defensive lineman is as big as he sounds and has the strength to match. After notching 500 pounds on the bench press over the summer, Huggins is viewed as one of the strongest players on the team.
If he were going to take on this superhero role, we'd assume he'd probably be the Hulk.
"He was a defensive end, and that's kind of what he wanted to play; but, pretty quickly, we realized he wasn't a defensive end," Clemson head coach Dabo Swinney said of Huggins. "His mind was saying defensive end, but his body was saying D-tackle… His strength is unbelievable across the board in all of his numbers. So he's just got a lot of natural gifts for the position."
Huggins is a South Carolina native, growing up in Orangeburg and went to Orangeburg-Wilkinson High School. When Clemson signed Huggins, who was a four-star, back in 2014, it was the first time the Tigers snagged the consensus No. 1 player overall in the state since Da'Quan Bowers.
He came out of high school as a first-team All-American by Parade, but has rarely seen the field over the course of his career at Clemson. Now that he's a senior, Huggins has appeared in 32 games in his four years at Clemson and has played 502 total snaps. To compare, Christian Wilkins has played 503 snaps this season alone. The two will line up side by side on Saturday night as starters.
The problem for Huggins is that he's had to sit behind Christian Wilkins and Dexter Lawrence year after year, two future professionals. Huggins was supposed to take over Wilkins' position once Wilkins would forego his senior season and enter the NFL Draft.
But Wilkins decided to return to Clemson. Instead of transferring to another school to headline a defensive line somewhere else, Huggins decided to remain at Clemson for his final year of eligibility.
"He's bought in. He's put the work in. He's grinded. And then the fact that he stayed," Swinney added. "Albert, he's a high-NFL-caliber player, big time. And the fact that he stayed to be in a rotation with Dexter [Lawrence] and Christian [Wilkins]. I mean, those are two first-round guys for sure. And then you got Albert, who's -- he's not far off of that. He's a really, really, again, high-level guy for the next level."
Huggins has been the steady, talented player that Clemson's coaching staff has been able to lean on if anything were to go astray. And that's kind of what these sidekicks do. They always seem to show up to the scene when they are called upon.
But to Swinney, Huggins isn't the understudy that we are making him out to be. The head coach said Huggins had all of the tools to be a physical, special player, but nothing came together for him until after his sophomore year, which Swinney added is common with players. They don't realize their own potential, but then, one day, the light comes on.
Now Swinney believes his reserve defensive tackle is more than capable to fill Lawrence's shoes– er, pink super suit.
"His junior year, he started to transition maturity-wise into, 'hey, all right, if I'm going to be a great player, I've got all these tools. I've got to prepare a little bit better.' And that's what he's done," Swinney said. "And it's been awesome to see the transformation in him. I've seen many, many players that the light just comes on, and that's what's happened with Albert."
In the NBA, franchises sometimes give specific players 10-day contracts as a tryout for their organization. This weekend, and potentially moving forward if Clemson is to make the national championship game, Huggins is on a 10-day contract.
Although this is a bleak situation for Clemson with Lawrence on the sidelines, Huggins has the chance to elevate his draft stock and give himself a better opportunity to earn a nice paycheck in the next couple of months. It will all depend on how he performs under college football's brightest lights.
Swinney: "You hate it for Dexter in this situation he's dealing with, but, man, what an opportunity for Albert to really make a statement here down the stretch… Albert Huggins is a co-starter for us anyway. I mean, he's a great, great talent. And I don't have any doubt that he'll step in and do a great job for us, as will Nyles [Pinckney] and Jordan [Williams]."
The Clemson coach said the team has prepared to play without Lawrence since he broke the news of the failed drug tests himself. Lawrence hasn't taken any reps at practice and has acted as a defensive line coach, taking on a new kind of leadership role.
Swinney added that if Lawrence were able to end up playing somehow, it would be a cherry on top. Now that that option isn't on the table, it's morphing time for Huggins.
And that could be super.
"I just kept believing, man. And they kept believing in me," Huggins said Thursday. "I knew my opportunity would come one day."
Never miss the latest news from Clemson Sports Talk!
Join our free email list