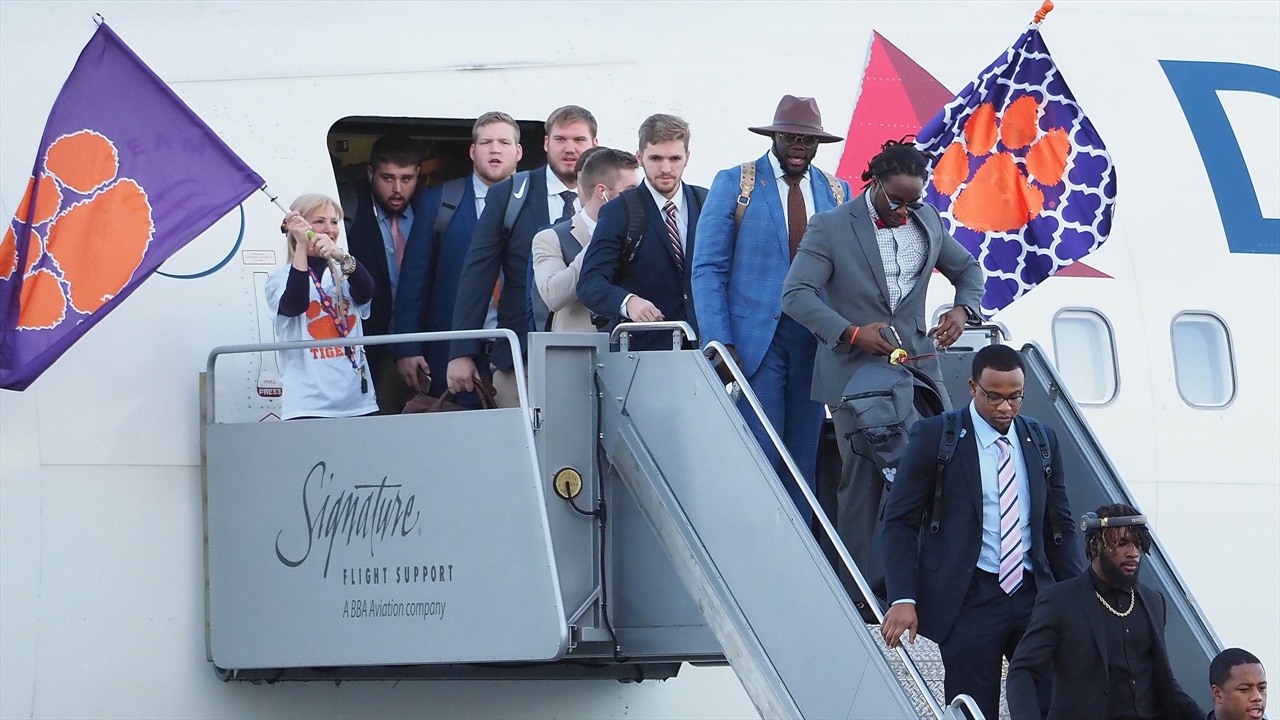 Photo by © Kelley L Cox-USA TODAY Sports
Clemson Football
A Clemson Fan's Guide to the National Championship
---
---
For those Clemson fans who will be making the trip across the country to see the Tigers take on Alabama on Monday night, we wanted to provide a full list of things to do while out in Southern California:
Friday, January 4 - Sunday, January 6
Music performances
If you're looking to hear some live music, Tiger fans can head to Discovery Meadow Park for three days of music performances as part of the AT&T Playoff Playlist Live! series. On Friday, Alessia Cara and Brynn Elliott will be performing followed by Logic, Leon Bridges and Jay Rock on Saturday and then OneRepublic and Ellie Goulding will wrap things up on Sunday.
Address: 180 Woz Way, San Jose, CA 95110
Looking to just hang out? Head over to Plaza de Cesar Chavez where The Quad will be set up for fans to listen to live DJs, shop at the College Football Playoff store, enjoy concessions and more.
Address: 1 Paseo De San Antonio, San Jose, CA 95113
Playoff Fan Central | San Jose McEnery Convention Center
Playoff Fan Central is a 300,000 square-foot interactive experience that gives thousands of fans the opportunity to be a part of the College Football Playoff National Championship. The three-day, family-friendly event includes games, clinics, pep rallies, band performances, special guest appearances, autograph signings and exhibits celebrating college football and its history. To purchase advanced tickets, click here.
Media Day - Saturday, January 5
Want to go hear some of your favorite Tiger players and coaches speak to members of the media? Head over to the SAP Center from 10 a.m. to 11 a.m. Pacific Time as Dabo Swinney and the Tigers will be available to the media for one hour. We will have you covered here at Clemson Sports Talk on Saturday morning.
Address: 525 W Santa Clara St, San Jose, CA 95113
Extra Yard for Teachers Summit | San Jose McEnery Convention Center
Saturday, January 5 - Sunday, January 6, 2019
During the weekend of the College Football Playoff National Championship, the CFP Foundation hosts the Extra Yard for Teachers Summit, as a way to inspire and empower teachers in the host city. Imagine an engaging gathering of teachers coming together to hear inspiring speakers and see incredible performances by people who are there for one reason: to recognize the hard work of those on the front lines of education. Past speakers include Condoleeza Rice, former US Secretary of State; Charles Best, founder of DonorsChoose.org; Joey Galloway, College Football ESPN analyst, and many more!
Clemson Alumni Welcome Parties - The Clemson Alumni Association, IPTAY, and the Northern California Clemson Club will be hosting Welcome Parties in San Francisco and San Jose from 5 p.m. to 7 p.m. Pacific Time on Sunday at the following locations:
San Francisco
The Boardroom
1600 Powell St.
San Francisco, CA 94133
AND
Northstar Cafe
1560 Powell St.
San Francisco, CA 94133
San Jose
Five Points
169 W. Santa Clara St.
San Jose, CA 95113
AND
O'Flaherty's Irish Pub
25 N. San Pedro St.
San Jose, CA 95110
Monday, January 7 (Gameday)
Tailgate
If you are looking for the ultimate tailgating experience right outside of Levi's Stadium, the Allstate Championship Tailgate is for you. There will be BBQ and both the Clemson and Alabama bands will perform along with a performance from country artist Keith Urban.
Halftime - Imagine Dragons will perform. The performance will be televised on ESPN.
Never miss the latest news from Clemson Sports Talk!
Join our free email list