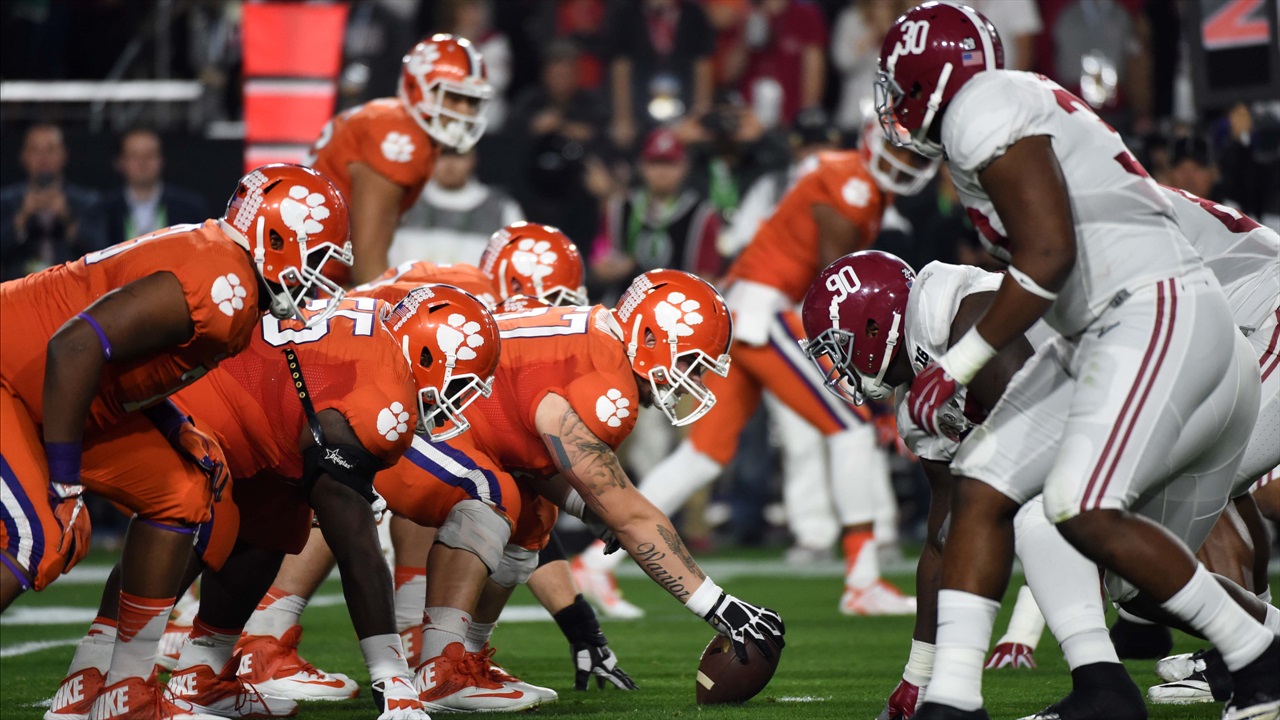 Clemson Football
Clemson - Alabama Part IV: It's what makes college football and sports so special
---
---
As No. 1 Alabama and No. 2 Clemson approach kickoff in Santa Clara on Monday, we are witnessing history. In sports, we hope to see the best battle for the top spot and once again, the College Football Playoff has delivered.
Rarely in sports do we get to see the best face off, but in five seasons, the playoff seems to be working.
Lakers vs. Celtics. Cowboys vs. Steelers. Cavaliers vs. Warriors. Great teams with great players who created incredible moments and memories for the fans who have followed those teams.
The Lakers and Celtics have played in the NBA Finals 12 times. Recently, the Cavaliers and Warriors squared off four consecutive years in the Finals.
Get this, in the 52-year history of the Super Bowl, only the Cowboys and Steelers have met three times on the biggest stage the NFL has to offer.
The Tigers and Crimson Tide will get a chance to deliver again, marking the fourth consecutive year that they have met in the playoffs, and the third battle for the national championship since squaring off in just the second year of the College Football Playoff.
The two title game meetings between the two teams were essentially instant classics. In 2015, Alabama won 45-40 on a game-changing kickoff return by Kenyan Drake and a gutsy onside kick, called by Nick Saban. The Tigers entered that game 14-0 and fell as the No. 1 seed in the playoff.
One year later, the roles were reversed as an undefeated Alabama team arrived in the championship game as the top seed, falling to Clemson 35-31. The Tigers hoisted the national championship trophy for the first time since 1981 thanks to late-game heroics from Deshaun Watson, Mike Williams, Jordan Leggett, and Hunter Renfrow.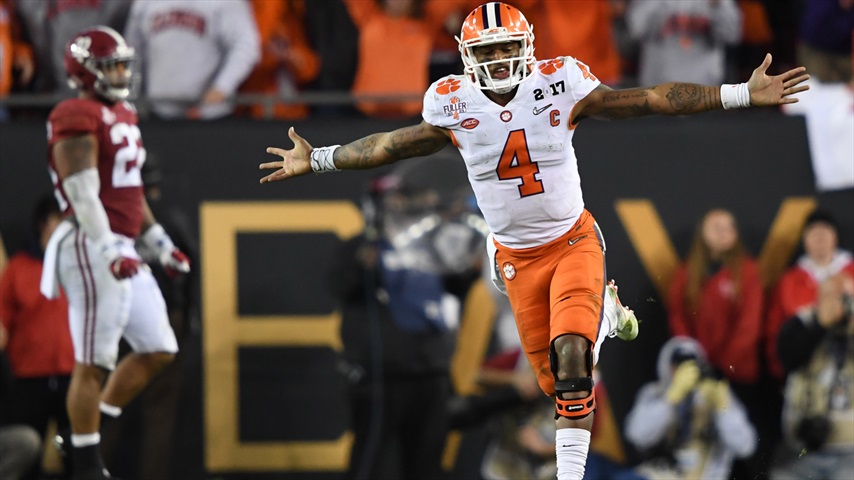 © John David Mercer-USA TODAY Sports
The number of players that have moved on to the NFL is far too long to list, but one thing is for sure, these two titans have dominated college football the past four seasons. Look no further than the overall records during the four-year span for both teams, and if Clemson wins, the two will have split the last four national titles and will finish with identical 55-4 records.
Add to that the fact that the two teams have now won 10 out of the last 11 College Football Playoff games and the setting is ripe for a classic.
| | | | | | |
| --- | --- | --- | --- | --- | --- |
| | 2015 | 2016 | 2017 | 2018 | Total |
| Clemson | 14-1 | 14-1* | 12-2 | 14-0 | 54-4 |
| Alabama | 14-1* | 14-1 | 13-1* | 14-0 | 55-3 |
* Indicates National Champion
If we compare Clemson and Alabama to the recent run of success by Golden State and Cleveland, who played in four consecutive title games from 2015-2018, some may say that the Tigers are more like the Warriors, with speed on offense and the always entertaining Dabo Swinney.
Alabama, on the other hand, would play the role of Cleveland, the seasoned veterans, or the "old heads" who have been in the league for a while and know what it takes to be successful.
While there may be college football fans that are tired of seeing the Tigers and the Tide, just like the Cavs and the Warriors in the NBA, the goal is to have the best two teams competing for a title. And that's what we will see on Monday night.
"When you look at this game, both teams are kind of mirror images of each other, to be honest," Dabo Swinney said Monday. "Really good defenses, dynamic quarterbacks, very talented running backs, and explosive skill, and just kind of built in the trenches. We're so similar."
2015 College Football Playoff
2016 College Football Playoff

No. 1 Clemson 37, No. 4 Oklahoma 17

No. 2 Alabama 38, No. 3 Michigan State 0

No. 2 Alabama 45, No. 1 Clemson 40

No. 1 Alabama 24, No. 4 Washington 7

No. 2 Clemson 31, No. 3 Ohio State 0

No. 2 Clemson 35. No. 1 Alabama 31

2017 College Football Playoff
2018 College Football Playoff

No. 4 Alabama 24, No. 1 Clemson 6

No. 3 Georgia 54, No. 2 Oklahoma 48 (2OT)

No. 4 Alabama 26, No. 3 Georgia 23 (OT)

No. 1 Alabama 45, No. 4 Oklahoma 34

No. 2 Clemson 30, No. 3 Notre Dame 3
This year's matchup feels more significant than the last few contests given that both teams are seeking 15-0 seasons, making the winner the first team since Penn in 1897 to reach the mark.
On paper, the game seems evenly matched. Clemson comes in averaging 44.3 points per game, while Alabama averages 47.7 points. The Tigers yield just 13.7 points per game, while the Tide give up just 14.8.
ESPN's Matchup Predictor gives Alabama a 51.4% chance to win the game giving Clemson the remaining 48.6%. From the outside looking in, this game has a chance to be another classic.
Both defenses will have their work cut out for them to slow down the opposing offense, and this game may come down to who can establish a successful rushing attack. Last week against Notre Dame, Travis Etienne looked fresh with a lot of spring in his step 14 games into the season. The Crimson Tide will counter with a trio of running backs and will undoubtedly test Clemson's defensive line.
As for the quarterbacks, two young stars will battle it out in Santa Clara.
Sophomore Tua Tagovailoa gets his first championship game start after saving the Crimson Tide one year ago in the title game against Georgia. Then starter, Jalen Hurts, failed to produce against the Bulldogs and Coach Saban looked for a spark and found one in Tagovailoa. In a strange coincidence, a few weeks ago, it was Hurts who bailed out the Tide in the SEC Championship against Kirby Smart's squad as Georgia forced Tagovailoa to make several mistakes.
If Clemson is going to slow down Alabama, it starts with Tagovailoa, and cornerback, Trayvon Mullen, knows it will take a four-quarter effort to limit the Crimson Tide offense.
"You've just gotta stay with it. You've gotta stick to it. You can't let off the pedal because he can extend plays. So by playing good technique and finishing plays, you can help yourself. If we continue to finish the plays, I think we'll be fine," Mullen said this week.
© Jeremy Brevard-USA TODAY Sports
For Clemson, the 6'6 freshman Trevor Lawrence, looked like a seasoned veteran as he made throw after throw against Notre Dame in the Cotton Bowl.
It's hard to believe that this time last year, he was in the midst of enrolling early at Clemson. Lawrence was rated the No. 1 prospect in the 2018 recruiting cycle, and he hasn't disappointed. Many are beginning to compare him to Deshaun Watson, because of his unflappable demeanor. While it's nice, Lawrence said he isn't trying to be Watson.
"I want to write my own story. I'm not chasing anything he did. I obviously want to win a national championship like he did and hopefully more than one. But as far as chasing what he did, I want to make my own path and be my own person," Lawrence said Wednesday. "He's definitely a good guy to look up to and he was really successful."
Lawrence will have a chance to do something that has only been done once, win a national title as a freshman quarterback in the modern era. Last season, Jake Fromm could have joined the exclusive club, but after falling in overtime to Alabama, the distinction still belongs to one guy.
Jamelle Holieway.
In 1985, Holieway took over for Oklahoma after Troy Aikman broke his leg in a loss to Miami. The Sooners didn't lose again, defeating Penn State in the Orange Bowl to claim the national title, making Holieway the only freshman to pull off the feat.
Can Lawrence join the club?
The College Football Playoff is supposed to deliver a matchup of the best two teams, and there is no doubt that the Tigers and the Tide are precisely that. The next chapter in this thrilling series between Clemson and Alabama seems likely to deliver another classic.
And for those of you who are tired of seeing the Tigers and Crimson Tide on the biggest stage, we simply say, "Get better."
You might not like the matchup, but when the best two teams are facing off for the championship, it's what makes college football and sports so special.
Never miss the latest news from Clemson Sports Talk!
Join our free email list