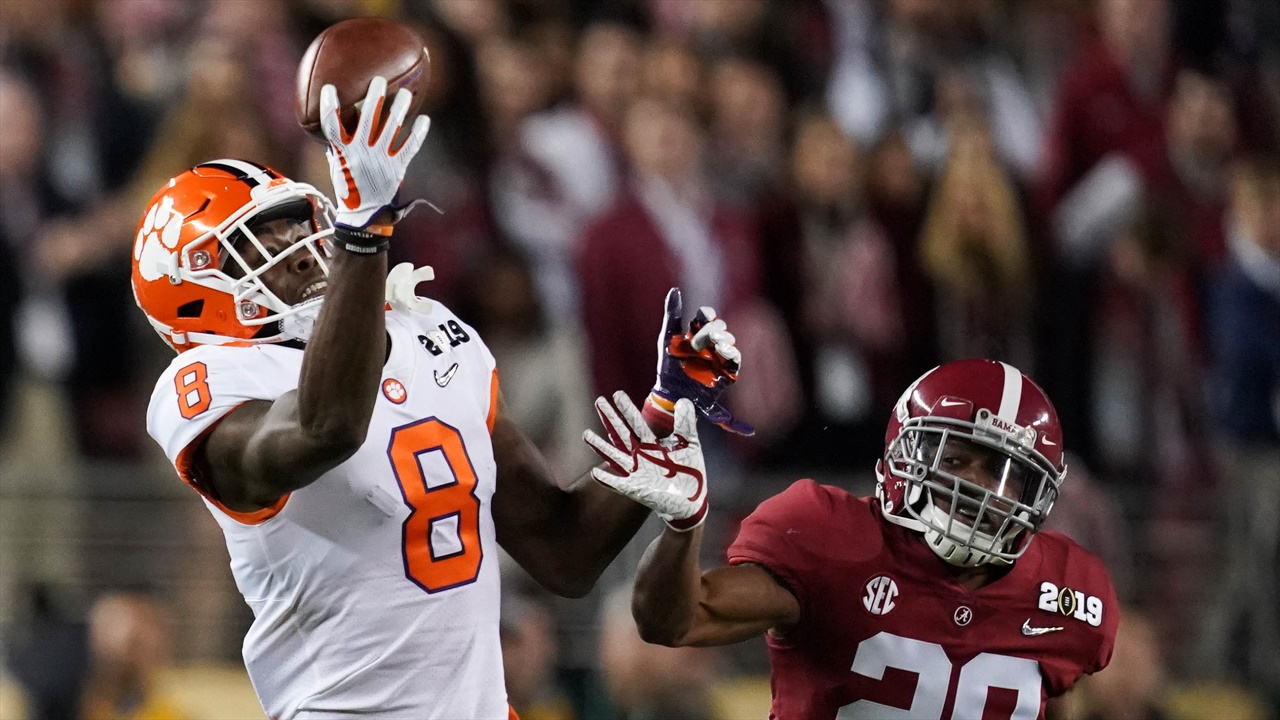 Photo by © Kyle Terada-USA TODAY Sports
Clemson Football
Justyn Ross: The one that got away
---
---
In the last 365 days, Dabo Swinney holds two wins over Nick Saban.
The latest being the Clemson head coach's 44-16 national championship victory over the Crimson Tide in Santa Clara, his second title in three years. Many around the country have begun saying Clemson's win could serve as a passing of the torch in terms of who the gold standard is in college football.
But that achievement may not have come to light if it weren't for the other victory: stealing Justyn Ross from the state of Alabama.
The true freshman receiver out of Phenix City, Ala. burst onto the scene in his first year at Clemson manufacturing score after score with his college-ready physicality. It didn't take long for local media to learn that Ross was going to become a problem.
The moment we saw Ross for the first time was at an open August practice session. Local media were allowed to spectate the first 30 minutes of stretching and drill work.
Naturally, we were drawn to the receivers group. The attention to detail co-offensive coordinator and wide receivers coach Jeff Scott has during his sessions makes it hard for any spectator to look away.
In the back of the line was Ross waiting his turn to run a route. Sophomore receiver Tee Higgins approached his new teammate, and the two shortly discussed technique.
That's when it hit us: with a helmet on, Ross and Higgins looked exactly alike.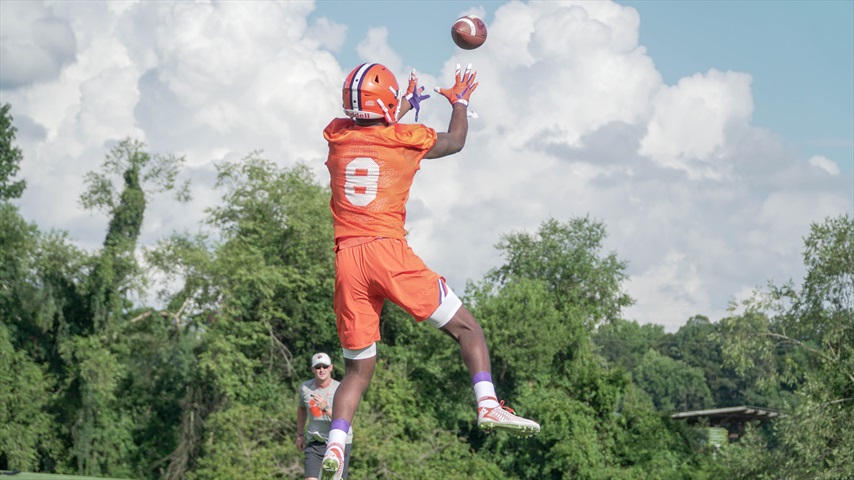 Clemson Sports Talk
Their size, body control, and ability to sky to catch a football made it seem the two were virtually clones. The only difference was Higgins, who came into Clemson at 180 pounds, was a sophomore. He already had a full year to increase his size in the weight room.
As a freshman, Ross stood next to Higgins at the same 210 weight and the same 6-foot-4 height. On the outside, he looked ready to contribute to what would be Clemson's most high-powered offense under Swinney on day one.
Not often does a player escape the state of Alabama, especially one rated as highly as Ross was. Coming out of Central High School, Ross was the No. 2 rated receiver in the country, according to Rivals.com. He was also the top player in the state of Alabama, ripe for Saban's picking.
So how in the heck did Clemson land Alabama's top player?
Well, it was a close call. Ross took an official visit to Clemson first on December 8th, 2017. Alabama and Auburn then followed suit with official visits set up for towards the end of the following January, both schools right down the road from Ross' home town.
We don't know what happened between the end of January and National Signing Day, but we do know that all eyes were on Ross' announcement not knowing what was going to happen. When Ross declared Clemson as his school, a watch party in Clemson erupted with Swinney and Jeff Scott embracing each other as if they just scored a late go-ahead touchdown.
"We thought he was one of the best players in Alabama a year ago and certainly recruited him with as much enthusiasm as possible."
The reaction was valid because the two knew what kind of player they were getting. And more importantly, what type of player Saban wasn't.
"We thought he was one of the best players in Alabama a year ago and certainly recruited him with as much enthusiasm as possible," Saban said after Monday night's national championship. "We just came up short."
That's not something you hear too often from a six-time national championship coach.
In the last nine recruiting cycles, Alabama has signed the No. 1-ranked class eight times. Since 2005, only two of the state's top prospects didn't sign with the Crimson Tide: Jameis Winston in 2012 and Justyn Ross. Both won national championships in their first year playing college football.
In turn, this was the first time Clemson had ever signed the top player from Alabama.
"They had a different culture," Ross said after Clemson's victory over Notre Dame when it became evident the Tigers would play the Tide. "Obviously, "Wide Receiver U" but it was just the culture Clemson has.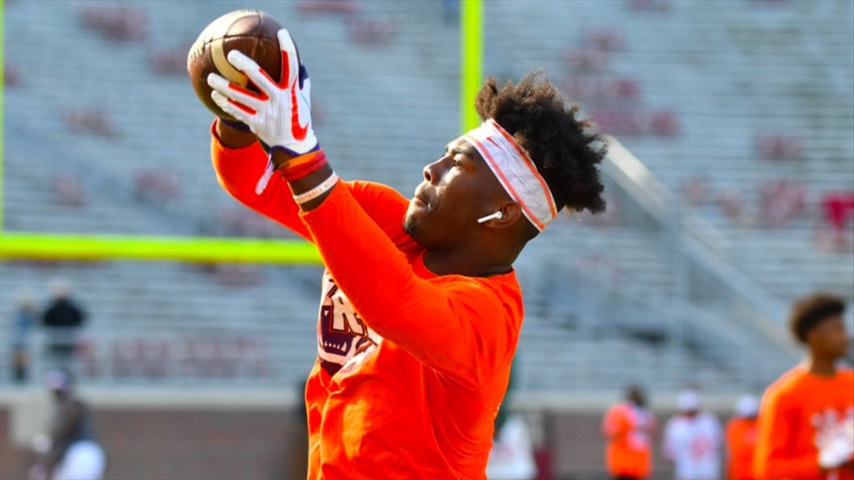 Twitter: @ClemsonFB
"And really just the stability that Clemson has. They really don't have coaches leaving in and out like that and having to learn different stuff every year. It's just the family type of culture they have there."
Ross made a good point. In the last six offseasons, Saban has had to replace six assistant coaches and is about to have to do the same as offensive coordinator Mike Locksley heads to Maryland to become head coach. This offseason, Alabama is replacing its offensive coordinator, offensive line coach, and receivers coach.
Swinney has barely had to make any major staff changes in that same span.
And so Ross came to Clemson and provided an immediate spark. In his first 11 catches of his freshman campaign, Ross already had four touchdowns. It became apparent to Swinney: "No. 8 needs more touches."
Ross entered bowl season with 34 catches for 699 yards and six touchdowns over the course of the regular season. It became apparent down the stretch of the season that Scott was trying to get both Higgins and Ross on the field at the same time.
He only had one 100-yard game against Georgia Southern until he reached college football's biggest stage.
Ross set the College Football Playoff ablaze with his performance against Notre Dame. His six catches for 148 yards and two touchdowns provided the spark and led Clemson to the easy victory.
He then outdid himself in the national championship against the team he got away from.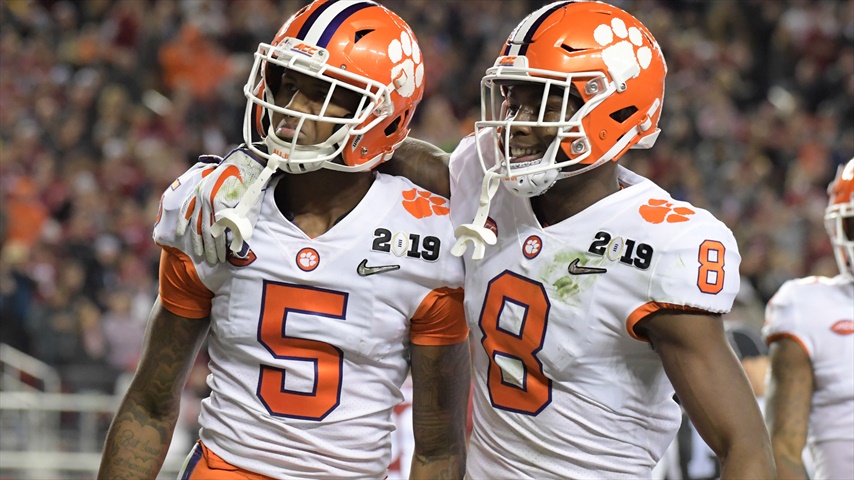 © Kirby Lee-USA TODAY Sports
No receiver had over 109 yards against the Crimson Tide on the season until Ross shattered the hearts of Alabama fans everywhere. His six catches for a season-high 153 yards weren't the only reason Clemson won by 28 points, but three catches on consecutive drives in the third quarter broke Alabama's will.
The first being a 74-yard touchdown where Ross broke free from defenders and was untouched on his way to the end zone. The next being a juggling one-handed grab for 37 yards. The last, and probably most impressive, was the Odell Beckham-like grab on the sidelines where Ross stuck his right hand out and plucked the ball right out of the air.
All of those catches came on third-and-long.
Those were similar types of catches we saw Mike Williams make in the 2016 national championship In crunch time. Only this time, Clemson was already up big and it looked like Ross was just showing off what Alabama fans were missing.
Swinney knew just how Ross felt, as the two are both from Alabama and have now beaten the school they grew up around for a national title.
It was as if Swinney infiltrated the Empire's Death Star just to steal its plans and use those plans to ultimately blow the entire thing to bits.
"It was something we talked about in the recruiting process. He wanted to be a part of this and he wanted to play with Trevor (Lawrence)."
"It was something we talked about in the recruiting process. He wanted to be a part of this and he wanted to play with Trevor (Lawrence)," Swinney said Monday night. "The moment we recruited him, we knew he was going to be a tough matchup not just for Alabama, but for anybody we played."
After his sensational title-game performance, Ross finished his freshman season with 1,000 yards of receiving and nine touchdowns on 46 catches. By comparison, when Sammy Watkins was a freshman in 2011, he had 1,219 yards and 12 touchdowns on 82 catches.
Watkins had 606 offensive snaps that year going into bowl season as one of Clemson's best offensive threats. Ross' snaps this year going into bowl season? 280.
As the offseason begins for Ross, who now graces a cover of Sports Illustrated, there is no speculation as to what his ceiling could be in a Clemson uniform. As he said on Monday night, he believes Clemson isn't close to its potential right now. The thought of having Lawrence throwing to Ross and the rest of this stable of receivers is almost overwhelming.
We thought back to that moment where Ross made the unreal one-handed grab. All he and Lawrence could do was grin after the plays they were making.
"I made those kinds of catches in practice so I wasn't too much surprised," Ross said.
Oh yeah, remember August? This was from Clemson's first scrimmage, with Lawrence making the throw:
Looks familiar:
As Lawrence took over the game on Monday, ESPN's Chris Fowler and Kirk Herbstreit couldn't keep from marveling over the freshman quarterback.
"He's a true freshman!" Fowler said.
"He cannot be 19 years old!" Herbstreit quickly added.
But so is Ross, and the two will be making connections like they're sprinting through Hartsfield-Jackson International Airport for the next two years.
What a way to bookend your freshman year.
With Nick Saban standing on the sidelines in awe, and the entire state of Alabama eating its heart out.
Never miss the latest news from Clemson Sports Talk!
Join our free email list