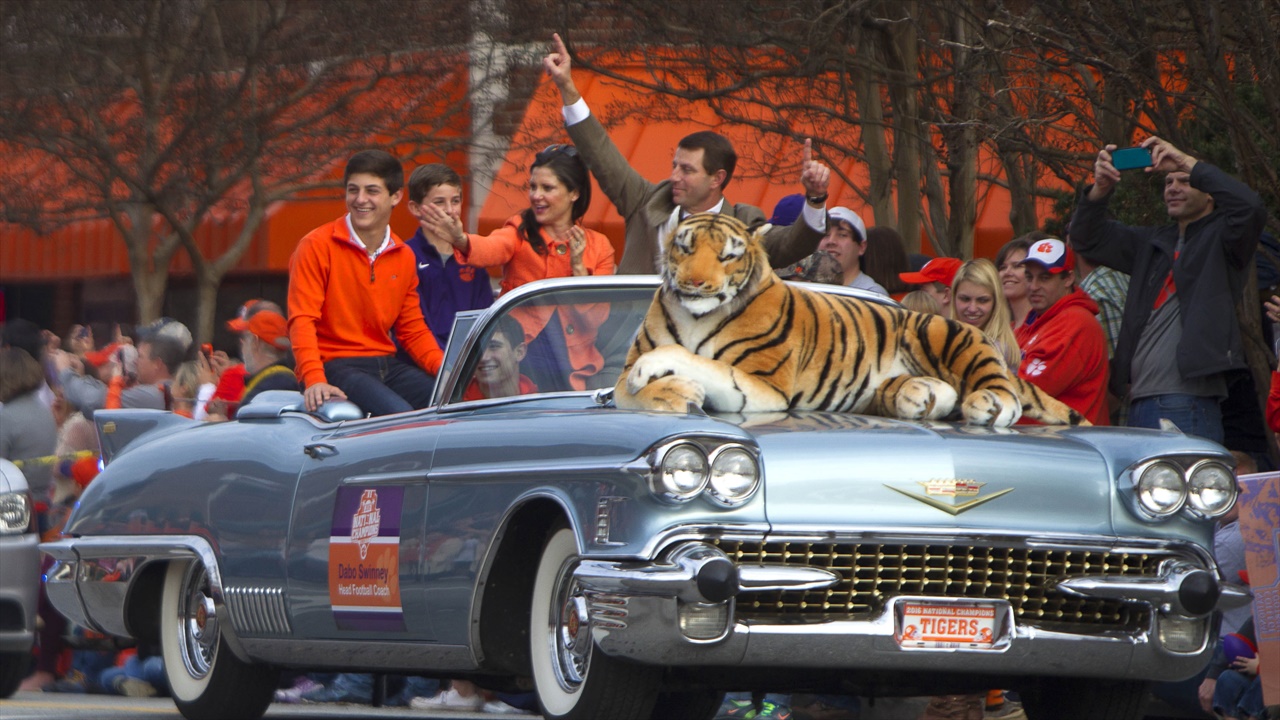 Photo by © Joshua S. Kelly-USA TODAY Sports
Celebration of Champions parade information
---
Parade Info
Parade will start at 9am
Parade Route:
Will start downtown at the intersection of College Avenue and Keith Street
Parade will proceed to HWY 93 and turn left onto HWY 93 in front of Bowman Field
The route will then take a right onto Calhoun Drive and finally take a right onto Fort Hill Street where it will end at the east side of Memorial Stadium
Parade will include Players, Coaches, Administrators, Invited Guests, Tiger Band, Cheerleaders, Rally Cats, Mascots and many more!
Stadium Celebration
Memorial Stadium gates will open 7:00 AM
Highlights/Replay from the Championship game will play on the video board up until it's time for the parade to start
Parade will be shown live on the video board beginning at 9:00 AM
The Stadium Celebration will start at approximately 10:30 AM
Coaches, Players and Special Guests will speak to the crowd
The celebration will conclude prior to noon so fans can attend the Clemson vs. Virginia Basketball game. The parade and stadium celebration are free admission, no ticket required. Tickets for the basketball game are available for purchase here.
Clear Bag Policy
Memorial Stadium's Clear Bag Policy will be in effect
Road Closures
College Avenue and all street parking will be closed starting at 4am Saturday, January 12th from Edgewood Avenue to Hwy 93
Calhoun Drive and Fort Hill Street will be closed starting at 6am
Hwy 93 from Cherry Rd (President's House) to the intersection at College Ave. will be closed for the parade starting at 7:30am
The ongoing utility work on Hwy 93 will close the road from College Drive to Williamson Road. Only one westbound lane is available in this stretch (only after the conclusion of the parade). No eastbound traffic will be allowed beyond Williamson Road.
Basketball Parking
All basketball parking lots are reserved for those with 2018-2019 basketball parking passes (McFadden lot, 3E, Ravenel Rd/North Circle, Ave of Champion-West/Courtside Club, Lot 5, Centennial Blvd and the Ave of Champions)
The North Lot (under the north stands of Memorial Stadium) will also serve as Accessible Parking for the Championship Celebration. Basketball North lot pass holders can access this lot or have access to Lot 5 with their pass
Ravenel Rd and the north circle of Littlejohn Coliseum is held for handicap accessible parking using a state issued handicap placard
Track Parking
The Orange & Purple Elite track meet will be hosted at the indoor track facility on Saturday. Because of this meet and the softball construction area, there will be no available parade parking in Jervey Meadows
Available Parking for Saturday
From Hwy 123/Seneca:
East Beach lot/Rowing Center (lot 13), 3A, Lot 15, Seneca Creek Meadow, Snow Recreation Center and NewSpring lots (limited bus transportation to baseball stadium)
Along Perimeter Rd:
Portion of lot 10, Shotgun Alley, Lot 9, Lot 7, South Palmetto Blvd, Lot 20, Lot 21, Lot 22, STI, Brooks Center, Lot 11, C1 (limited shuttles to library)
From Hwy 76/Anderson:
R6 (Army Reserve Center off Hwy 76), Kite Hill, Hendrix Center lot, McMillan Rd to East Library Circle
From Hwy 93/Central:
Lot 16 (Thornhill/Calhoun Courts area), Cherry Road, Douthit Hills
Handicap Accessible Parking is available with a state issued placard in the North Lot (under the north stands of Memorial Stadium). Enter off Hwy 93 onto Centennial Blvd to the North lot. Accessible parking will also be allowed in Lot 5 off Perimeter Road.
Grass football parking lots (Lot 1, Lot 2) are intramural fields and will not be available.
Never miss the latest news from Clemson Sports Talk!
Join our free email list