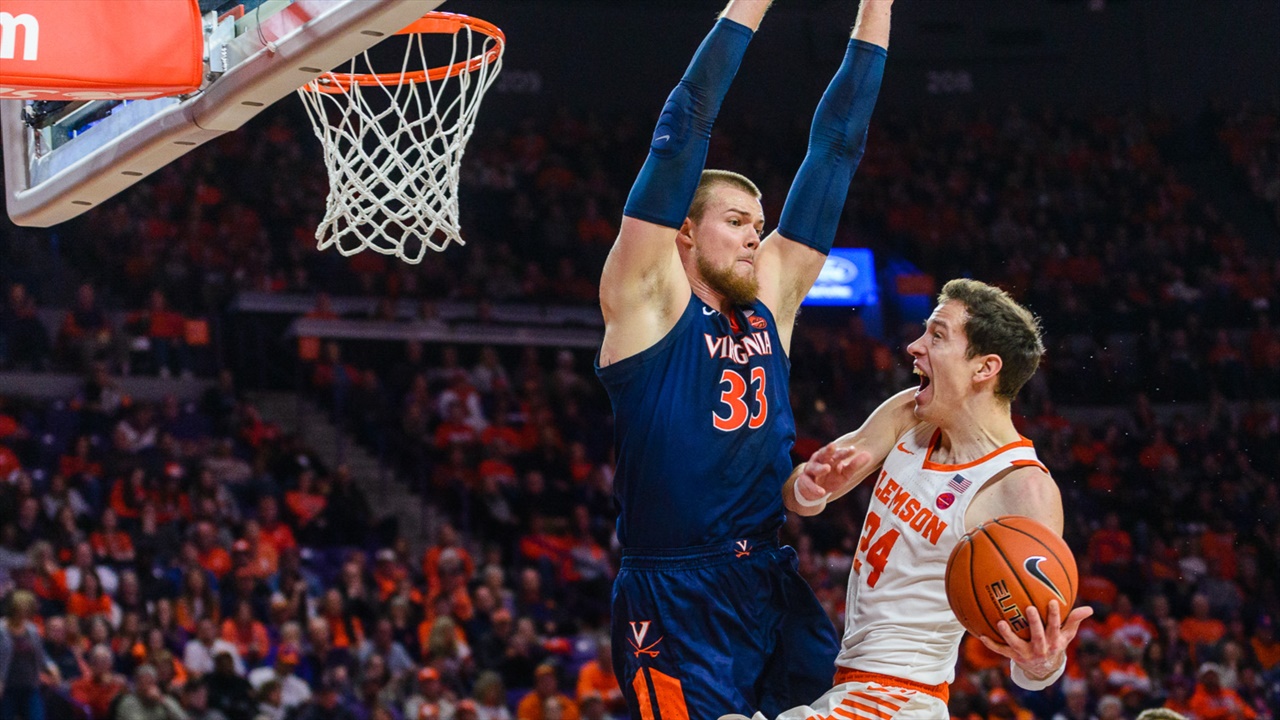 Clemson Basketball
No. 4 Virginia puts Clemson away as Tigers fall to 0-3 in ACC action
---
CLEMSON -- All eyes were wide once Shelton Mitchell got the ball in his hands.
Down 29-27, the steady-handed point guard had a wide open three-pointer for a chance to suddenly take the lead over No. 4 Virginia. The home Littlejohn crowd rose to its feet as the ball soared through the air.
A collective sigh was let out as Mitchell's shot barely grazed the front iron and ended up right into the hand of a Cavalier player. Then, in the blink of an eye, all hopes of an upset vanished.
The Tigers fell, and fell hard, to the Cavaliers 63-43 on Saturday afternoon. It turned out that missed opportunity by the Tigers to take lead was indicative of how the entire afternoon went as the Tigers only made 14 of their 54 shot attempts.
Clemson shot 19 three-pointers and only made three of them. At one point, the Tigers were collectively 1-of-16 from three-point range (8-percent). By comparison, Virginia made 10 of its 23 three-point attempts, which turned out to be the difference.
It was the worst home loss for the Tigers since Janurary 2015. Before today, Clemson's worst home loss since then had only been by 11 points. More importantly, Clemson is now 0-3 to start off ACC play.
"I thought our guys really competed... Much better effort than our last two games defensively," Clemson head coach Brad Brownell said after the 20-point loss. "We had a chance despite our shooting woes... Eventually, you got to make shots."
And Clemson wasn't able to do that, especially in the first half as it started off the game on two separate five-minute Sahara Desert scoring droughts to give Virginia an early cushion. Cavalier guard Kyle Guy led Virginia in scoring with 13 points, all of which came in the first half.
Clemson's defensive intensity was there throughout the entire game until it reached a tipping point where they could not hold on any longer. The way Tony Bennett's Virginia team plays suffocates the life out of opponents by wearing them down on the defensive end. In turn, Clemson's legs were taken out from them which led to missed shots.
A lot of them.
"You got to take good shots because they are going to wear you down on defense," David Skara said. "They are one of the best defensive teams in the country."
Clemson was led on offense by Marcquise Reed's 14 points on 3-of-14 shooting. He was the only Tiger to end the game in double-figures. Elijah Thomas and Skara added a combined 17 points and were right in the heart of Clemson's rally to begin the second half.
But once Clemson missed its opportunity to take the lead, things went south in a hurry. The Cavaliers quickly went on a 20-4 run in a short span and took the game away from Brownell's reeling group.
That's not to say Clemson didn't have its chances. Brownell said after the game that a staff member told him the team missed seven open layups.
"You make five of them and it's a different game. That's 10 points," Brownell added. "When you aren't scoring, you lose your energy level a little bit. There was a little wearing effect on our team."
De'Andre Hunter had 10 of his 12 points in the second half as Virginia stretched out its lead. Jay Huff, who Brownell said he heavily recruited, came in off the bench and scored 11 points in 10 minutes. Virginia's bench outscored the Tigers 23-5.
The Cavaliers looked like a force to be reckoned with in the ACC. This was their 12 ACC road victory in a row and Bennett's squad looks like they are well on their way to avenge how they year ended last season against sixteen-seeded UMBC.
As for the Tigers, Brownell has been pleased with the effort his team has played with in the last three tough contests they've had, two of which came against top-5 teams. You take away the second half of the Duke game where Brownell said his team looked like they quit competing, he likes where they are at even in the three-game losing streak.
The Tigers look to get things back on track with a home game against Georgia Tech on Wednesday night.
Never miss the latest news from Clemson Sports Talk!
Join our free email list