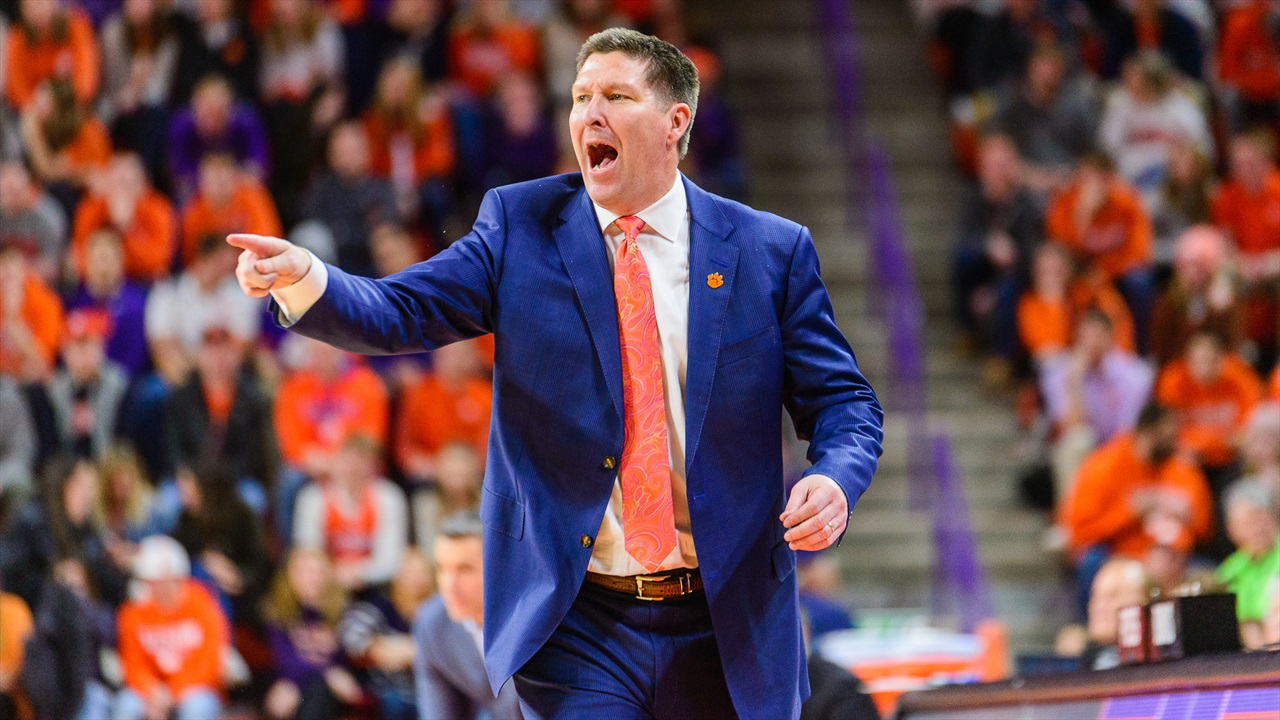 Clemson Basketball
Brad Brownell previews Georgia Tech, hopes ACC 'rough patch' is out of the way
---
Clemson has found itself in a bit of unfamiliar territory. The Tigers have started off ACC play 0-3 for the first time since 1999-2000.
That season, Clemson started ACC play with six consecutive losses. If the Tigers don't want to go down that same path, they are going to have to turn things around against Georgia Tech.
"There are going to be weeks like this in the league," Brownell said. "Most teams are going to go through a rough patch. Hopefully, we got ours out of the way."
The Yellow Jackets are 10-6, 2-1 in ACC play and will travel to Littlejohn Coliseum for a late-night 9 p.m. tipoff. Brad Brownell met with the media today to preview the upcoming contest.
On the list of things his team needs to do to turn this losing streak around, finishing plays and simply putting the ball in the basket is at the top. The head coach feels like his team has competed hard in five of the last six halves of basketball they've played (the one being a disaster at Duke).
The defense and intensity on both ends has been there, but they just haven't been able to finish plays on offense. In losses against Syracuse and No. 4 Virginia, Clemson has combined to shoot 33-of-107 from the field, a whopping 30.8 percent. Brownell thought going into the Virginia game in particular that his team would have to make around 8 to 10 three-pointers.
The Tigers failed to do that and shot an abysmal 3-of-19 from behind the arc.
Brownell said the team has put in extra time this week, before practice or after practice, to do some skill work and work on getting out of their shooting slump.
"We're going to break out of (the slump)," Brownell said Tuesday. "Our guys are better shooters than their stats show."
Clemson is looking for its fourth consecutive victory over the Yellow Jackets.The last time Georgia Tech beat Clemson in Littlejohn was in 2005 when the Yellow Jackets won by 12. They are led by sophomore guard Jose Alvarado, who averaged 14 points per game in 32 minutes.
Additional notes from Brownell's visit with the media:
"Well, onto the next one. Georiga Tech is playing really well. They've played really well after Christmas. Maybe 4-1 and are certainly coming off a great win at Syracuse. I just feel like Alvarado is certainly a guy who controls tempo for them and is a very confident player at the point. The addition of James banks has really helped their team. Being able to have another guy inside, he was a big-time recruit out of high school, and he's shown this year with 10 points, 8 rebounds and three blocks that he just anchors their defense. He's very good on pick-and-rolls and also their zone. Their defense has been outstanding. They've gotten some confidence here lately and obviously had a great chance to beat Virginia Tech in the game that they lost, they had a layup to take the lead with a minute to go. I feel like we are playing a team that is coming in with a lot of confidence and playing well and we are going to have to execute at a high level to win."

-- Is this an 0-3 team or is this a team that has had a rough go of it?
"Yeah, we're an 0-3 team and that's what the record is. I think we certainly have played very good competition. Syracuse showed last night that when they are right they can beat anybody in the country. Also, Virginia and Duke are both really talented. I think we've gotten better defensively the last couple of games. Pleased with our effort in the Syracuse game and Virginia game… Offensively, we are not finishing plays. I think we were 5-of-13 basically at the rim in the Virginia game. And we thought looking at the film that really about 70-75 percent of our threes were good looks that you would take any game against Virginia. You need to be making 35-40 percent of those threes and we are just not doing it. We're getting 20 minutes of extra work in every day, whether it's finishing or shooting or some other skill you may need. Guys stay after on their own and shoot and we just kind of work their way out of it. There's no other way to do it than to keep persevering and work a little harder."
-- "We're a team that is doing some OK things I think we just all hoped we'd be doing a little bit better. We just gotta keep our head down, keep working, stay positive, and get through this. There are going to be weeks like this in the league. It's a really difficult league with a lot of good teams. Hopefully, we got ours out of the way."
-- Brownell said he's got to keep pushing John Newman. Physically, he's been able to play but there are some things mentally that has kept him from getting more time. "Some of it is I just have to let him play through more things. I think Trey Jemison is beginning to get more minutes for us now that he's been around a little bit and has learned what's going on and how we like to do things."
-- Teams don't shoot very well against Georgia Tech. The Yellow Jackets have their "elite" center, which makes their overall defense better. Overall, their offense is getting in a little more rhythm.
-- Said the team's struggles haven't come from a lack of execution from an X's and O's standpoint. Guys are trying hard to make shots and sometimes leads to them pressing a little bit. The key part is getting them to relax. Quickly reminded us that Aamir Simms has a game this season where he's made five three-pointers and Marcquise Reed and Shelton Mitchell are more than capable of doing the same.
Never miss the latest news from Clemson Sports Talk!
Join our free email list