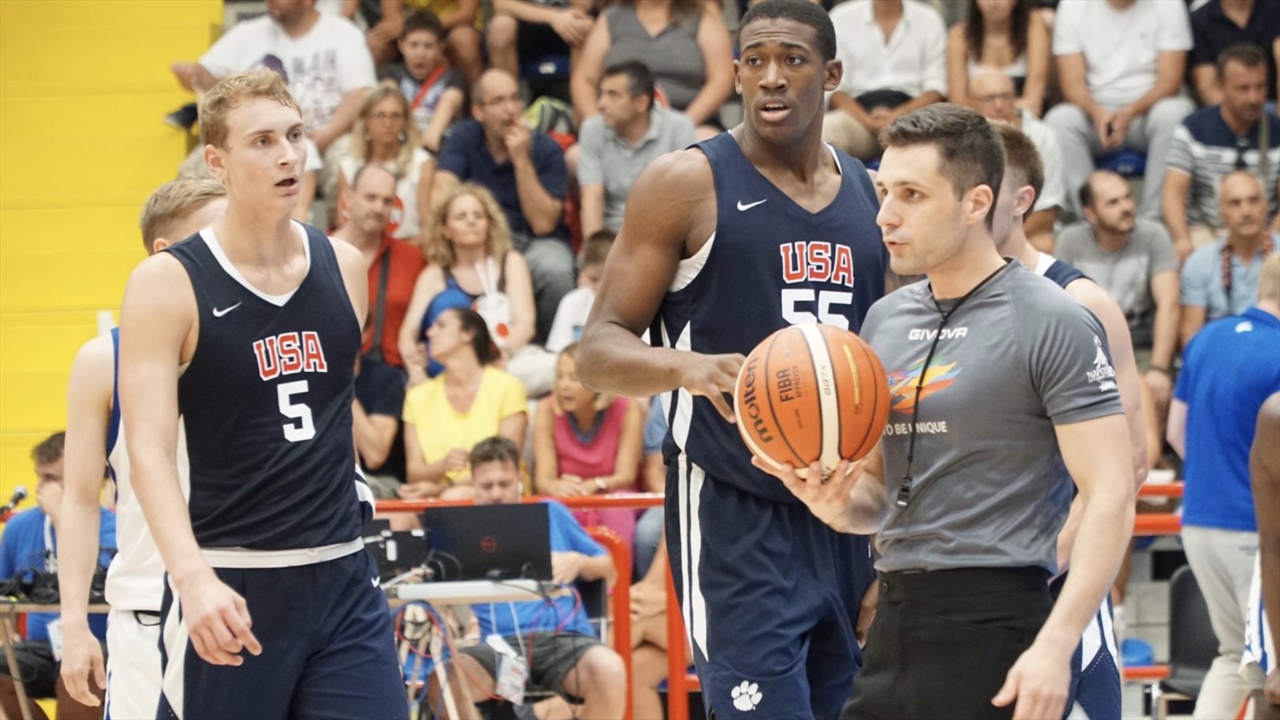 Photo by Twitter: @ClemsonMBB
Clemson Basketball
Clemson wins opener 69-65, prepping Dawes for 2019
---
Kick off your Fourth of July celebration today by taking advantage of our best deal ever! For one week - from 7/4 to 7/11, you can get 12 months of ClemsonSportsTalk.com for over 70% off!
CLICK HERE TO SUBSCRIBE NOW!!
The Clemson basketball team represented the United States today in the 2019 World University Games in Naples, Italy. The Tigers opened play in Pool C against Finland coming away with a 69-65 win. The Tigers were led by Aamir Simms who scored 17 points with 13 rebounds.
Clemson will face Ukraine on Friday and China on Saturday before the top two teams from Pools A, B, C, and D compete for medals.
The Tigers joined Northern Iowa, Kansas, and Purdue as the only men's college basketball teams to participate in the games.
The Tigers were led by Aamir Simms who scored 17 points with 13 rebounds.
Last season, Clemson closed with a 63-55 NIT second round disappointing loss to Wichita State in Littlejohn Coliseum. It was the end to an underwhelming year that saw them finish 20-14 overall and 9-9 in the ACC.
Today's team is much different. Minus seniors Elijah Thomas, Shelton Mitchell, and Marcquise Reed it's just a different squad. Add the unexpected transfers of Zavan White, and Malik William combined with recent ACL injuries for Jonathan Baehre and point guard Clyde Trapp and these Tigers are almost unrecognizable from the floor to the bench.
Even the staff looks different as Brad Brownell added Anthony Goins (Assistant Coach), Philip Pearson (Recruiting Coordinator) and Matt Bucklin (Basketball Operations) to his team this offseason.
Brownell also added seven newcomers to help replace the depth and experience lost. He signed guards Tevin Mack (Alabama), Curran Scott (Tulsa) and Nick Honor (Fordham) and small forward Khavon Moore (Texas Tech) from the NCAA transfer portal and freshmen guards Al-Amir Dawes, Chase Hunter, and Alex Hemenway.
Mack and Hemenway made immediate impacts today with 12 and 10 points, respectively, in their first action as Tigers.
Going into today's matchup with Finland, fans wondered who would be the starting point guard. Honor, who will sit out 2019-2020, got the start. He scored five points and is the answer now. But looking beyond Italy, Trapp may miss the entire upcoming season and his probable absence has propelled Scott, Dawes, Hunter, and Hemenway into early discussions about playing time.
Dawes has the most experience as a lead guard, but in five seasons at The Patrick School in Elizabeth, NJ, a school with notable alumnus Kyrie Irving, Al Harrington, and others, he mostly occupied the shooting guard spot.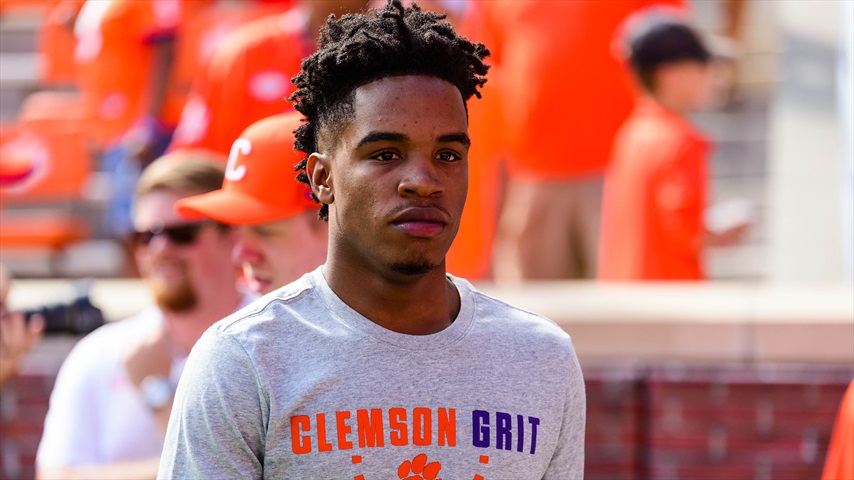 Clemson Sports Talk
"This was the first year that we said here's the ball, and you're in total control," said St. Patrick head coach Chris Chavannes in a recent interview. "In other years, we had other kids who could handle the ball, and we moved him around."
Chavannes also told us Dawes was capable of starting for Clemson on day one and gave a quick scouting report of his former guard. "His first quality offensively is his ability to create a shot whether it's knocking down a deep three, creating off the bounce for a jump shot, getting in the paint, or creating for a teammate," he continued. "He's not a lightning quick person, but he has a dynamic way of getting where he needs to get to."
The Tigers struggled from beyond the arc most of the 2018 season, shooting 33 percent, so shooters are welcomed on campus. According to Chavannes, Dawes is a good shooter and is best when the game is on the line.
"He's a good shooter and a very good money shooter," said Chavannes. "And he goes from a good shooter to a very good shooter in the clutch."
"He's a good shooter and a very good money shooter," said Chavannes. "And he goes from a good shooter to a very good shooter in the clutch."
Clutch. Now that's a word used in many discussions referencing last year's Tigers. When you lose five games by a total of seven points and two in walk-off fashion, conversations zero in on the lack of clutch shots and plays with the game on the line.
Dawes missed a few games early in his senior season due to an illness and slowly picked up his production throughout. By the end of the season, he felt better and his "clutch gene" was on the display, especially, against two of the nation's hottest teams.
On Feb. 14, the Own The Game Invitational was held at Johnson C. Smith University during the NBA All-Star weekend. In a premier matchup against nationally ranked No. 9 Cox Mill of Concord, The Patrick School(TPS) got a team-high 24 points from Dawes and upset Cox Mill. Cox Mill was led by Duke signee Wendell Moore and Charlotte University-bound Caleb Stone-Carrawell, son of Duke assistant coach Chris Carrawell. Cox Mill (22-2) had a 13 game winning streak before suffering the 79-74 loss to TPS (11-9).
TPS ended the Cox Mill winning streak and raised its streak to two. After leaving Charlotte, TPS had to refocus quickly and ready for another tough opponent. The Celtics were challenged by undefeated 23-0 Elizabeth (NJ). The two teams were very familiar with each other from a previous matchup in January. TPS fell to Elizabeth 62-51 and wasn't given much of a chance in the rematch. But with Dawes making tough, clutch baskets, TPS defeated Elizabeth (23-1) 49-38. Dawes scored 28 of his team's 49 points.
"At the end of the year, he became particularly tougher to guard, because he was making his reads quicker and the other guys were finishing plays and making shots. He became more well-rounded at the end of the season," said Chavannes.
Brownell can only hope that the maturation continues for Dawes in the USA uniform. If Dawes isn't ready, then Hunter, Scott, Mack and Moore, a point forward who will also sit next season, could all be called upon to share ball-handling duties. No matter what happens in Italy, Dawes will be a key player going forward.
With nine total points including 2 for 2 on three-pointers and 3 of 4 from the free throw line against Finland, he is off to a good start, thus far.
The World University experience will be remembered forever for Dawes and his teammates but getting a gold medal like Kansas did in 2015, will make the trip more memorable.
This trip is only the beginning for Brownell and his crew because he will essentially have to regroup and put together a different game day team in October without Honor and Moore. Make no mistake, the goal is to bring home the gold, but doing it without the eligible players being a factor could be felt initially in preparations for and during the 2019 season.
Never miss the latest news from Clemson Sports Talk!
Join our free email list