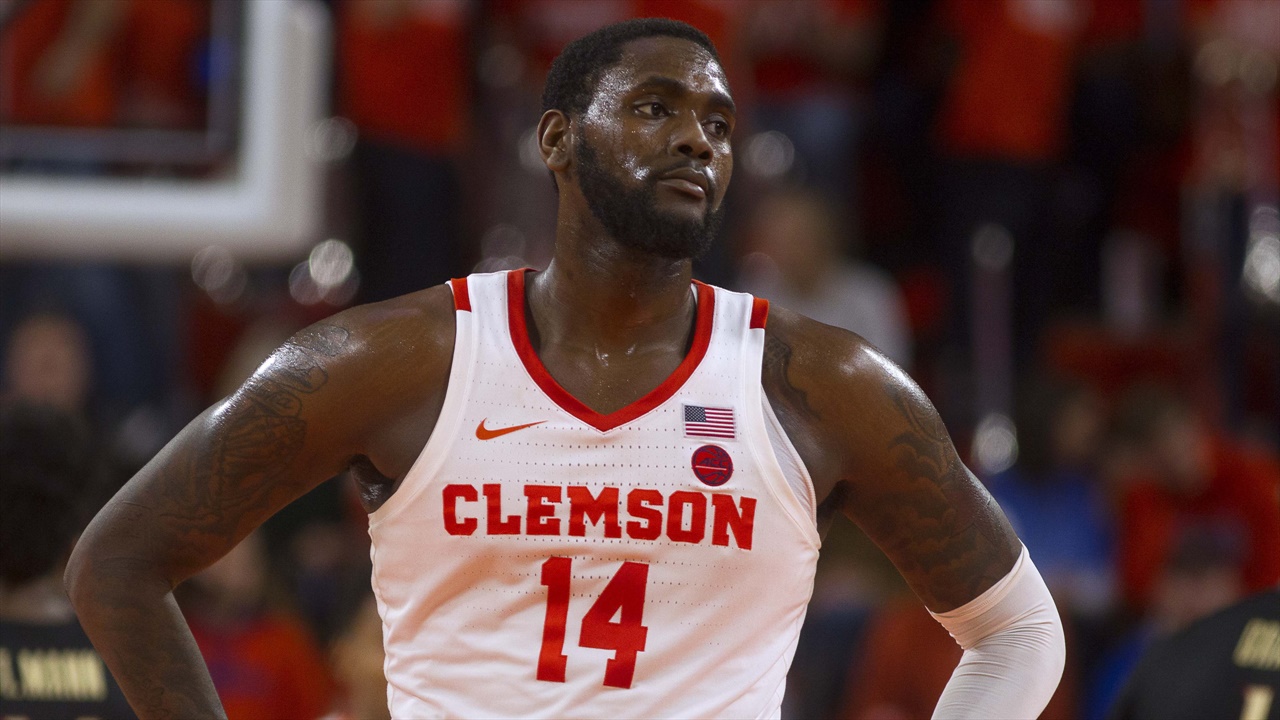 Photo by © Joshua S. Kelly-USA TODAY Sports
Clemson Basketball
Panic at the silent disco: Clemson 'demoralized' in loss to No. 17 Florida State
---
CLEMSON -- A packed Clemson student section was given blue headphones once they were inside Littlejohn Coliseum on Tuesday night.
When they got to their seats for Clemson's latest contest with No. 17 Florida State, Clemson students were treated to a silent disco on student appreciation night. But by the night's end, every Clemson fan in attendance saw the same show they had gotten used to seeing all season.
It was Mfiondu Kabengele and the Seminoles who put on the show as they rolled comfortably over the Tigers, 77-64. After winning four consecutive games to get back to .500 in the ACC, Clemson has now dropped three in a row, two of which were emotionally draining.
"It was a tough locker room after Louisville, not going to lie. Just because I think our kids poured so much into the game," Brad Brownell said after Tuesday's loss while also adding he didn't want to point to any excuses. "Sunday was hard for us. We just met and watched film. Our guys were completely drained. I thought we were fine today and the energy level was fine. They were just better than us."
Off the bench, Kabengele was a machine in the post as he dropped a team-high 19 points on an extremely efficient 9-of-13 clip while adding 11 rebounds. His only three-point attempt of the game was the dagger that put the Seminoles up 66-53 with less than six minutes left in the game.
"He's a pro," Brownell simply said after watching Kabengele beat up his guys all night.
Speaking of the bench, that's where Florida State really hurt Clemson (15-11, 5-8). Nine different Seminoles scored as they outscored Clemson's bench 30-2.
Clyde Trapp, the first player off Clemson's bench got benched in the games closing minutes. Trapp finished 0-for-8 from the field with two points, one rebound and two assists in 20 minutes.
The 28-point swing from Florida State's depth was too much to overcome.
"They have a lot of guys… but that's their strength. They keep fresh bodies in there defensively. They wear you down," Brownell said. "That's obviously not a strength of this year's team for us. We're not going to win when they outscore us 30-2. That's just too much."
As a whole, Florida State's offense was strong, smooth, and efficient all night long. The Seminoles shot 48-percent from the floor, making 29 of their 60 attempts. They also shot 7-for-18 from behind the arc.
And when they weren't making shots, they were killing Clemson on the glass. The Seminoles outrebounded the Tigers 43-32. They also scored 19 second-chance points on 10 offensive rebounds.
Two different Florida State runs all but sealed Clemson's fate.
A 10-0 run within the first seven minutes gave Florida State a 6-point lead. The difference in the game, according to Florida State head coach Leonard Hamilton, ended up being a 15-2 run to end the first half.
A Trent Forrest layup, followed by three consecutive smooth shots from Kabengele, then two more layups from Forrest, and an MJ Walker three-pointer capped off the run and gave the Seminoles a 38-23 lead heading into the break.
Clemson never got back within seven points and seemed demoralized by what Florida State was doing on both ends of the floor.
On a night where Gabe DeVoe was honored and given a standing ovation, everyone in the arena wished they could have thrown him a jersey. His shot-making ability - at crucial times - is something that is missed this season.
"The 15-2 run was when it started to get away from us," Brownell said. "We weren't scoring but we were hanging in there… We just just don't pass the ball as well as we need to pass. We all know that we miss Gabe's shooting and all of that, but we don't pass as well as we need to and that affects our shooting. When you are playing a team as gifted and athletic as they are, it makes hard on you in games especially like this.
"I thought when that stretch was happening – that's when you really need a guy to just step in and make one. We just haven't really had that."
Marcquise Reed led Clemson's efforts with a game-high 20 points on a 7-of-16 clip. Elijah Thomas added 13 points, Shelton Mitchell added 12, and David Skara added 10. Clemson shot 38-percent from the field and made eight threes, but there just wasn't enough juice offensively to get over the hump.
Florida State (21-5, 9-4) looked like a team that was hitting its stride. The Tigers looked like a team that needs a day off to regroup before the final stretch of the regular season that begins with a home game against Boston College on Saturday.
"Obviously, we need to win a game again. We needed to win one today," Brownell added. "I think we are a little weary. We gotta regroup… We need to win a bunch of games here to finish if we want to do what we want to do"
When he was asked what Brownell's message was to the team after Tuesday night's 13-point loss, Skara, a senior, let out a giant sigh before he gave his answer.
"We've already had a three-game losing streak and we've bounced back after that," Skara said.
His demeanor was calm on the outside. But on the inside, it may be time to panic at the disco.
Never miss the latest news from Clemson Sports Talk!
Join our free email list