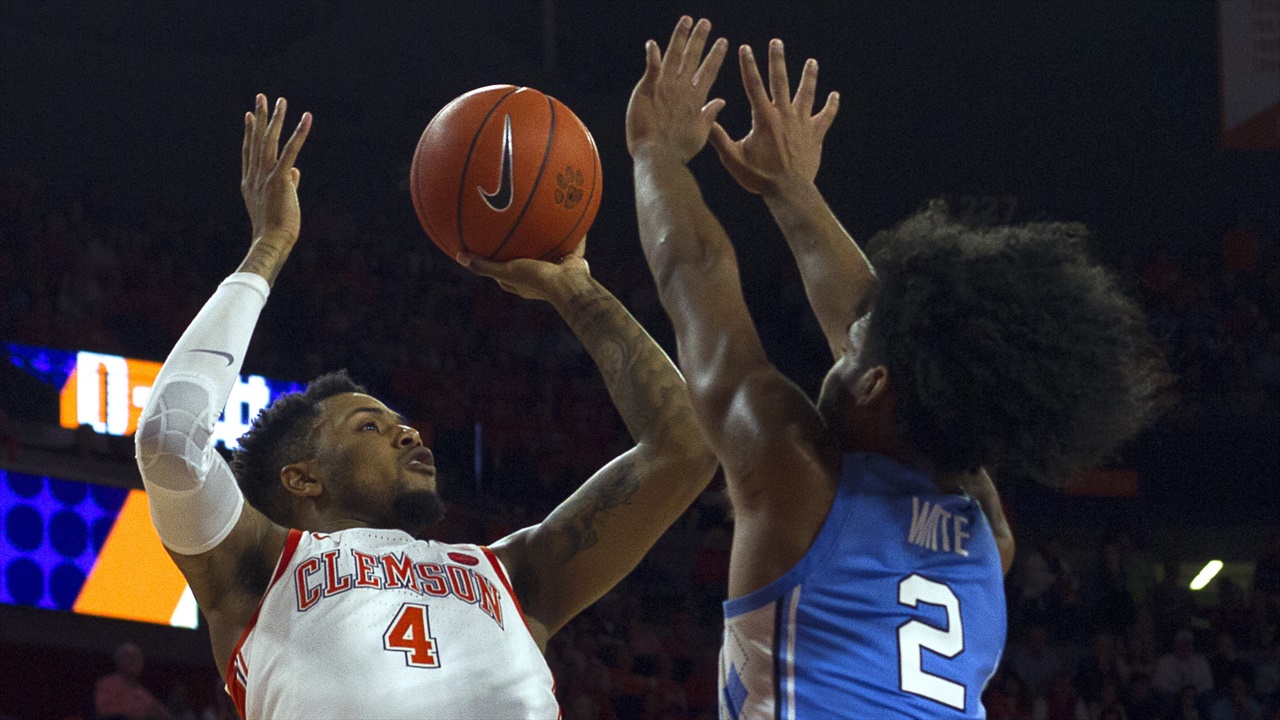 Clemson Basketball
Clemson fights hard, but falls short in final seconds to No. 5 North Carolina
---
CLEMSON -- North Carolina's Kenny Williams stood tall at the free throw line with 10 seconds remaining and the game on the line.
Standing three feet away from him was senior forward Luke Maye, who had just watched Williams make two clutch free throws seconds earlier to keep the Tar Heels barely in front of the Tigers. Maye turned to Clemson's erupting student section and waved his arms for them to get louder in a mocking fashion.
It was like he knew the inevitable outcome.
Williams shot the first free throw. Swish.
Then, the second rolled off the back iron and fell into the hands Clemson senior guard Shelton Mitchell. Down two points, Mitchell raced up the floor and made knifed his way towards the basket, barrelling almost out of control.
There was contact. Mitchell lost the ball and hit the floor. The final buzzer eventually sounded.
North Carolina raised its arms in victory as the fifth-ranked Tar Heels handed the Tigers yet another gut-wrenching loss, this time with the final score being 81-79.
As for Mitchell and the rest of the Tigers, they looked exhausted. Distraught. Devastated. And who could blame them? Considering this was the fourth time this season that they have lost on the game's final possession.
"We battled them as hard as we could," head coach Brad Brownell said after the game. "We just ended up one possession short, which has happened to us a couple of times this year. And that's tough."
Brownell continued to say that the locker room after the game was "tough," which was the second time this season he has mentioned that. The first came after the near-epic comeback at Louisville.
And as for the no call in the game's final seconds, guard Clyde Trapp said it was just basketball and a tough break, which we've heard a time or two this season.
"That's a hard call," Brownell added. "Obviously he's trying to drive it in there and make a play, and they're kind of backpedaling. But we trust those guys in that situation. If they're in position to make it, they see it, they make it. They're not gonna be afraid to make a call at the end if it was a foul.
"That wasn't the reason we won or loss. It just was a bang-bang play at the end that gave us a chance, and we didn't get the break so move on."
And Brownell was right. That final non-call was not the only reason Clemson stumbled out of Littlejohn Coliseum with a 17-12 (7-9 in the ACC) record.
A major part of that came from the hands of the heavyweight playmakers the Tar Heels possess on the offensive end. The Tigers played one of their better offensive games of the season, shooting 47-percent from the field (27-of-57), but North Carolina made up for it with the performances from Coby White and Cam Johnson.
White was a walking bucket who dribbled as if he had the ball on a string. He finished with a game-high 28 points on 9-of-16 shooting, six rebounds, and five assists.
Johnson almost couldn't have missed from three-point range if he wanted to. His six threes on eight attempts, including his final make when he was barely even set with 2:18 remaining put the Tar Heels up by seven, were each daggers.
White and Johnson combined for 12 of North Carolina's 13 three-pointers. In comparison, the Tigers made eight of their 22 attempts from beyond the arc.
Even Maye got things going in the second half with a personal 6-0 run to give the Tar Heels a lead they would not relinquish.
"It's hard because there's multiple guys," Brownell said. "And that's why North Carolina is whatever they are, No. 5 or 6 in the country, because they've got three or four guys that can go for 25 points. Do a great job on one or two of them, and somebody else breaks loose it's hard to guard.
"I mean 6-for-8 from the 3, (Cam's) as pure a shooter as we have in our league. And obviously Coby, 6-for-11, those were just fantastic numbers. That's hard to overcome when guys make 12 threes between two guys."
And North Carolina had to fight tooth-and-nail to the brink without Roy Williams for the second half. As the first half came to a close, Williams collapsed, was helped off the floor, and exited to a standing ovation. He did not return.
Even after the brutal loss, Brownell met with Williams for a few minutes to shake hands, laugh, and speak to each other. You could really see the mutual respect between the two and how much bigger some things are than the result of a basketball game.
But this game is still going to sting Marcquise Reed for at least a bit. He led Clemson with 24 points on an efficient 10-of-16 shooting in 31 minutes. Elijah Thomas poured in 14 points and collected 11 rebounds.
Mitchell did most of his damage at the free throw line. He only shot 2-of-9 from the field but still finished in double-figures with 11 points.
The spark of the game belonged to Clyde Trapp, who stepped in for an injured David Skara and scored 15 points, including a three-pointer to pull within three points with less than a minute to go. Skara approached Brownell in warm-ups and told him he wasn't going to be able to play because of elbow soreness.
Skara, who is Clemson's best on-ball defender, had to get stitches in his elbow after knocking a Pittsburgh player's tooth out in the previous game.
Clemson's chances of playing in the NCAA Tournament didn't improve or take an enormous hit after Saturday's loss. But there is extremely little room for error with what's left on Clemson's schedule.
But as Clemson tries to close its season on the right note to give itself a chance for the dance, one can only think of how different things would be if the Tigers could have caught a few more breaks during these close games' closing moments.
"I feel bad for our guys a little bit. These are hard lessons," Brownell added after Reed and Mitchell left the floor with their heads hung.
"We've played well enough in several of the games to win them, but we haven't, and that's on us. We've got to make one or two more plays. It's not just the ones at the end, but we made a couple of really bad plays earlier in the game that you just can't make."
Clemson had its chances to almost solidify a spot in the Tournament with a win over the fifth-ranked team in the country. Brownell didn't want to make excuses, and when he was asked a second time about the no-call at the end of the game, he was swift and to the point.
"I saw it," Brownell added stone-faced.
We all did.
Never miss the latest news from Clemson Sports Talk!
Join our free email list