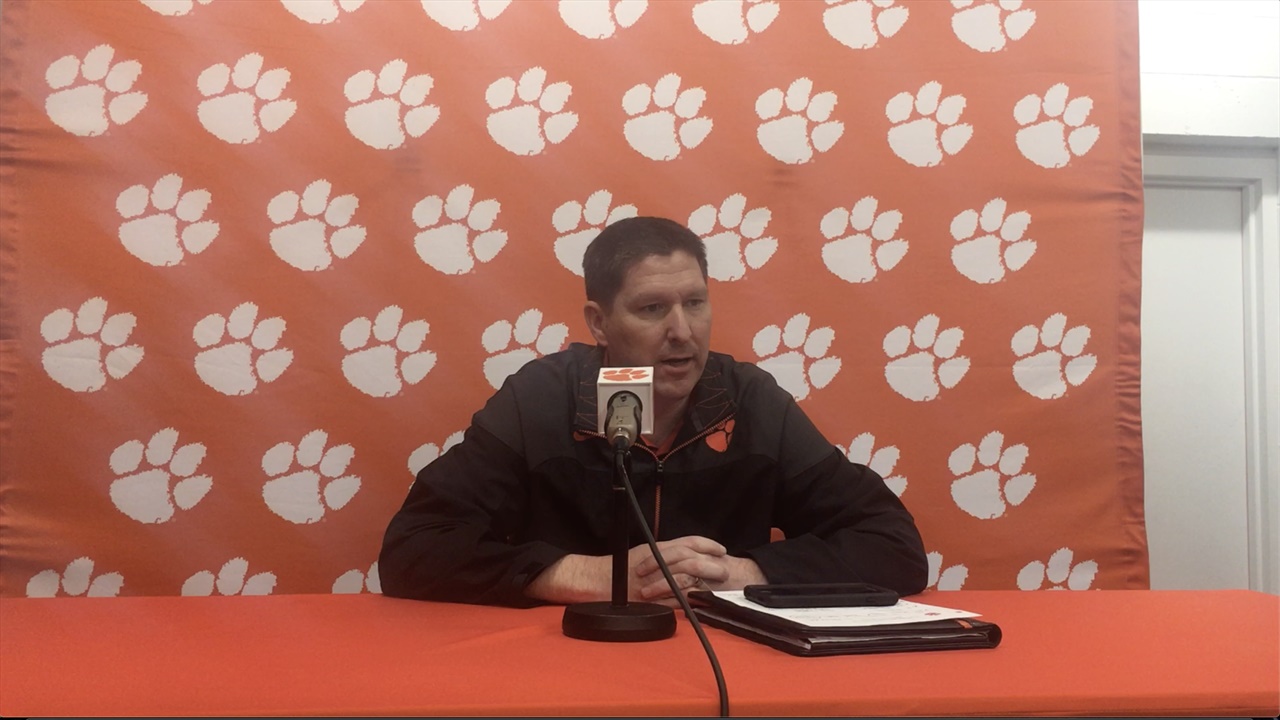 Clemson Basketball
A 'unique' group of seniors to take the court one final time Saturday for Clemson
---

---
Shelton Mitchell, Marcquise Reed and David Skara all could've chosen to leave Clemson after last year's run in the NCAA Tournament, but they chose to come back for another year of college basketball.
Clemson will face Syracuse on Saturday (noon, CBS) in Littlejohn Coliseum on Senior Day. Head coach Brad Brownell said on Friday that his group of seniors are unique because they didn't start here as David Skara, Eli Thomas and Shelton Mitchell all transferred to Clemson.
"Those guys have been eligible for three seasons and we'll be in postseason all three years so it's just a group that's really produced at a high level at our league and obviously, part of a Sweet 16 team. Hopefully there's more big basketball for us. There is immediately but we'd love for it to continue. A group that I'm very fond of and proud of and have enjoyed coaching for sure," Brownell said.
The only player that has played for Clemson all four years is Lyles Davis. The Charleston native earned a scholarship before the Syracuse game back in January and the growth from him has been noticed by Brownell.
"His story has been a good one from a young guy that really probably couldn't do a whole lot his first year to help us to where he's now running our scout team and has earned a scholarship. He's a guy that grew up bleeding Clemson orange and that's always good to have guys like that in your program."
The emotions will be high as Clemson's NCAA Tournament chances are low, but a win against Syracuse would help the resume following a close win over Notre Dame on Wednesday and Brownell says that some guys handle the emotions of Senior Day a little different than others, but he hopes that they will be able to block it out for 40 minutes.
"Shooting is a skill that can be a negative especially, if you don't make one or two early. If you miss a couple early, you can start to press a little bit. It's not as easy to get layups against their zone as it is against some other teams either. You've got to make baskets that are contested. Hopefully our guys will be in a good place. They've played in a lot of important games in their career, you just hope mentally, they're fresh and confident."
Syracuse is led by Tyus Battle, who aveages 17.5 points per game and Oshae Brissett, who leads the team in rebounds with 7.5 per game. The Orange defeated the Tigers 63-51 on Jan. 9. The Orange run a 2-3 zone defense that Brownell says is run "99 percent" of the time and the Orange are well schooled at playing it compared to other teams.
"It's funny. You get calls from coaches and you talk to coaches who are outside our league and they're kind of, 'Why is it so good?' and you can't explain to them until you're actually out there competing against it. What it looks like with the kind of athletes and size they have and then the way they execute it because it's what they do. It's just really good."
Despite the emotions of Senior Day and what's on the line for the Tigers, Brownell isn't really concerned about all the tournament talk.
"We're certainly a better team now than when we played Syracuse the first time we feel like. Now you have to go play well every game but we've improved just like a lot of teams have through the course of the season and the rest of it, that's for other teams to decide."
Never miss the latest news from Clemson Sports Talk!
Join our free email list