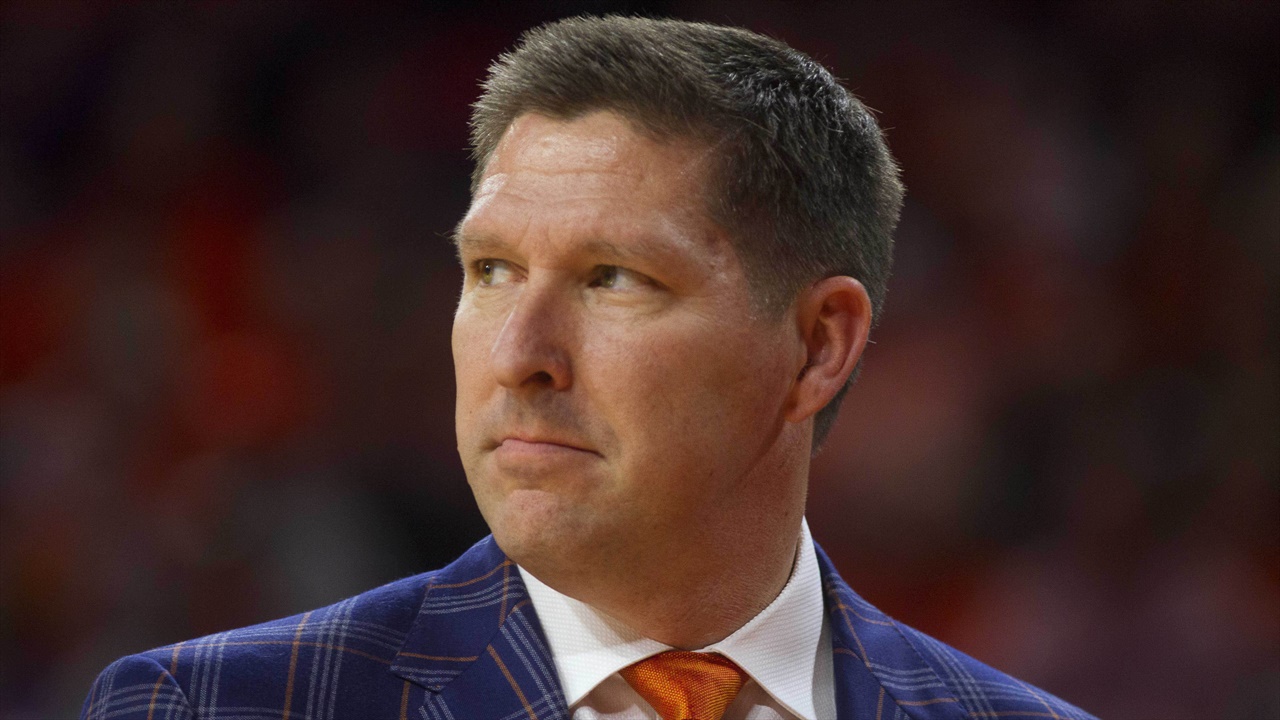 Photo by © Joshua S. Kelly-USA TODAY Sports
Clemson Basketball
Off the Bubble? Brad Brownell says Clemson is an NCAA Tournament team 'without question'
---
CLEMSON – On Senior Day, Clemson had to leave it all on the floor.
Coming into the week, Clemson needed to beat Notre Dame and Syracuse to almost solidify its position for the NCAA Tournament. The Tigers barely squeaked by the Fighting Irish and, after their first-half performance against Syracuse, it looked like the Orange were determined to burst Clemson's bubble.
But charged behind a monstrous second-half performance, the Tigers looked desperate for an NCAA Tournament bid. And it'll be pretty hard to leave them out now after their 67-55 win over Syracuse.
The Tigers came out of the gates nervous. Sure, Senior Day can be an emotional one, especially when they are all starters. But Syracuse's patented zone defense didn't help either. Clemson missed its first 13 shots and the room for error became tighter and tighter.
Clemson only made seven shots in the first half, shooting 25-percent from the field. Going into halftime, the Tigers knew what was at stake the final 20 minutes of the regular season.
"I just knew we had 20 more minutes and I wanted to give it all I have," Marcquise Reed said.
Reed poured in 24 points, 20 of which came in the second half where he basically took over on both ends of the floor. He also collected 10 rebounds and had five steals. He played all 40 minutes in his final game in Littlejohn Coliseum.
"I left out with a bang," Reed added.
A 14-0 run after the break gave Clemson its first lead of the game and a lead it would not relinquish. The Tigers eventually went on another 9-0 run and a 7-0 run to help ice the game.
The key to this contest was Clemson out-rebounded Syracuse by 15. The Tigers collected 45 rebounds, 18 of them were offensive. And Clemson's defense continued to show its grit by only allowing 24 points in the second half. Reed almost outscored the Orange in that half by himself.
"Their defense was just better than our offense," legendary coach Jim Boeheim said.
Clemson shot 42.9-percent in the second half to maintain its NCAA Tournament hopes in front of a rocking Littlejohn Crowd. Elijah Thomas had 13 points and 11 rebounds. Shelton Mitchell added 10, and by the game's end, the entire Coliseum rose to its feet as Clemson's senior class walked off the floor for the final time.
So, sitting at 19-12, 9-9 in the ACC, did Clemson do enough to make the NCAA Tournament? Brad Brownell explained after the game:
"I certainly think, you know, if you watch us play I think we look like an NCAA Tournament team without question. We're 9-9 in our league with four losses that are six points, five points, something ridiculous that very easily could've gone our way in what I think is the best league in the country. We did things in the non-conference. It isn't talked about very much but Lipscomb is tied for first in their league. Radford - tied for first in their league. Sam Houston State is going to win their league. That's three of our non-conference games that are teams that have won the regular season in their league.
"It's just hard because you are comparing mid-majors, majors, we don't all have the same things. I think if you've watched our team play, even in some of our losses - last Saturday, at Louisville, at NC State - we look like a team that is good enough to be in the tournament and do a lot of damage."
On describing the mental toughness of his team:
"I think these guys have shown a lot of grit. We've been hit in the stomach multiple times. It's hard - we talk about it a lot - when you put so much into things and you prepare well and you compete hard and something happens and you lose a game and then you gotta get right back. The thing in basketball is the next ones come so quickly. I know we didn't beat the top three or four teams in the league and all that. People that criticize us say, 'well, they've beaten a bunch of teams at the bottom that they are supposed to beat.' Those aren't easy to do now. To go on the road and win all these games and everybody is supposed to go beat all these ACC-level teams on the road, especially after you had your heart ripped out in a game that went to the wire and everything you're supposed to do. Then, in 48 hours you're supposed to perform in another tough game and you're expected to win it. I just don't think people really understand unless you are really into competitive sports the wear and tear on four-month seasons and asking young people to always be ready and perform at a high level.
I think it speaks to our team that our guys have done that. We've gone and competed and we have a lot of big wins. Our wins are sizeable. We don't get credit for those because we lose close games. We beat teams by 10. We beat 'em by 12. Fifteen. On the road. In our league. PRetty good league. These guys have shown tremendous mental toughness, fortitude, grit to keep battling when a lot of people have been critical of them the whole season."
Never miss the latest news from Clemson Sports Talk!
Join our free email list