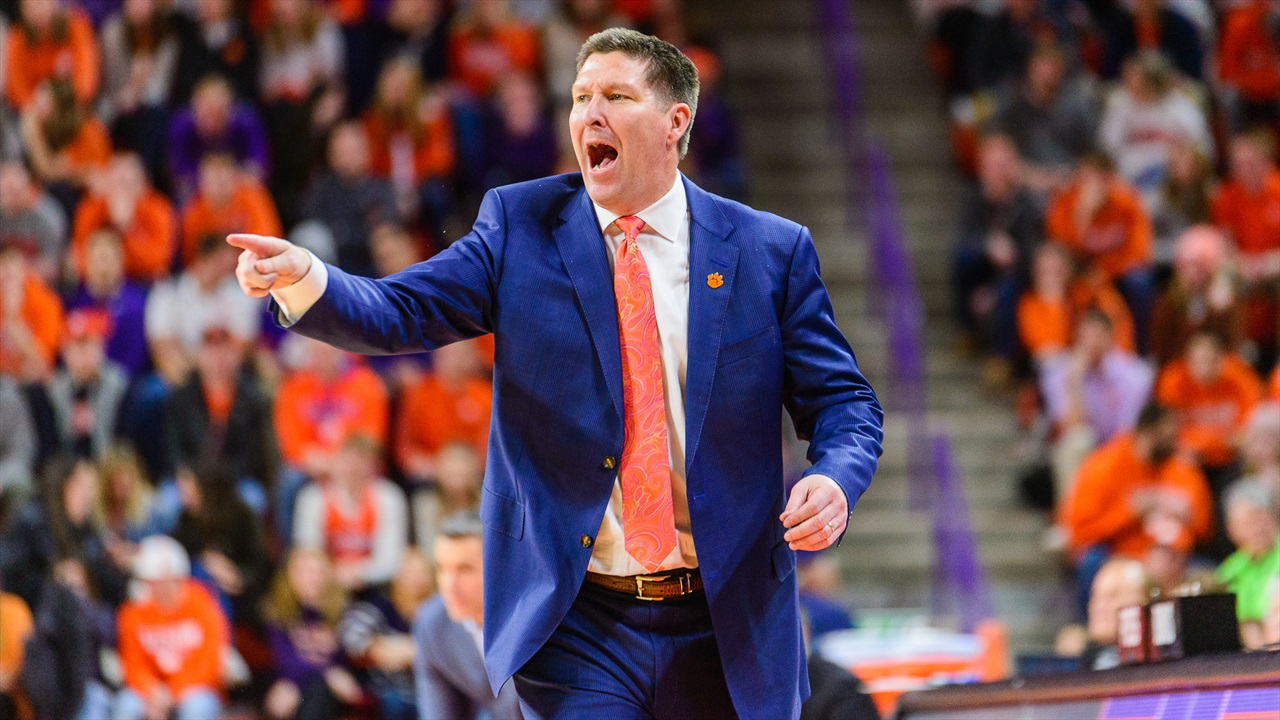 Clemson Basketball
Brownell previews the ACC Tournament as Clemson looks to solidify NCAA Tournament bid
---
Clemson head coach Brad Brownell met with the media today as the Tigers prepare to head to Charlotte for the ACC Tournament. A win on Wednesday against N.C. State would pretty much guarantee a solidified spot in the NCAA Tournament. The Tigers are currently 19-12, 9-9 in the ACC.
Brownell:
"Realy proud of the way we finished the regular season. We had a few injuries this year and got off to a 1-5 start in the league and a lot of gut-wrenching losses. The last 12 games our guys have sort of had their backs against the wall and have played great in most games. We won eight of them, and three of those that we lost went to the last second. So 11 out of 12 games to finish the league we wither win the game, or we're battling at the last second of the game. So I think our guys deserve a lot of credit for just fighting and competing and picking themselves off the matt a couple of times.
"Having said all that, now we go to Charlotte and have big games ahead. We're playing an NC State team that beat us the first time in a very competitive, hard-fought battle. They have a lot to play for as well."
Most important thing that has to happen for Clemson to make a run this week:
"It's hard to just pin that on one thing in a tournament setting. I do think for multiple games, you gotta have multiple guys. I don't think your top one or two guys can carry you through a tournament. You need your third, fourth, and fifth guys to play well consistently. Certainly, your main-level guys need to play well in games. But you're going to need that third and fourth guy in these important games to play well. Because everybody's got good players. Everybody's got good guys that can score 15 to 20 in games. Sometimes, it's those extra guys - what do those extra scorers do? Do they play well? That and taking care of the ball is the other factor.
"You're optimistic that all your guys want to take and make big shots. I think hopefully that's what it's going to take. I really believe that it's going to take some of those other guys - the David Skaras, Clyde Trapps, Aamir Simms. At the end of the day, most of these games are about players making plays. The teams that do that the best usually win."
On Hunter Tyson and John Newman being at a point where they are guys that can make those plays:
"Absolutely. They gotta go do it, but absolutely. Those guys have had games in our league where they have been good players. Hunter's going to be more of a scorer. John Newman is going to come in and guard people some people. His energy level defensively can be a factor for our team."
You've had as much success as anyone at Clemson in the ACC Tournament, what is it that you do that helps get your team ready for tournament play?
"We haven't had enough success. We've done OK sometimes, but to be honest, we need to win more than we've won. We hope that our style is the way teams play most of the time in the tournament. Sometimes the games slow down a little bit, and it becomes a grinding style and possessions are important. We probably play that way a little more than some teams."
On if there's extra juice to it that the first game is against N.C. State:
"Not really. We are going to have great battles with those guys all the time. It was disappointing the way the last game ended. We did a lot of really good things to win the game. Unfortunately, we just didn't finish it. Give them credit for making a big-time shot. It's just another important game and it's in the ACC Tournament. You should be excited to play. It's the best basketball tournament in the country."
On the importance of Elijah Thomas' play down the stretch:
"Really important. Think it's vital for us to finish the way we want to finish he's gotta play well. He's gotta be disciplined and play disciplined on both ends. Defensively follow our gameplan, be great in ball-screen coverages, not foul, and rebound and still effect shots when he can. Offensively, he's got to continue to tighten his game up and be efficient around the rim, make good passes when teams double-team him. He's a very talented player and brings a lot to our team when he's playing well."
On what makes Marcquise Reed such a good scorer:
"I don't think he's bothered by a few missed shots. He just has confidence he is going to make the next play. He's a shot-maker so he can find different ways to make tough shots. He's been wired that way his whole life. I don't think he's ever done anything else. He's probably been the leading scorer on every team he's played on since he was six years old on every team he's played on. That's just kind of how he plays and who is. What he's really done better is like he's gotten to where he's a pretty good assist guy. I don't know his assist numbers this year, but I thought he had almost 100 last year. This year he's done a really good job rebounding the ball as well. He's worked to become a more complete player since he's come to Clemson."
On Shelton Mitchell:
"I think Shelton has had to deal with a lot more issues than our fans realize. There are just some days when (the ankle) feels worse than others. Some days it feels really good and hopefully Wednesday it's going to feel really great. It's not easy for him on consecutive days. That can be more problematic for Shelton to consistently go day after day at a high level. He brings a good deal of poise to our team. Experience settles guys down."
Said it was unnoticed that Clemson scored 10 points on out of bounds plays on Saturday against Syracuse and Shelton Mitchell was the point man that made things happen on those plays. Said Donte Grantham was one of those guys who does a lot of those little things that no one really talks about like Mitchell does.
Never miss the latest news from Clemson Sports Talk!
Join our free email list