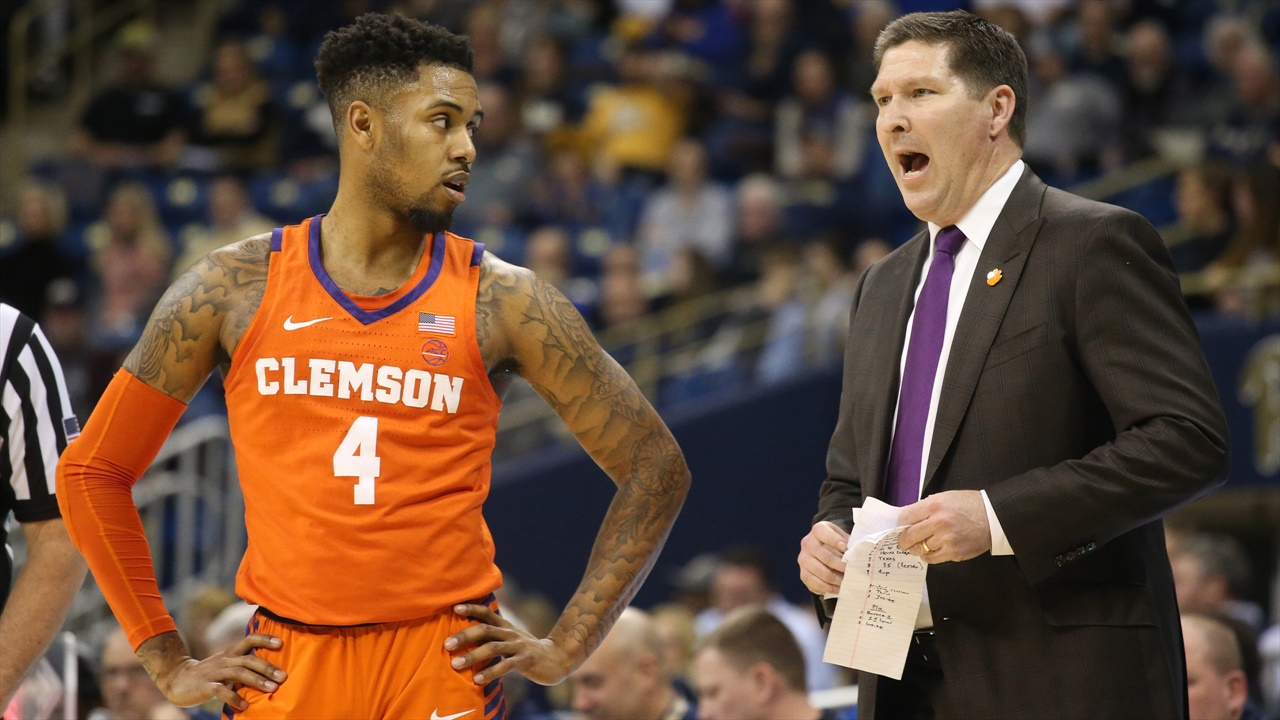 Photo by © Charles LeClaire-USA TODAY Sports
Clemson Basketball
Brad Brownell updates Shelton Mitchell's status
---
Clemson basketball defeated Wright State on Tuesday night 75-69 in what was a back-and-forth affair. Marcquise Reed led all scorers with his game-high 24 points on 9-of-19 shooting. Elijah Thomas scored 17 points while shooting 6-of-8 from the field and David Skara added 16 points, which was one off of his career high.
A difference-maker down the stretch was the play of Clyde Trapp, who finished with 12 points and made a crucial three-pointer with a couple of minutes remaining. Trapp played 37 minutes as he filled in for the injured Shelton Mitchell.
Clemson head coach Brad Brownell was alerted on Monday that Mitchell was "basically done" for the rest of the season with a meniscus problem in his knee. It's been a problem that has been bothering Mitchell for two years now. Here's what Brownell said following Clemson's first-round victory:
On the Shelton Mitchell injury:
"I give our guys a lot of credit. We find out Monday that Shelton Mitchell is basically done and that puts a lot more pressure on other players… He's been hurt all year. It's worse than he's let on. It's worse than I've let on. And if you're really watching, he just doesn't have the speed that he's shown the past two years. He's really tried all season to just hang in there and fight. It's been frustrating for him. I told you guys for two years there are days his knees feel pretty good and there are days his knees don't feel good at all. He got another MRI on Monday and it showed that he's going to have to get another surgery at the end of the season. It's been a hard year for a lot of ways with some stuff like that. I hate it for Shelton because he wants to keep playing, but it's tough right now."
Brownell said that there was a bit of a possibility that if Clemson was in the NCAA Tournament instead of the NIT then Mitchell would've maybe tried to continue to play.
"It was really bothering him down the stretch. He wasn't moving very well on Saturday. So they kinda looked at it and he's going to have to have another surgery so we just decided that it's probably in all of our best interest for him to take some time and sort through some things."
On Clyde Trapp:
"Clyde was really big… I thought Clyde showed some growth in terms of stepping up and hitting a couple big shots, big plays. Those were important plays because he scored a bunch of them right there at the end when we needed them. Some of that is because of the attention that Marcquise gets, so now there's a guy and a half guarding him a lot so that opens up a little bit more space. I thought those were big-time shots."
On the team's spirit at practice on Monday:
"It was good. I thought our guys were probably better than I would've imagined. This team has been good that way all year and through all the adversity and the close losses, tough situations and heartbreaking locker rooms. They've always come to practice with a good attitude and want to keep pushing. That's all you can ask for as a coach is that they are going to try and keep coming and be coached and do what we try to do to win. There are times when we haven't performed as well as we'd liked but I can't fault the way they have approached things and the effort to go into games. This was no different and that was really good to see."
On the importance of this NIT game as the game wore on:
"It's hard. You work for the NCAA Tournament and you find out in 36 hours you're playing again. We kind of knew we weren't probably going to get in but you're still always optimistic and you're still thinking about things and it's just not as easy to flip the switch and to immediately go right back into it. I told the guys that we are going to find out, when it gets hard, how much we want to win. We did. Our guys responded. We got down four a couple of times and made some big plays. We're going to try and keep piecing it together here. I think we're a bit of a tired team. We've got some guys that have logged a lot of minutes and obviously, losing Shelton has been hard on us. I am excited that some of our younger guys got to play and produce and hopefully that will continue. That has to continue for us to advance."
Clemson will announce on Wednesday the time for its second-round game in the NIT.
Never miss the latest news from Clemson Sports Talk!
Join our free email list