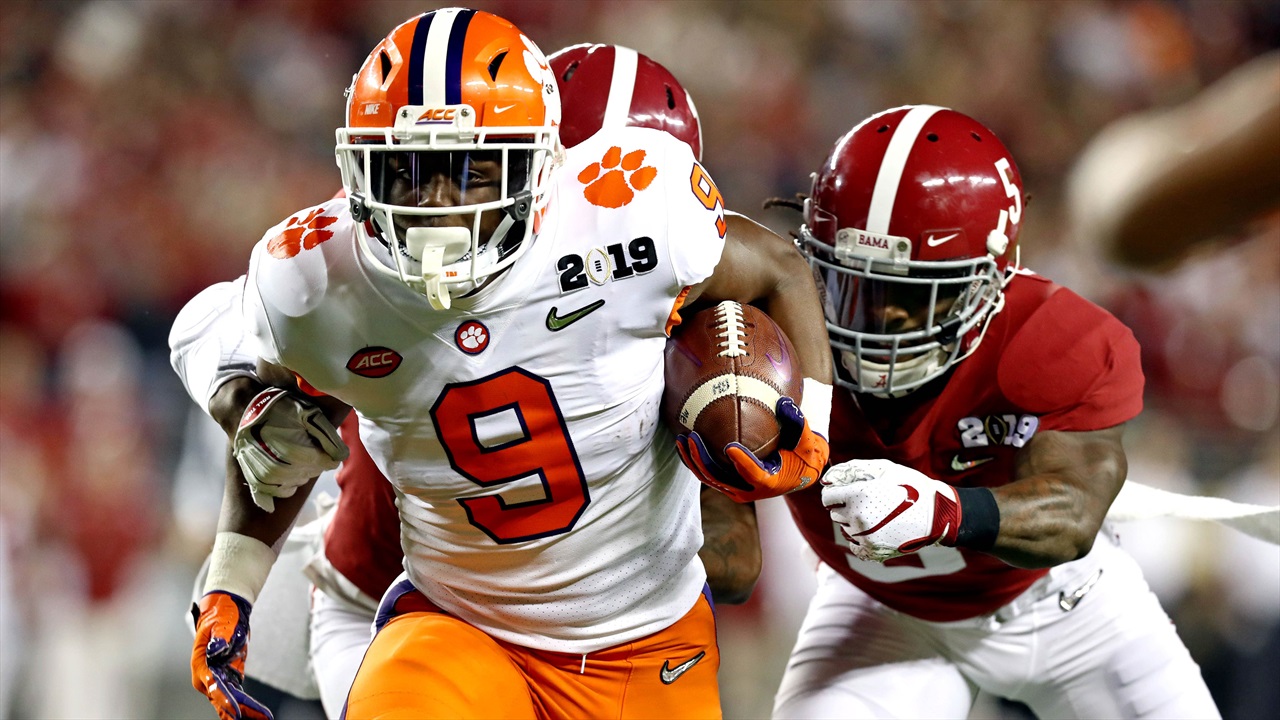 Photo by © Matthew Emmons-USA TODAY Sports
Clemson Football
Pushing Buttons
---

---
CLEMSON -- The dynamics of Clemson's running back room are enticing, but healthy.
Co-offensive coordinator Tony Elliott wants the very best out of his players. Like most coaches, that's expected. And when it comes to the superstar-caliber players that he has in his running back room, that can be a blessing and a curse.
There's Lyn-J Dixon, the freshman back who almost rivaled Travis Etienne's freshman season as the back who burst onto the scene when his name was called and averaged 8.8 yards per carry on 62 attempts.
Tavien Feaster, the "old head" in the running back room now that Adam Choice has moved on, has come into the spring with a much better mindset. It's clear he wants more. It's clear he's being a leader.
And of course, there's Etienne. A Doak Walker candidate who is coming more into his own as the day passes. Everyone has seen his talent and what he can do when he has the ball in his hands. Elliott sees it every day, and that's what sometimes nags him.
Elliott seems borderline obsessed with pushing Etienne's buttons, but there's a reason for that. The running backs coach went into detail after Monday's practice.
"Really for Travis, it's making the decision that he wants to be one of the best to ever come through here," Elliott said. "I think there's no question that he has the talent. He's got to become a complete player."
"Really for Travis, it's making the decision that he wants to be one of the best to ever come through here," Elliott said. "I think there's no question that he has the talent. He's got to become a complete player."
And part of becoming that complete player is embracing the leadership role Etienne now has. While Etienne may be one of the best running backs in the country, Elliott told us Tavien Feaster is the "alpha dog" in the healthy running back room. While that's great for Feaster to be that voice, that has to annoy Elliott who is trying to get the quiet Etienne to fill that role.
"The biggest thing for Travis is to embrace and accept his leadership role," Elliott added. "He's such a low-maintenance guy, a low key guy. He doesn't like the limelight and he doesn't like the attention and sometimes that causes him to shy away from his leadership opportunities.
"I'm telling him every day, 'that's a gift and a curse. You prayed for this. You asked for this. You asked for the success that you are having and now you have to take the unintended consequences that come with it. Now your teammates are looking to you as a leader. They want to hear your voice."
It goes along with when we wrote after the ACC Championship Game about how Etienne still didn't know his own potential even as one of the premiere backs in college football. Knowing that he could be one of the best in Clemson history could make the difference between a really great player and an all-timer.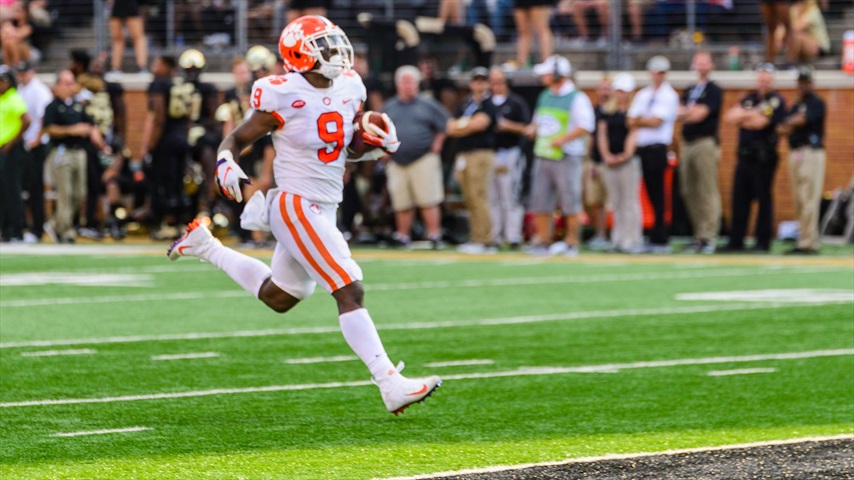 © David Grooms/Clemson Sports Talk
"I think when his mind transitions to where he really embraces his role as a leader, then I think his game is going to go to an even bigger level," Elliott stated. "He's going to play consistent, he's going to play with maximum effort - not that he doesn't play hard, but he's going to give it 110 percent.
"Whereas right now, he's OK. I'll give it 100 percent...There's only a few guys over the course of your career that you coach that have that kind of talent where if you go right above 100 percent and push for 110, they can be exceptional."
And that's what has driven Elliott to push Etienne. Elliott not only knows how special Etienne is, but he also realizes that not many players like him end up in the palm of his hands so often.
Elliott would kick himself for the rest of his career if he didn't see to it that Etienne maximizes the position he's in. That's what makes this obsession so fascinating.
In the meantime, Etienne has shown flashes of going to the next level from a leadership standpoint. At Monday's practice, there were a few players who were banged up in the Pride group, which was the third-string. So Etienne, the established superstar, along with a few other players were asked late in spring practice to take more reps but with that particular team.
"Do they bitch about it or do they jump in there?" Elliott wanted to see.
Etienne jumped in and led the way.
That's the leadership Elliott wants to see. The voice he wants to be hearing. Now it's about developing the consistency of playing at 110 percent. And of course, pushing those buttons to get Etienne on that level.
The ascension could be due to the obsession, and vice versa.
Never miss the latest news from Clemson Sports Talk!
Join our free email list