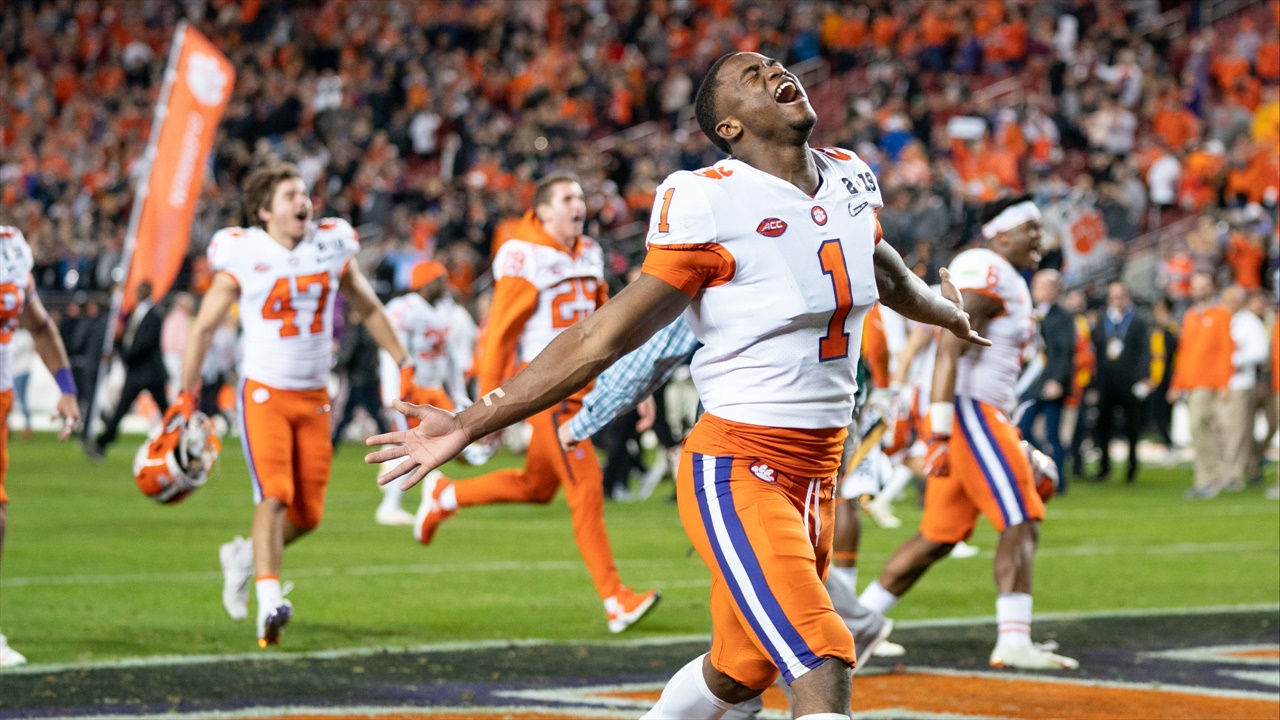 Photo by © Kyle Terada-USA TODAY Sports
Clemson Football
All In, Baby: What the Raiders were looking for when they drafted three Clemson players
---

---
Every football player who has ever aspired to play in the NFL has had the same dream.
They are sitting in a room - maybe a crowded one with friends and family having a get-together, or all alone on the couch with only their dog. There is anxiety, nervousness, excitement, thoughts racing through their heads as the NFL Draft rolls on round after round.
On a table in front of them sits their cell phone. For many players, it may not ring. But in this dream, it is a moment they have been waiting for their whole life. The phone rings, and suddenly a dream of playing football in the NFL has turned into a reality.
Those phone calls, those moments and reactions, are this writer's favorite part of the NFL Draft. And in this age of social media and cameras being almost everywhere in sight, we are fortunate enough to gain access into what those moments look like.
The Oakland Raiders made nine phone calls over the course of the three days during the 2019 NFL Draft. The first call, fourth overall, was made to Clemson defensive end Clelin Ferrell. Cameras on hand caught Ferrell's live reaction to him answering that Oakland, Calif. Phone number.
On the other end of the line was Raiders General Manager Mike Mayock about to tell Ferrell that the defensive end was going to be his first pick as a General Manager. The Raiders' Twitter account tweeted a video of part of their conversation.
"There's one obligation you have with this pick, you hear me?" Mayock asked Ferrell. "That's leadership. You promise me? Leadership - that's why you're coming here."
"I promise you," Ferrell responded, tears streaming down his cheeks. "All I got. Everything I got. All day."
Many Raiders fans, especially those on social media, and NFL analysts were shocked by how the Raiders took Ferrell so early. After seeing that video and hearing Ferrell speak to Raider Nation again later on (even acknowledging that he knew they were shocked), the feelings on Ferrell began to change, not even 24 hours after he was selected.
The picks rolled along, and suddenly it was the second round when Mayock called his fourth draft prospect and second Clemson Tiger. Again, the Raiders gave us an inside look at the conversation, and this time there was even a surprise.
Ferrell took hold of the phone while Mullen was in tears on the other end of the call.
"I'm proud of you. You deserve everything that you got," Ferrell told his former teammate and now new teammate. "It's only the beginning, baby. You already know,"
"You ready to be a Raider, or what?" Mayock asked Mullen after grabbing hold of the phone.
"I'm going to tell you the same thing I told your teammate yesterday when we took him No. 4 overall. There's one obligation that comes with this pick - leadership. You got that, right?"
"Yes sir," Mullen responded. "All day."
Four phone calls, two Clemson players. This marked the 17th time in Clemson history that a pair of Clemson players were selected to the same team during the same draft, this time in the first two rounds. It was as if some of those two dollar bills scattered across Santa Clara made their way to Oakland and head coach Jon Gruden's office.
It seemed like a coincidence that the Raiders gained two Clemson assets which were so pivotal to the team's title run out west. That is, until the fifth round.
When the 149th overall pick came along, Mayock decided to trade up so that he could get someone he had been tracking for years. Another Clemson player, this time a receiver: Hunter Renfrow.
It became apparent that this was no accident. For the second time in history, three Clemson players were drafted to the same team. Mayock had a plan for his first draft, and that was to get players who would install a winning culture into the franchise.
The storied team that dons the silver and black had been a black eye in the AFC for quite some time, only finishing above .500 once since 2003. The way to create change in the locker room was to generate a shift in identity.
The Raiders did that by obtaining Antonio Brown in the offseason to generate some flair. But with the addition of three Clemson players and Josh Jacobs, an Alabama running back who was the first running back taken in the draft, the Raiders added some substance.
All four of those players have won national championships (two for each Clemson player, one for Jacobs) and have created memorable splashes in those games at the highest level. They have been coached up by two of the highest paid coaches in the country, Dabo Swinney and Nick Saban.
Simply put, they're winners, and have been for a long time.
Back to Mayock and his phone call with Renfrow, this time a little more laid back but the message was still the same.
"I've been tracking you since before the national championship a couple years ago when Alabama couldn't cover you. You remember that night? We love watching the way you ran routes at the senior bowl. We love who you are as a person," Mayock told his receiver.
Mayock then let Renfrow in on what his plan was.
"Here's the deal: we're drafting all these Clemson guys, and we're drafting all these guys with high character and who love ball. You fit into that exactly. You fit so much into the culture we are trying to develop. I just want you to come in and be you."
The common themes Mayock wanted to get across during those three life-changing phone calls with those Clemson players were this: he wanted men with high character, leaders, championship culture, and winners. And he figured his safest bet was going with a player from Clemson.
Only time will tell if Mayock's plan of changing the identity of the Raiders franchise with these players will be successful. We live in a time where everything is results-based, and people want change sooner rather than later, especially if the previous results were a 4-12 season.
The word "culture" gets thrown around at Clemson more than a Trevor Lawrence 15-yard out-route. People on the outside almost become numb to what Swinney has instilled inside his program for the past ten years because you have gotten too used to it.
Now, all the way across the country, an NFL team has taken notice and is trying to buy into that Clemson culture. One player at a time.
"We're killing it at Clemson," Gruden told Renfrow with a laugh. "We're going to bring in Dabo Swinney next."
If that were to happen, Oakland would truly become Clemson West.
And the famous Raiders quote from the late general manager Al Davis may go from "Just in, baby" to "All in, baby."
Never miss the latest news from Clemson Sports Talk!
Join our free email list