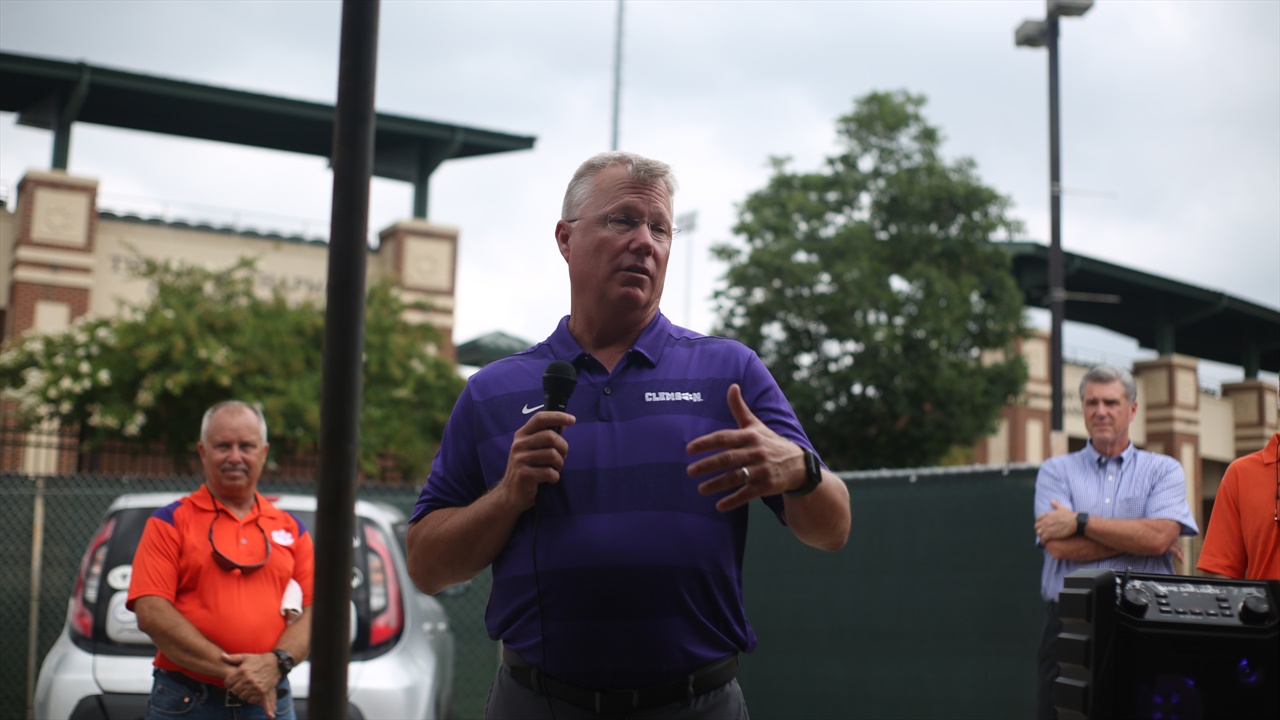 Photo by @Tanner Hall/Clemson Athletic Communications
Clemson Softball looks to build on "great athletic tradition" in Tigertown
---

---
Clemson's softball history is already underway as the new stadium begins to move into the last months of construction. Earlier this week, at a topping out ceremony, the final beam of the Clemson Softball Stadium was set into place.
Clemson head coach John Rittman, his coaching staff, Clemson athletic administrators as well as the construction and architecture crew autographed the final beam just before placing it at the new complex.
On March 14, 2017, Clemson Athletic Director Dan Radakovich announced the start of the program and with the topping out ceremony complete, the softball program begins taking the final steps towards opening play in their new stadium in February.
Yesterday, we spoke with Coach Rittman during our two-hour daily radio show, Clemson Sports Talk.
Rittman, who may be a new name to some, has been in Clemson since November of 2017 when he was named the school's first softball coach. The world of college softball has grown by leaps and bounds and the interest in the sport is at an all-time high.
As for the team, Rittman said, "We will have 16 players here in August, and we will start practicing and getting ready for that first game in February."
The Tigers have been bringing in a handful of talented prospects and will also mix in transfers to complete the roster.
"We have three redshirt freshman next year that we're here last year training with us. We have eight freshmen that we signed in the 2019 class," Rittman noted. "Then we have four Division 1 transfers that will help us make up that roster for 2020."
But for Rittman, undertaking the task of building a program from scratch has been one in which he will not sacrifice the culture out of the gates.
"We have a good blend of talent, which was one of my main objectives when we started. I was trying to get some older upperclassmen in the program by way of transfers, without sacrificing character, and academic standards."
One of the major storylines around the league this year is the debut of the ACC Network. For a sport like softball, that is growing in popularity, the extra exposure for a new program is invaluable.
"It's a fast-paced game-- it keeps your attention. There's a little bit of everything. There's dominant pitching. There's the long ball. There's great defense."
"It's a great benefit anytime you can showcase your sport on a national level on TV like ESPN. The ACC Network is going to be a great advantage for us. Not only in recruiting, but for our sport in general," Rittman told us. "It's a fantastic sport. It fits the TV time frame perfectly. Our games are very rarely over two hours-- two hours and 15 minutes long."
As for softball, if you've never tuned in, it's an action-packed sport as Rittman noted.
"It's a fast-paced game-- it keeps your attention. There's a little bit of everything. There's dominant pitching. There's the long ball. There's great defense."
When it comes to the timing, a new sport couldn't land in Clemson at a better moment in the school's history as the Clemson brand is greater than it's ever been. Much of that growth can be attributed to the success of the football program.
"What Coach Swinney has done for Clemson University, and obviously the football program winning two national championships in three years, there is a true power of the paw out there," Rittman stated. "People know Clemson nationwide-- worldwide, the university is growing. The area is growing. There's just a lot of positiveness around Clemson right now. And certainly we use that in recruiting and we use that with our team. There's great athletic tradition here at Clemson-- not only in football but in all the sports."
Coach Rittman and the Clemson Softball team will open the season in a tournament in Orlando, FL hosted by UCF. (Note: The dates of this event have yet to be determined.)
Never miss the latest news from Clemson Sports Talk!
Join our free email list