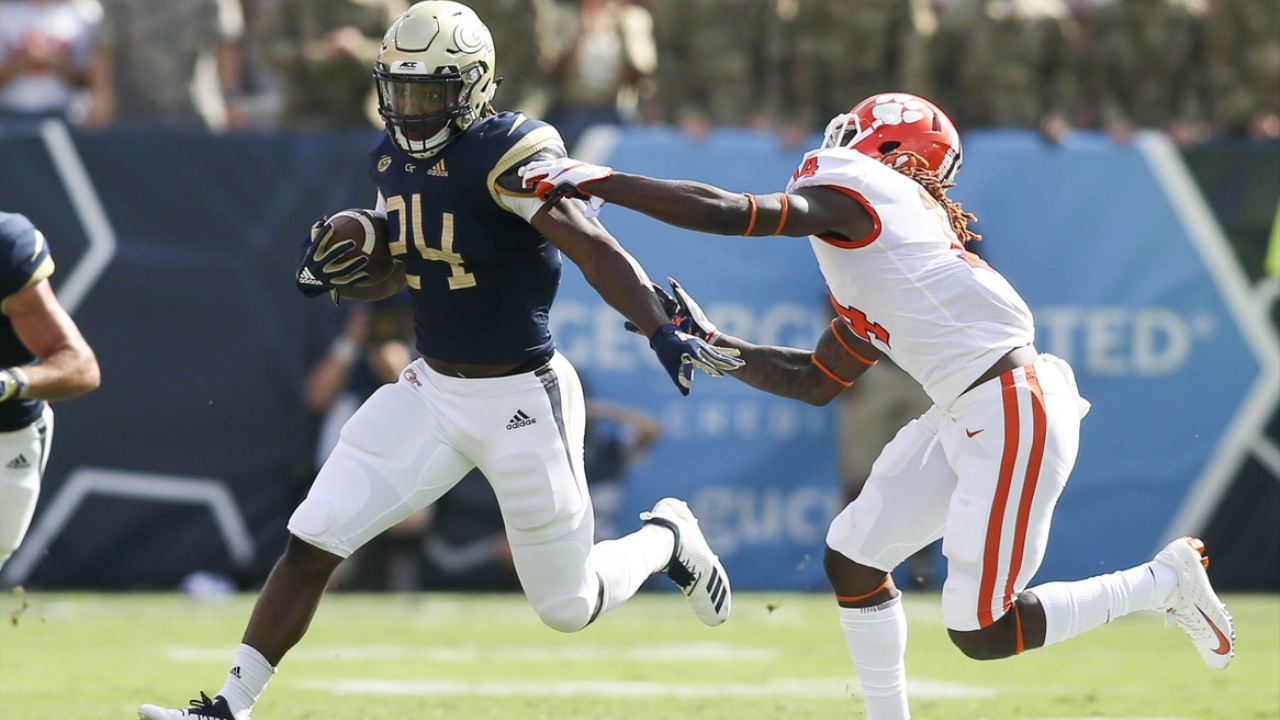 Photo by © Brett Davis-USA TODAY Sports
Clemson Football
2019 Opponent Series: Georgia Tech
---
Feel the difference - The best user experience on mobile devices or personal computers. Avoid clickbait and sites bloated with advertising! Join us today for just $1 or get a full year for $63.17.
---
Over the next two weeks, we will be giving you an inside look at every opponent on Clemson's schedule. The road to a fifth straight ACC Championship and a second straight College Football Playoff National Championship title begins August 29 against Georgia Tech.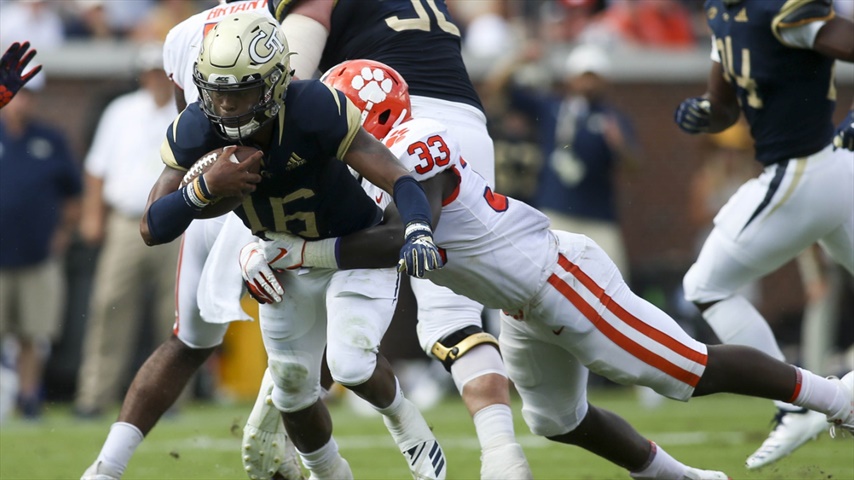 © Brett Davis-USA TODAY Sports
New Georgia Tech head coach Geoff Collins returns to his home state this year calling it "surreal" to be back. Collins is bringing a creative approach to give the Yellow Jackets every single advantage he can.
"Whether that's branding, social media, the way we do our off-season conditioning, our outside-of-the-box things we do with position flexibility, moving guys around," Collins said at the ACC Kickoff.
Wide receiver Jalen Camp said, in an exclusive interview with ClemsonSportsTalk.com that he is excited the most about the energy Collins brings to the table.
"The guys he surrounds us with are just loving and caring coaches who really care about you and they're really passionate towards their work. They want to give every ounce of information that they have back to you and I think that's good," Camp said.
Linebacker David Curry told us he was excited about Collins' ability to build and create players to play in the National Football League, such as Colts linebacker Rock Ya-Sin, who was taken in the second round of the NFL Draft this past April after spending his final year of college at Temple, electing to transfer from Presbyterian College.
"That just speaks a lot to me how his (Collins) culture, how his processes, they really produce a lot of NFL talent and I'm glad to be a part of that," Curry said.
The main thing fans will be able to tell about the Yellow Jackets right away is they won't run the staple option offense that everyone has become accustomed to seeing. Collins brought offensive coordinator Dave Patenaude with him from Philadelphia which is a spread pro-style offense that puts more stress on a secondary.
"It becomes more of an open-ended for every position out there. Anybody can get the ball at any given play," Camp said.
The style in which the Georgia Tech defense is described in the media guide is "4-2-5 Effort Based" under defensive coordinator Andrew Thacker, who also came with Collins from Temple. Thacker's defense scored 8 defensive touchdowns which ranked 1st nationally, which brings optimism and excitement, both of which will be put to the test in Week 1 on Thursday night against Clemson, which Curry calls "a competitor's dream come true."
"I can't wait. We're preparing every single day working on us. I don't care if we're playing the worst team in the country or the best team in the country, we're going to prepare the exact same way and we're excited to go into Death Valley on that Thursday and shock the world."
Georgia Tech Yellow Jackets
Head coach: Geoff Collins, 1st year
Last season: Finished 7-6, lost to Minnesota 34-10 in the Quick Lane Bowl
Returning starters: 5 offense, 4 defense
Players to watch
Jalen Camp (Wide receiver, Sr.) - Look out for the Cummings, Ga. native with Collins' new offensive attack as the Jackets will definitely put the ball in the air more in 2019. He had a career-high in catches in the season finale in the loss to Minnesota, so this season could be a coming-out party for him if he's looking to improve his draft stock.
David Curry (Linebacker, R-Sr.) - Curry started all but one game during the 2018 season and will be one of the leaders on the Jackets' defense in 2019. He was sixth on the team in tackles last year with 47.
Jerry Howard (Running back, Jr.) - The stable of backs on the Flats is a good problem to have and Howard is the returning starter for the Jackets. He should have a bigger role in the offense this year in the passing game, which will only help the physical 6'0, 217-pound back.
Last Meeting against Clemson: 2018: Clemson invaded Atlanta as Trevor Lawrence went 13-of-18 for 176 yards with four touchdowns in a 49-21 rout.
---
2019 Schedule
Aug. 29 (Thurs.) - at Clemson
Sept. 7 - vs. USF
Sept. 14 - vs. The Citadel
Sept. 28 - at Temple
Oct. 5 - vs. North Carolina
Oct. 12 - at Duke
Oct. 19 - at Miami
Nov. 2 - vs. Pitt
Nov. 9 - at Virginia
Nov. 16 - vs. Virginia Tech
Nov. 21 (Thurs.) - vs. NC State
Nov. 30 - vs. Georgia
**Home games in BOLD
Never miss the latest news from Clemson Sports Talk!
Join our free email list