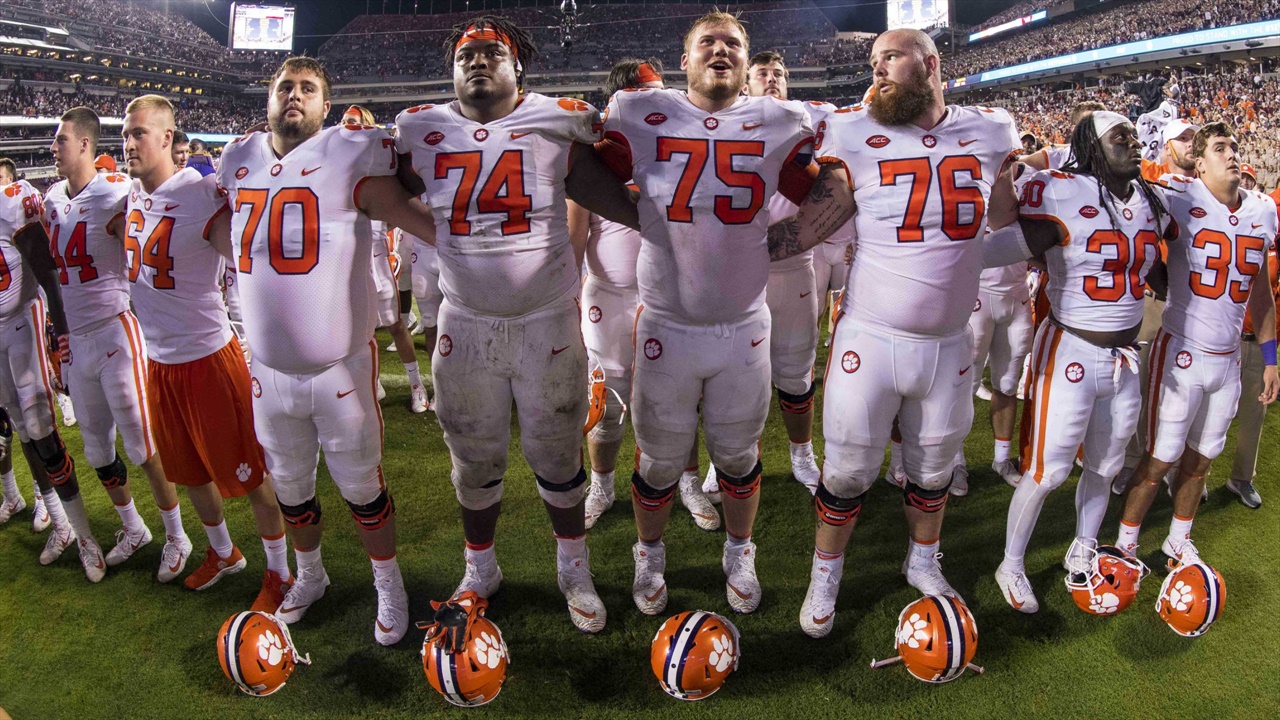 Photo by © Jerome Miron-USA TODAY Sports
Clemson Football
2019 Outland Trophy watch list unveiled
---

---
DALLAS (FWAA) — The Football Writers Association of America has announced the preseason watch list for the 2019 Outland Trophy presented by the National Foundation for Infectious Diseases. This season's list presents a rare wide-open field following the departure of all eight Outland Trophy semifinalists from a year ago and the return of only one FWAA All-American, offensive tackle Calvin Throckmorton of Oregon. The Ducks, along with Michigan, top the list with four selections among the 83 standout interior linemen representing all 10 Division I FBS conferences and independents.

This is the second year of a partnership with the NFID to present the Outland Trophy as part of a public awareness campaign focused on the importance of influenza (flu) prevention during the 2019-20 flu season. The award honoring the top interior lineman in college football will continue to be selected by the FWAA membership and has been rebranded as the Outland Trophy presented by the National Foundation for Infectious Diseases with a social media hashtag of #FightFlu.

Throckmorton, a senior from Bellevue, Wash., was a second-team FWAA All-American and is the lone member of the 2018 FWAA All-America Team on either interior line to return this season. He is joined by three teammates, center Jake Hanson, guard Shane Lemieux and defensive tackle Jordon Scott. Michigan has four members of its offensive front on the list – center Cesar Ruiz, guards Michael Onwenu and Ben Bredeson, and tackle Jon Runyan. Georgia has three players and 15 other schools have two representatives on the list of standouts.

University of Pittsburgh All-American Mark May, the 1980 Outland Trophy winner, will serve as the Outland Trophy #FightFlu ambassador for the upcoming season. May will make media appearances on behalf of the #FightFlu public awareness campaign to remind people to get their annual flu shots.

The recipient of the 74th Outland Trophy will be announced during ESPN's The Home Depot College Football Awards on Dec. 12, live from the College Football Hall of Fame in Atlanta. The official presentation to the winner will be made at the NFID Outland Trophy Awards Dinner sponsored by Werner Enterprises and produced by the Greater Omaha Sports Committee on Jan. 15, 2020. Up to eight semifinalists will be named on Nov. 20 in Omaha and three finalists for the award will be announced on Nov. 25.

Candidates may be added or removed during the season. The distribution of watch list candidates is spread well among the conferences, with the Big Ten and SEC leading the way with 13 each. The Big 12 and Pac-12 are just behind with 12 apiece, followed by the ACC with 10 as well as the American Athletic (6), Independents and Mountain West (4 each), and Conference USA, Mid-American and Sun Belt (3 each). The list includes 32 offensive tackles, 19 defensive tackles, 18 guards and 14 centers.

2019 OUTLAND TROPHY PRESENTED BY NFID PRESEASON WATCH LIST (83)
OT Trey Adams, Washington
OT Hakeem Adeniji, Kansas
OL Tremayne Anchrum, Clemson
OG Jack Anderson, Texas Tech
OT Mekhi Becton, Louisville
C Tyler Biadasz, Wisconsin
DT Ross Blacklock, TCU
DT Quinton Bohanna, Kentucky
OG Parker Braun, Texas
OG Ben Bredeson, Michigan
DT Derrick Brown, Auburn
OL Jake Brown, UCF
C Levi Brown, Marshall
C Cohl Cabral, Arizona State
OT Brady Christensen, BYU
OT Ezra Cleveland, Boise State
DT Doug Costin, Miami
OT Coy Cronk, Indiana
OG Navaughn Donaldson, Miami
OT Liam Eichenberg, Notre Dame
OG Jovahn Fair, Temple
DT Leki Fotu, Utah
DT Neville Gallimore, Oklahoma
C Jake Hanson, Oregon
C Bryce Harris, Toledo
C Nick Harris, Washington
OT Charlie Heck, North Carolina
OT Justin Herron, Wake Forest
C Creed Humphrey, Oklahoma
OT Robert Hunt, Louisiana
OL Keith Ismael, San Diego State
OT Alaric Jackson, Iowa
C Jordan Johnson, UCF
OT Victor Johnson, Appalachian State
OT Josh Jones, Houston
OG Luke Juriga, Western Michigan
OG Kirk Kelley, Troy
OL Solomon Kindley, Georgia
DT Javon Kinlaw, South Carolina
OG Tommy Kraemer, Notre Dame
OG Gus Lavaka, Oregon State
OG Alex Leatherwood, Alabama
OG Shane Lemieux, Oregon
DT Ray Lima, Iowa State
OT Walker Little, Stanford
OT Abraham Lucas, Washington State
DL James Lynch, Baylor
DT Justin Madubuike, Texas A&M
DT Garrett Marino, UAB
OT Colton McKivitz, West Virginia
OG John Molchon, Boise State
C Jimmy Morrissey, Pitt
OT Thayer Munford, Ohio State
DT Larrell Murchison, N.C. State
DT Lorenzo Neal, Purdue
OT Jake Nelson, Nevada
OT Lucas Niang, TCU
OT Marcus Norman, USF
OG Michael Onwenu, Michigan
OT Miles Pate, WKU
DT John Penisini, Utah
OT Benjamin Petrula, Boston College
C Cesar Ruiz, Michigan
OT Jon Runyan, Michigan
DT Jordon Scott, Oregon
C Zach Shackelford, Texas
OL Josh Sills, West Virginia
OG John Simpson, Clemson
OT Rashawn Slater, Northwestern
OG Logan Stenberg, Kentucky
OT Prince Tega Wanogho, Auburn
OT Andrew Thomas, Georgia
OT Calvin Throckmorton, Oregon
DT Khyiris Tonga, BYU
OG Tre'Vour Wallace-Sims, Missouri
C Darryl Williams, Mississippi State
DT Raequan Williams, Michigan State
OT Jedrick Wills Jr., Alabama
OL Isaiah Wilson, Georgia
DT Marvin Wilson, Florida State
DT Robert Windsor, Penn State
OT Tristan Wirfs, Iowa
C Dustin Woodard, Memphis

By conference: Big Ten 13, SEC 13, Big 12 12, Pac-12 12, ACC 10, American Athletic 6, Independents 4, Mountain West 4, Conference USA 3, Mid-American 3, Sun Belt 3.

By position: Offensive Tackles 32, Defensive Tackles 19, Offensive Guards 18, Centers 14.

Tackles, guards and centers are eligible for consideration Candidates may be added or removed during the season

The Outland Trophy winner is chosen from three finalists who are a part of the annual FWAA All-America Team. The FWAA All-America Committee, after voting input from the entire membership, selects a 26-man first team and eventually the three Outland finalists. Committee members, then by individual ballot, select the winner. Only interior linemen on offense or defense are eligible for the award; ends are not eligible.

The Outland Trophy is a member of the National College Football Awards Association (NCFAA), which encompasses the most prestigious awards in college football. Founded in 1997, the NCFAA and its 25 awards now boast over 800 recipients, dating to 1935. Visit ncfaa.org to learn more about the NCFAA.

The members of the NCFAA are unveiling their preseason watch lists over a 10-day period this month. Sixteen of the association's 25 awards select a preseason watch list and the NCFAA has spearheaded a coordinated effort to promote each award's preseason candidates. Following is the remainder of the 2019 preseason watch list calendar:
Tues., July 23: Outland Trophy presented by NFID/Bronko Nagurski Trophy
Wed., July 24: Lou Groza Award/Ray Guy Award
Thurs., July 25: Paul Hornung Award/Wuerffel Trophy
Fri., July 26: Walter Camp Award
The Outland Trophy, now in its 74th year, is the third-oldest major college football award. Created in 1946 when Dr. John Outland presented the FWAA with a financial contribution to initiate the award, the Outland Trophy has been given to the best interior lineman in college football ever since. Dr. Outland, an All-American at the University of Pennsylvania in the late 1890s, eventually took up practice in Kansas City, Mo. An avid outdoorsman, Dr. Outland believed linemen did not get the credit they deserved and wanted an award to recognize them.

About the National Foundation for Infectious Diseases
Founded in 1973, the National Foundation for Infectious Diseases (NFID) is a non-profit 501(c)(3) organization dedicated to educating the public and healthcare professionals about the burden, causes, prevention, diagnosis, and treatment of infectious diseases across the lifespan. Visit nfid.org for more information.

About the Football Writers Association of America
Founded in 1941, the non-profit Football Writers Association of America (FWAA) consists of more than 1,300 members, including journalists, broadcasters, publicists and key executives in all areas of college football. Led by current President Matt Fortuna of The Athletic, longtime Executive Director Steve Richardson, and a board of veteran journalists, the association continues to grow and work to help college football prosper at all levels. Visit footballwriters.com for more information about the FWAA and its award programs.
Never miss the latest news from Clemson Sports Talk!
Join our free email list