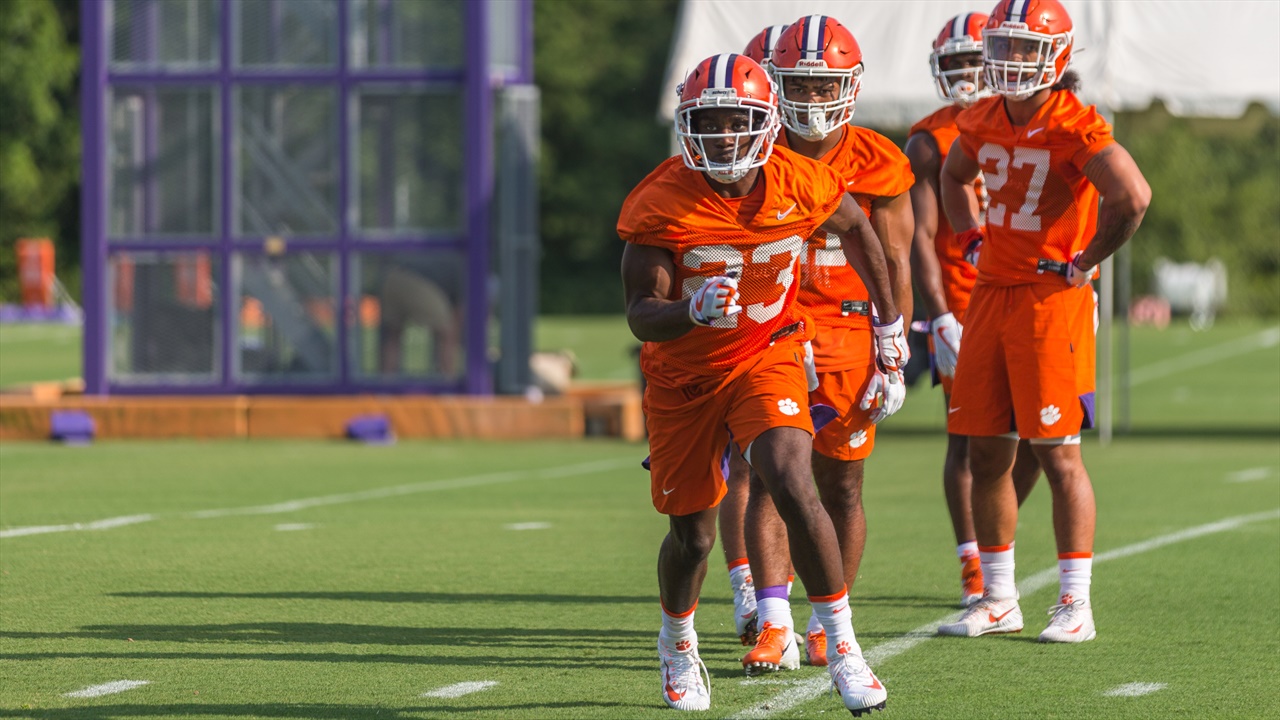 Clemson Football
August Camp: Lyn-J Dixon's progression, thoughts on the pecking order at RB
---
Feel the difference - The best user experience on mobile devices or personal computers. Avoid clickbait and sites bloated with advertising! Join us today for just $1 or get a full year for $63.17.
---
-- Yesterday we wrote this morning about the establishment of the quarterback position and how little we've talked about that group this fall camp.
The same can be said for the running back group.
Look, there's always room for improvement and Travis Etienne has already given us details on the improvements of his pass protection, ball-catching ability out of the backfield, and his weight gain.
Nothing is going to deter the ACC's Player of the Year and one of the most explosive backs in the country from being Clemson's No. 1 option come Aug. 28. But how far has Lyn-J Dixon come along this August?
"He's playing much faster out there. He's not hesitant with anything… He's just a totally different player than he was last year," Etienne said.
After the departure of Tavien Feaster, the clear-cut No. 2 is Dixon, who had authentic "wow" moments similar to Etienne in his first year in the program. We haven't heard much from Dixon this camp, but we feel like he is in line to have as much of a productive season, if not more, than Feaster in 2018.
Dixon had 62 rushes for 547 yards in 2018, an average of 8.8 yards per carry. Feaster's total number of carries were 16 more than Dixon's at 78.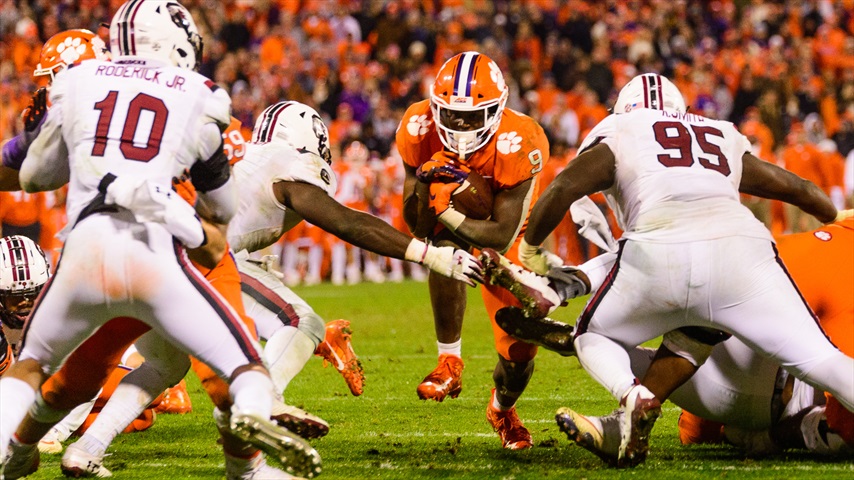 Clemson Sports Talk
Etienne carried the ball 204 times in 2018 and we only expect that number to go up now that Feaster is gone and there is one less mouth to feed. But Dixon's progression could mean that he could potentially hit the 80-carry mark, especially after Adam Choice's 77 carries have left.
We asked running backs coach Tony Elliott on Thursday how Dixon has progressed this camp.
"That's a good thing that you haven't heard his name because he's doing what he's supposed to do. He has matured a lot and you can see he has a renewed sense of urgency," Elliott said Thursday after the scrimmage. "He understands the expectations of being the guy that comes in right behind Travis. Again, there is no drop-off. He's been battling. They are all sore, they are all beat up. We've had a lot of live snaps the last couple of days. He came in today and I thought he played fast and made a couple of good cuts so I was really pleased with his performance today.
"Seems like he is really starting to understand, too, from a pass-protection standpoint where we want to be targeted. Still, he's a young guy and he's got to clean up his technique, but I am pleased with his understanding of the defensive structure and being able to at least sort out all the different blitzes."
And that's the next step for a young running back in offense that likes to toss around the rock as much as Clemson does. Pass-protection was a liability for Etienne early on, but it sounds like Dixon has dug in and is improving his ability, which could put him on the field in key situations.
Because of the inexperience of the two incoming freshmen and Darien Rencher already behind him, we expect a massive one-two punch from Dixon and Etienne this season.
-- Speaking of incoming freshmen Mikey Dukes, Chez Mellusi, and the veteran Rencher, the race for the No. 3 running back spot is going to come down to the wire.
Feaster's departure opened up a big opportunity not only for Dixon as the No. 2 option, but for whoever of the above can seize a spot on the depth chart that is up in the air right now.
Early on in camp, we heard raves from both Dukes and Mellusi from a pass-catching standpoint. Elliott was thrilled with Dukes' ability in particular because of how he can sky for the football like his basketball days
Dukes is 5-foot-10, 193 pounds and physically looks the part when he's standing side-by-side the other backs. We've seen his hands during drills and he's natural. Elliott even said Dukes is the most natural ball skills of any running back he's coached, including Andre Ellington.
Elliott has also said Mellusi catches the ball well and can makes some cuts with ease. The two freshmen have complimented each other well and had impressed in the early portions of camp.
But now as camp has really heated up and started to slow down, the mental aspect of the game has started to wear on the incoming freshman. That is not abnormal.
"The young guys, they came in and started fast. They are realizing what college football is all about," Elliott said. "They are into that second week of camp and have a lot of live snaps and installation hasn't stopped. Things are starting to pile up."
After Thursday's scrimmage, Elliott was impressed with Rencher who began his career as a walk-on and is now a junior. In 10 career games, Rencher has had 24 carries for 103 yards, but what he brings to the table is knowledge of Clemson's playbook that the two freshmen don't have yet.
"I'll tell you what, I've been pleased with Rencher. Rencher is a guy that he just has to accept his role and understand that when he goes in there, don't try and do too much and be himself," Elliott added. "You saw flashes of him making some really good plays. He's a very reliable guy and trustworthy in pass protection. The biggest thing for him is not do too much, play within his game, and he'll have a chance to compete for that spot."
If the season started today, we believe the pecking order at running back would be:
| | |
| --- | --- |
| 1st Team | Travis Etienne |
| 2nd Team | Lyn-J Dixon |
| 3rd Team | Mikey Dukes |
| 4th Team | Darien Rencher |
| 5th Team | Chez Mellusi |
We also expect the staff the redshirt one of the freshmen. In this case, it would be Mellusi. And don't be fooled, that race for the No. 3 spot on the depth chart is going to continue until the opener against Georgia Tech, and perhaps even more afterward.
It's that close.
"We are going to discuss it as a staff and try to make some decisions after we watch this tape," Elliott said Thursday. "But I couldn't say that I have a no-doubt No. 3 yet."
Never miss the latest news from Clemson Sports Talk!
Join our free email list