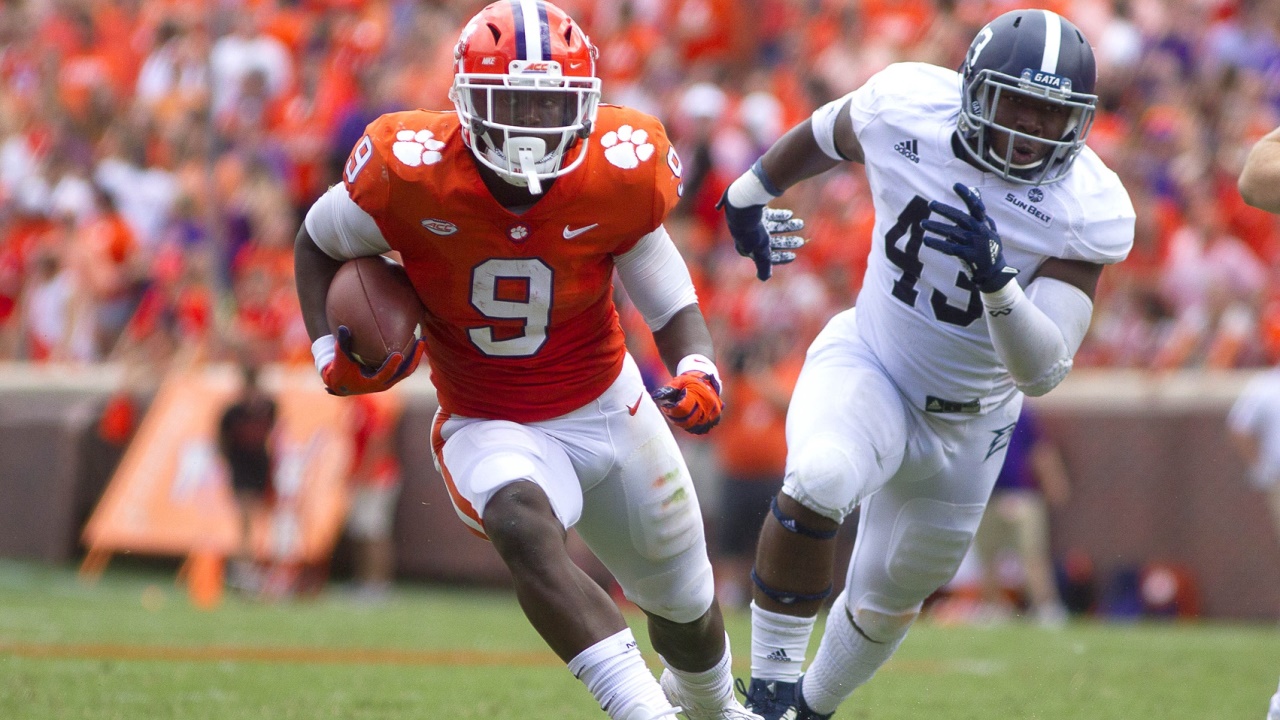 Photo by © Joshua S. Kelly-USA TODAY Sports
Clemson Football
Keys to Victory: No. 1 Clemson vs Georgia Tech
---
Feel the difference - The best user experience on mobile devices or personal computers. Avoid clickbait and sites bloated with advertising! Join us today for just a buck!
---
Each week we give you a look at the history of the game, three keys to success, plus our staff predictions. Here is some of the history and what we think has to happen for defending champions to open up the season with a win.
The Tigers are attempting to become the first repeat champion in the College Football Playoff era and the first repeat champion overall since Alabama across the 2011-12 seasons.
Clemson, which is already the first team in ACC history to win four consecutive outright titles, is attempting to become the first team in ACC history to win five successive ACC titles outright. (Note: Florida State earned at least a share of nine consecutive ACC titles from 1992-2000 but never earned more than three straight titles outright.)
The Tigers are also attempting to become only the second team ever to make five consecutive trips to the College Football Playoff (Alabama, 2014-18).
If Clemson can win 10 games for a school-record ninth consecutive season, they would match Texas (2001-09) for the third-longest streak of 10-win seasons in FBS history.
The Match Up:
#1 Clemson (0-0, 0-0) vs Georgia Tech (0-0, 0-0)
Clemson vs Georgia Tech 2018 Highlights:
Clemson vs Georgia Tech 2017 Highlights:
All-Time Series:
Georgia Tech leads: 50-31-2
at Clemson: Tigers lead 15-6
at Georgia Tech: Yellow Jackets lead 44-14-2
Neutral: Clemson leads 2-1
Last Meeting: Clemson won 49-21 in 2018
Last Georgia Tech win: 28-6 in 2014
Last 10 Meetings: 7-3 Clemson
Streak: Clemson has a four-game winning streak against Georgia Tech
Listen Live: Fox Sports Radio 1400 on iHeart Radio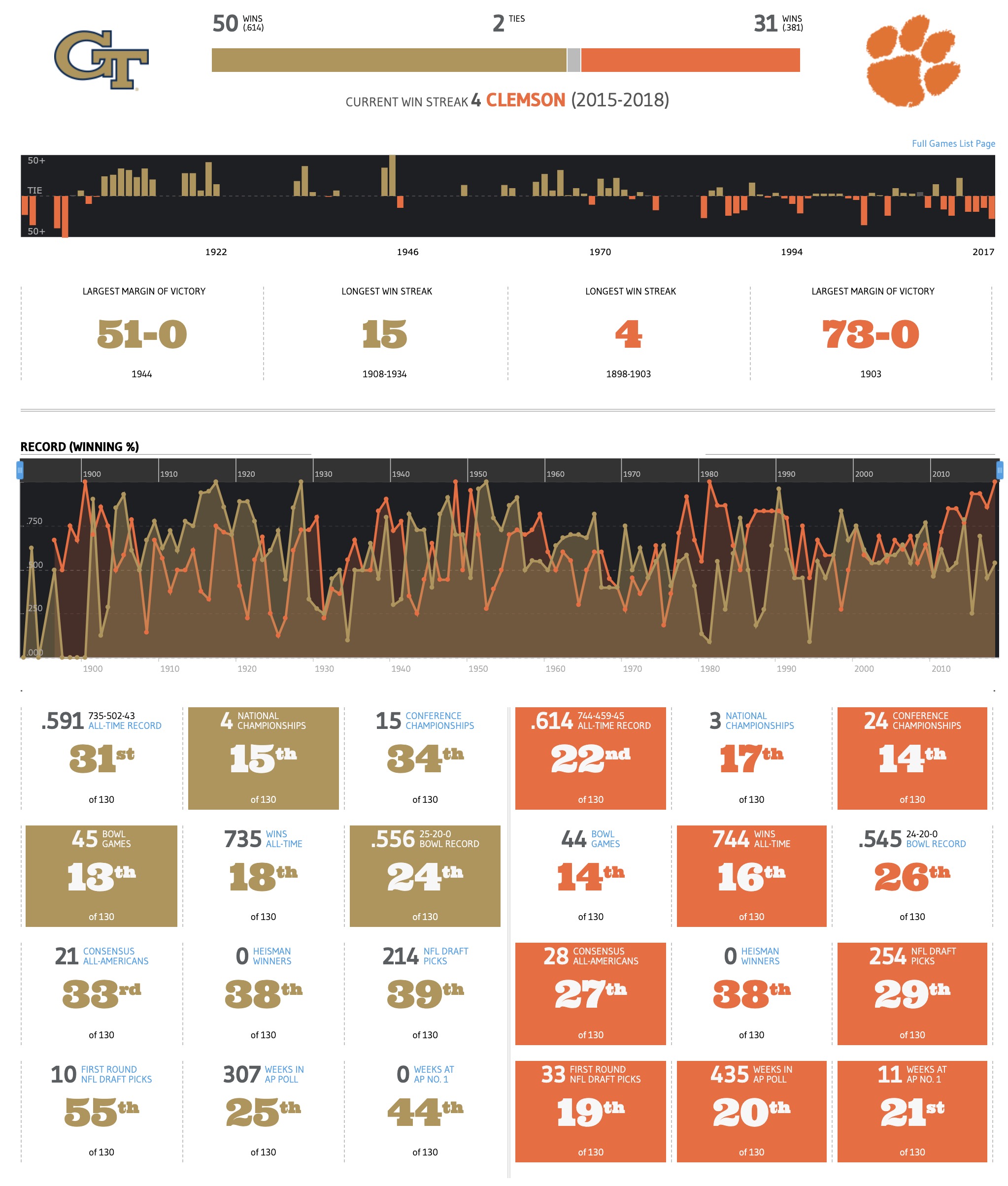 Stat of the Week:
Clemson is on the verge of setting a new mark in terms of consecutive wins in the series with the Yellow Jackets. The Tigers equaled their longest streak in the series last season winning their fourth straight, matching four-game winning streaks across the 1898-1903 seasons and the 1993-96 campaigns. This streak began back in 2015 with a 43-24 Tiger win.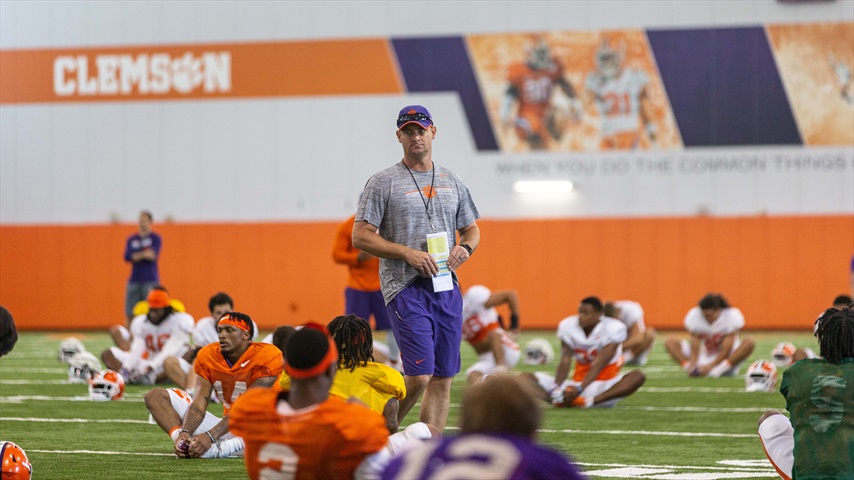 Clemson Sports Talk
Key 1: Deep Threats
Clemson has been known as WRU for several years, and there is a chance that the group of wideouts assembled in Tiger Town is the best we've seen. The expectations for Justyn Ross and Tee Higgins are through the roof. When you mix in Diondre Overton and freshmen like Joseph Ngata and Frank Ladson – look out!
Even minus an injured Amari Rodgers, the talent level from top to bottom that Jeff Scott works with regularly is incredible. Much like last season, if Clemson is going to win another title, the playmakers at wideout have to have a significant impact.
With Trevor Lawrence spinning the magic bean down the field, look for a showcase opening performance from Scott's crew.
Key 2: The Unknown
Let's be honest; the light switch at your house doesn't change things as much as what's taken place in Atlanta over the past eight months. Out goes Paul Johnson's old-school, ramblin' wreck, triple-option offense and in comes a fast-paced assault under Geoff Collins.
This change is like going from that 1930 Ford Model A Sport coupe that the Yellow Jackets roll out at home into a 2019 Ferrari.
Collins is already making an impact on the recruiting trail, and an excellent performance in the opener against the No. 1 team in the country would go a long way for him this season as they try to keep Peach State stars at home.
Expect the entire playbook to be tossed at Brent Venables tonight. How Clemson handles the unknown will be something to watch.
Key 3: Stay Healthy
With Texas A&M looming, it would seem imperative that the Tigers stay healthy against Georgia Tech tonight. You back up the Aggies game with Syracuse, and any lingering issues will impact both of those games.
The Tigers have the top quarterback in America, Trevor Lawrence, and one of the top running backs in Travis Etienne. Keeping those two healthy might be the most crucial aspect of the season.
The good news is that Jackson Carmen's development at left tackle has come along well. Losing Mitch Hyatt might be the most undervalued loss from last year's team. Hyatt, the two-time national champion and All-American anchored the left side in Tiger Town for his entire career.
Carmen's health would seem to be another key given how valuable he is to protecting Lawrence's blindside.
Prediction:
Last year the simulation took home the gold crown, knocking me off by a single point. This year it already looks like the PS3 is going to put up a good fight using updated rosters on NCAA 2014.
I like the Tigers big, and so does the sim. Clemson's the better team, and even if the Yellow Jackets don't make any mistakes, it's hard to imagine them finding a W in Death Valley. There could be some growing pains for the Tigers with the change, it's a new team, but in the end, the Tigers will bump their longest winning streak in the series to five.
Swanny's Prediction: 52-13 Clemson
Final Score Predictions:
| | | | |
| --- | --- | --- | --- |
| | vs. Georgia Tech | Pick of the Week | Season Score |
| Lawton | 52-13 Clemson | | 0 |
| Sanders | 45-7 Clemson | | 0 |
| Lowell | 42-10 Clemson | | 0 |
| Brandon | 45-21 Clemson | | 0 |
| Cade | 42-10 Clemson | | 0 |
| Rob | 49-3 Clemson | | 0 |
| Simulation 👑 | 47-13 Clemson | | 0 |
Perfect Prediction = 5 points Best Prediction = 3 Points Correct Prediction = 1 Point
👑= 2018 Prediction Champion
**Pick of the Week: Indicates the best prediction.
---
Listen to "The Pregame Speech"
Never miss the latest news from Clemson Sports Talk!
Join our free email list