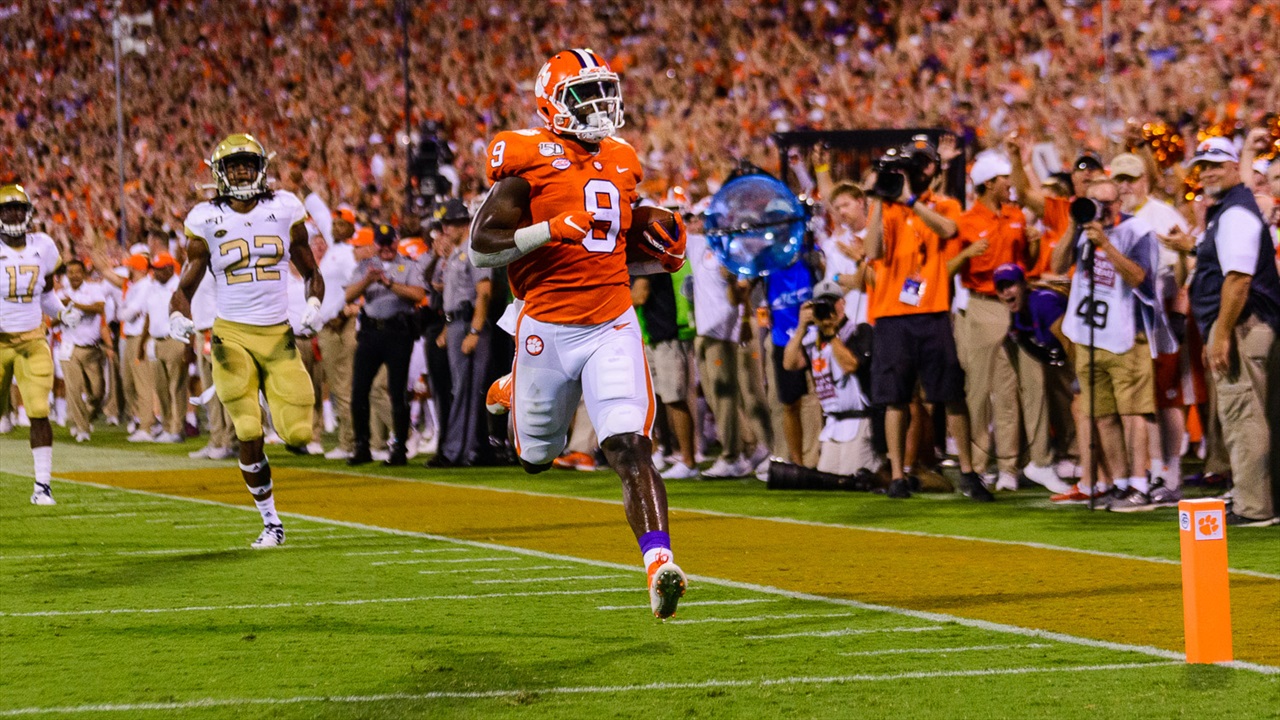 Photo by © David Grooms/Clemson Sports Talk
Clemson Football
Instant Analysis: Travis Etienne's career-high leads to opening-night cruise
---
No.1 Clemson opened up its title defense with a 52-14 cruise of a victory over the Georgia Tech Yellow Jackets. The Tigers seemed a little sluggish at times, but at other times looked like they were picking up right where they left off in Santa Clara.
Big plays were key as Clemson put together 615 total yards of offense, 27 total first downs, and averaged eight yards per play. The Tigers held a revamped Georgia Tech offense to 294 yards and put the game to bed in the second quarter.
THE GAME WAS OVER WHEN...
Georgia Tech spoiled an opportunity at Clemson's goal line. Trevor Lawrence looked mortal at times tonight with two interceptions, but his first interception set up the Yellow Jackets with a first-and-goal from inside Clemson's 2-yard line.
Lawrence saved what could have been a walk-in touchdown if he had given up on the play after his turnover. Instead, Clemson's inexperienced defensive front got the opportunity to make a stand.
The front held their ground, which was massive for their confidence, regardless of whatever Georgia Tech's offense was. They kept the Yellow Jackets out of the end zone on plays that included holding their water on a trick play that was stuffed by James Skalski and Isaiah Simmons, and Denzel Johnson's interception when the Yellow Jackets decided to go for it on fourth down.
Down 21-0, this was the nail in Geoff Collins' coffin as Lawrence took the field and found Tee Higgins on a 64-yard touchdown five plays later. Lawrence finished 13-23 for 168 yards, one touchdown, and two interceptions. Higgins led the team in receiving with four catches for 98 yards and a touchdown.
Clemson took a 28-0 lead into the locker room and never looked back.
THEY STOLE THE SHOW
While Trevor Lawrence seemed mortal at times, Travis Etienne was looking like Superman.
Some things never change as Etienne's first touchdown of the season was a 90-yard gallop that was reminiscent of his run against Louisville as a freshman. It was the first of three rushing touchdowns on the night.
Etienne's second touchdown was from 14 yards out and it was the only play on a drive that lasted three seconds. His third and final touchdown was the second play on a drive that was all him. A 48-yard touchdown after a 12-yard run gave Etienne a career-high 205 yards on the night.
We thought Etienne would get a heavier workload this season after Tavien Feaster's transfer, but that wouldn't be the case tonight. It only took 12 carries and two-and-a-half quarters for Etienne to reach his career-high, which would be an average of just over 17 yards per carry. He left the game with 12:42 left in the third quarter.
At the time of Etienne's exit, the junior was out-gaining Georgia Tech by himself. The Yellow Jackets had 182 yards on 44 plays and Etienne put his numbers up with just 12 plays.
What a way to start off a Heisman campaign.

MATCHUP OF THE GAME
We were curious to see how Clemson's defensive front would hold up. We were even more curious after hearing that freshman Tyler Davis was getting the start at defensive tackle.
The group was going up against a Georgia Tech offense that is still in the process of learning how to pass block, but it can't be stated enough how crucial it was to finally perform when the lights were on.
Not only did the group come up with that goal line stand we mentioned earlier, they had moments that seemed like they were veterans. Yes, the veteran Isaiah Simmons did a lot of damage with his team-high 10 tackles. But Davis had four tackles, KJ Henry had four tackles (one for a sack), and Xavier Thomas had 1.5 tackles for loss.
The unproven linebackers James Skalski, Baylon Spector, and Chad Smith also left their mark. Smith was second on the team in tackles with six. Spector and Skalski had five. The defense as a whole had eight tackles for loss and forced three turnovers.
This front has plenty of work to do before Texas A&M rolls into town in eight days. But tonight gave this group a solid base that they can only build on going forward.
Never miss the latest news from Clemson Sports Talk!
Join our free email list