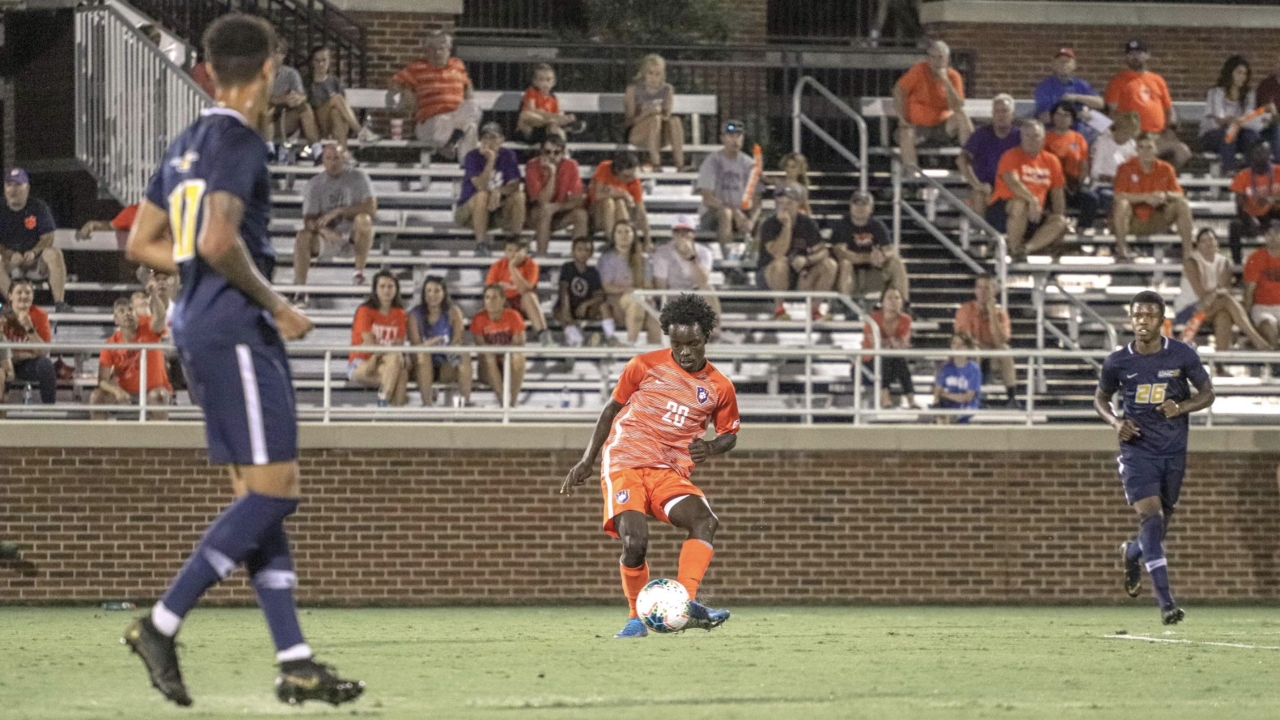 Photo by ClemsonTigers.com
No. 19 Clemson Displays Strength in 2-1 Win Friday Night
---
Clemson, S.C. – In a match of physicality and grit, the No. 19 Clemson Tigers came out the victors over UNC Greensboro on Friday night by a 2-1 margin at Historic Riggs Field. All of the scoring occurred in the first half, with Grayson Barber scoring in the eighth minute of play to give the Tigers the lead. The Spartans would respond with one of their own in the 33rd minute. Shortly after, Phillip Mayaka opened his scoring account as a Clemson Tiger by providing a brilliant strike with his right foot from 25 yards out to win the game for his side.
"Phillip has a lot of ability, but he also has a lot of learning to do," said Head coach Mike Noonan on Phillip Mayaka's play. "Anyone who saw his goal knows that it was highlight reel worthy. He was special for most of the night tonight."
The match saw Clemson in firm control of time of possession, with the Tigers spending most of the game in the Spartans' side of the field. Great distribution and awareness from the midfield allowed for the Tigers to stay with the ball for most of the match. The attacking force for Clemson came to play once again, with the blistering speed of Kimarni Smith and the wonderful footwork of Robbie Robinson proving to be too much for the Spartans' defense. George Marks played a full match in net, registering one save.
Clemson saw a physical side in UNC Greensboro and called on 18 different players to help contribute to the win. All but one of the players logged more than 10 minutes of action, speaking to the depth of Noonan's squad this season. Noonan reflected on the matter by saying, "The depth that we have this year, as we continue to go through the season, is certainly a hallmark of this team. I have confidence in this bench."
The Tigers will take the weekend to recover and look ahead to their final of four home games to open the season, as they welcome USC Upstate to Historic Riggs Field on Monday, Sept. 9 at 7:00 p.m. The match will be the 13th meeting between the two schools, with Clemson holding a 11-0-1 record in the series. Tickets for all of the Tigers' home matches can be purchased here.
Never miss the latest news from Clemson Sports Talk!
Join our free email list