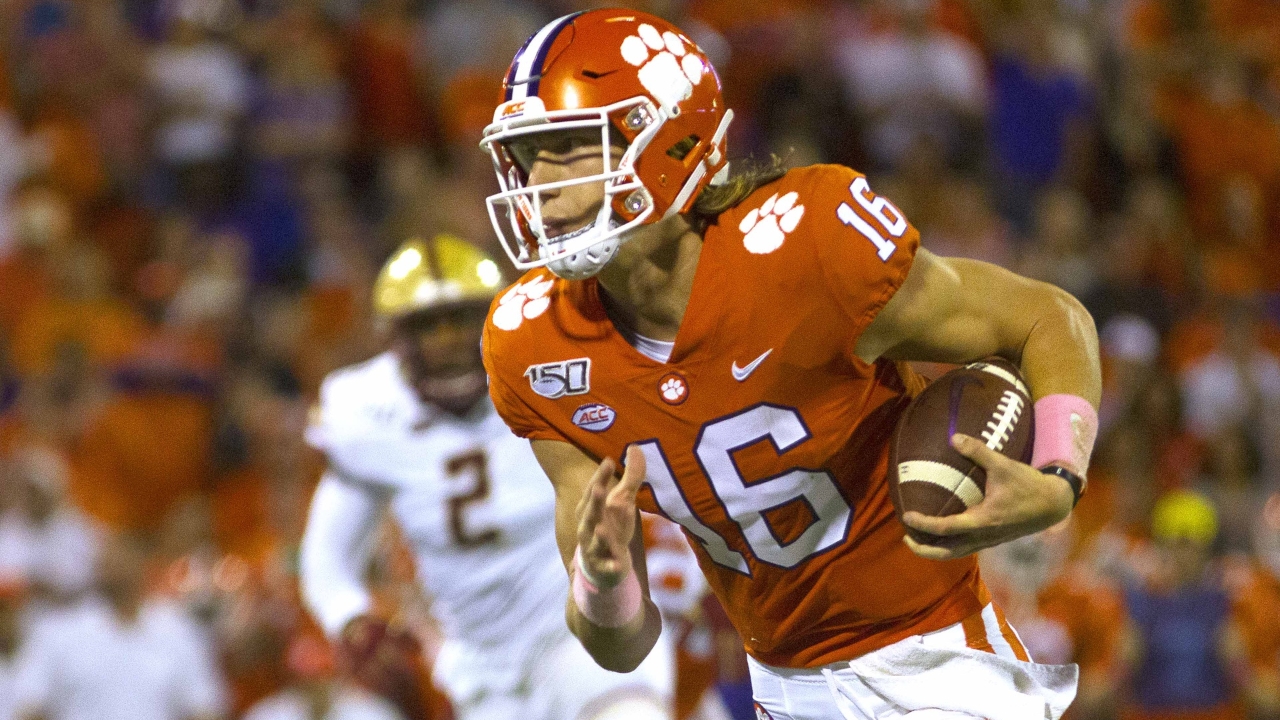 Clemson Football
Tuesday AM Notes: Brent Venables, Trevor Lawrence
---
More notes and quotes from our time on Clemson's campus Monday after visiting with Trevor Lawrence and defensive coordinator Brent Venables.
Brent Venables
– System doesn't change much even though NC State runs three different quarterbacks out there?
"I'm sure they have flavors for each guy, but they are just running their offense, trying to be efficient, and utilize their personnel. I know they are banged up, but they've got a good collection of skill around them and a system in place that has been really good for a long time now."
– On Jake Venables' game on Saturday:
"He's been practicing a little over a week now and came back and had a good week of preparation. Luckily we had a good handle on the game and he got in there and made the most of his opportunities. He's been practicing well, though. It was good to see that happen for him, just moving forward and build confidence and continue to build your depth."
-- Said Xavier Thomas should be back full speed ahead this week as well as Denzel Johnson.
– Can you tell the injuries on the offensive line are starting to take a bit of a toll?
"They actually play pretty well. You can tell they are well-coached and have good cohesion chemistry. The young offensive tackle that they moved in there a couple of games ago is a really talented player… He's massive and really athletic. They've done a good job recruiting and developing those guys. I know they've got a couple of guys banged up, but the guys coming in have done well."
– On what he saw out of Ruke Orohorhoro in high school:
"Once he came here he had to move to defensive end. Now he's starting to get a feel for defensive tackle. For d-ends, the transition isn't always a lot of fun. The game is a little different. Some ways the same, but some different. It's been a transition there for him. Still working on fundamentals and technique but he's a heavy-handed, twitchy, athletic big guy that plays with a lot of passion and that's fun to watch. He's barely played football. Just turned 18 not long ago. He's a really, really young one. The sky's the limit for Ruke. The biggest thing is to stay focused, grind, and buy-in, which he has.
"He's got a good sense of maturity to him. A good grasp on what he wants in life. He was raised the right way and came from one of the good programs in Detroit that did a good job mentoring and coaching and guiding him and his team. He comes from a very good culture. He was looking for something like Clemson. He was able to plug right in. He's a people person. Great humility."
— Said he's grateful that Dabo Swinney has a philosophy where emptying the bench and letting youth develope is important. Said it's great for morale and it brings a ton of energy to practice, meetings, and gameday when you can play more guys.
— Said Isaiah Simmons could run as a freshman, but was not very strong. Kind of like Bambi. He always had good energy and almost played that first season in that dime package as a linebacker. He decided against it due to the longevity of his career. Once they lost Dorian O'Daniel, they made the move in the offseason. Really took off toward the end of last season. Learned from failure and started focusing on the small details.
He checked all the boxes that Venables was looking for. Immediately started to try to talk him into coming to Clemson because they were almost in a state of desperation or panic after losing five guys in that secondary. Had Simmons gone to a bunch of camps where they rate guys, he might've gotten noticed a lot more.
— Xavier Kelly's shoulder is a bit banged up but has bought into the transition from defensive end to defensive tackle this season.
-- Said he really liked Ruke Orohorhoro when he found out he had hardly ever played. They were looking high and low for defensive linemen after 2018 so think they're fortunate with what they got.
-- While Jeff Scott gave a rather lengthy response when he was asked about potential job openings, Brent Venables shut the conversation down quick. When Venables was asked how handles when his name comes up in potential job openings, he said, 'I just don't. Just getting ready for NC State, so there's nothing to handle to be honest with you.'
Trevor Lawrence
– How good is it to have the offense really clicking on all cylinders the way it is?
"It's good, especially we've got two more division games left so, this is a good time that we're playing well and NC State every year, regardless of how the season's gone for them, they've always played us tough and they're going to put everything into this game as they should so we'll be expecting a fight and we're excited to go (up) there and play and (it's) a 7:30 game, it's going to be a lot of fun."
– Coach Scott said last week was y'all's best week of practice and the week before the BC game, he said the same thing. I'm just curious, as y'all get into y'all's sort of championship phase, is there anything you can identify that's been put in place to have this team playing at its peak performance this time of year?
"I think just a lot of different things. One, the North Carolina game just kind of, how close of a call that was and then every week since then, I feel like we've prepared the same and prepared really well. I think we just haven't taken anything for granted. It doesn't really matter who we've been playing, we've prepared the same exact way. Obviously, the scheme is a little different based on who we're playing but as far as practice goes, we've practiced great every week so I think that kind of woke us up a little bit and also, just November is a special month for us, it's really important that we're playing our best football in November and getting better every game so that's what Coach Swinney always tells us and we take a lot of pride in it for sure."
– Do you feel like you're playing your best game of the year, starting to hit your stride the last four games?
"Yeah. I feel really good. I feel confident and I just feel like I'm seeing everything really well the past few weeks, especially so, I feel good with how I'm playing and hopefully can keep that going and just trying to get better every week."
– You think people still don't realize how big a threat you are in the run game?
"I think for the most part as far as our run game, a lot of teams do similar things as us and most defenses play it the same and there's going to be times in every game where you'll see the (defensive) end take me a lot and sometimes he doesn't. I mean that's just kind of every game so, I don't think it's about them not realizing that, I think it's just them, they have to make plays too and our run game has been doing so well with Travis, they've got to try to make plays on that and when they do that, they give me chances to run the ball so I think, as a defense, it's hard to defend Travis and also, keep the edge covered up too so, it's tough."
– Speaking of Travis, what's it like to be able to hand the ball off and sit back and watch him do his thing?
"The last four weeks, he's played great. Really, that's just a result of his preparation and really the whole team up front. We've done a great job of run blocking and also pass protection but Travis has been playing really well and he just looks different the way he's running the ball. He's running with purpose so, he's been playing great."
– I think Dabo said he had his foot up Travis' rear for two weeks after that North Carolina game. Did you have a sense going into that FSU game that you were about to see a different player?
"Yeah, for sure. Obviously, even before that, he wasn't playing bad at all but you've definitely seen a different guy the last four weeks because he's been a lot more focused and he's running a lot harder and he's looked really good and like I said, it's a result of how he's practiced and made an intentional effort whether it's in the run game, or in pass protection, he's done a really good job protecting me too."
– How have you seen his improvement as a pass-catcher evolved?
"He's done a great job and we've worked on it a lot this offseason and then in practice every week. He's done a really good job catching the ball out of the backfield and also, making plays after the catch. He can be so valuable, just get him the ball and obviously, he can make plays with the ball in his hands so he's been really good at that."
– Jeff Scott said after the game that it was good after Diondre had his big performance that Amari, Tee, and Justyn each got to the endzone. How important is it to you to kind of spread the wealth as much as you can and kind of keep everybody involved in that?
"Like I said, you can't worry about that too much. That can kind of affect your play if you're trying to get it to certain guys but if I can help it, I like to get everyone the ball and get everyone involved, that's always good so that we can get all our playmakers a chance to touch the ball and make an impact because we have so many guys that are really good players but, we're not trying to worry about that too much just because that can be another thing for me just to be thinking about in the back of my head and I don't want that. Whenever I can and the opportunity's there, I like to spread it around as much as possible."
– What's it been like working with Braden Galloway in practice and how much are you looking forward to getting him back in about a month?
"He's a great player and I think people forgot about him just because he hasn't been able to play and hasn't dressed out or anything. It's going to be really good to get him back here in a couple of weeks and I know he's ready. I know it's been kind of tough for him just to sit out and kind of watch us play and not be able to help any but he's going to help us a lot. He's a really good player."
– With the recent NCAA decision last week about name, image, and likeness, do you think that's something that can fit into the collegiate model?
"I don't know. I don't get paid to do that so, I don't think it will affect me. I think it'll be a couple of years down the road but I mean it will be something that'll be tough that I don't really know how you make that work because there's gotta be a limit, I think on that but they can figure that out. I don't know what the answer is to that."
– Thinking back to last year's game against these guys, was that sort of when it felt like it became your offense sort of, your team so to speak?
"Yeah, I think that was the first game I felt really comfortable and that was my best game up to that point was against NC State so, yeah, that was probably the first game where I felt really comfortable, confident, I played really well."
Never miss the latest news from Clemson Sports Talk!
Join our free email list