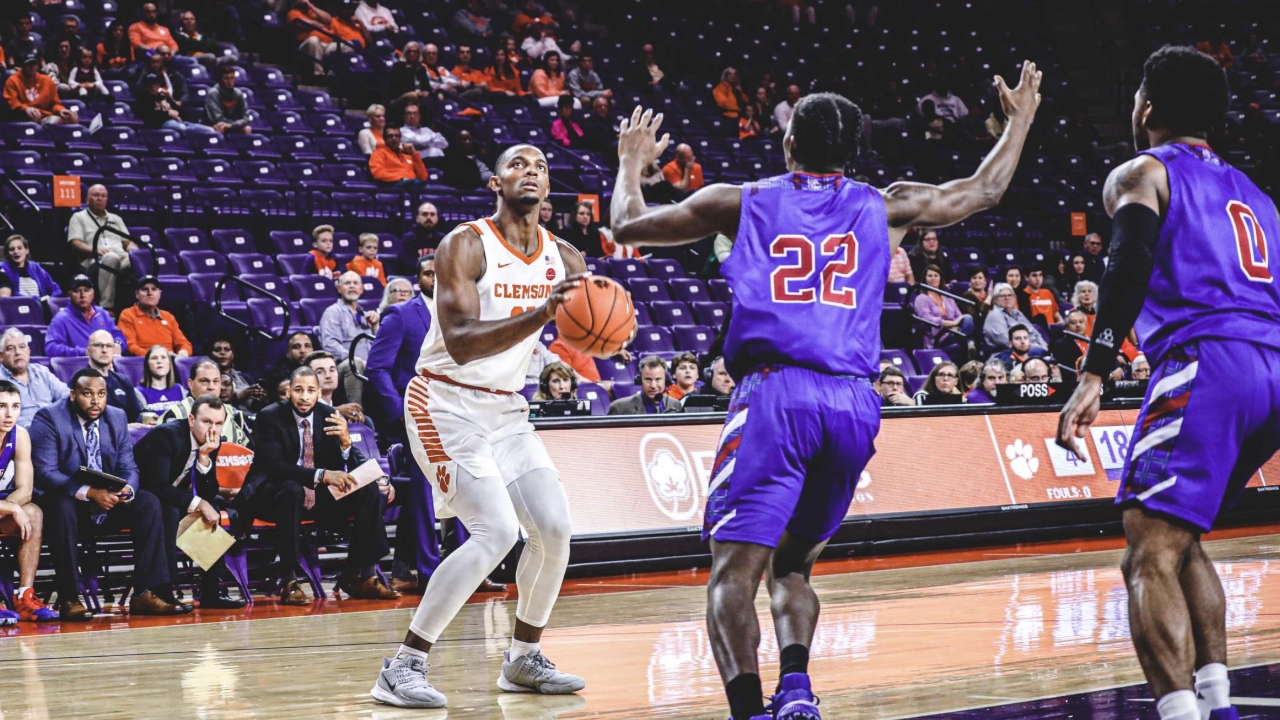 Clemson Basketball
Clemson Knocks Down 14 3-Pointers, Downs Presbyterian
---
CLEMSON, S.C. – Taking Presbyterian College to task from beyond the arc, Clemson University men's basketball knocked down 14 3-pointers and won 79-45 at Littlejohn Coliseum on Thursday. The Tigers were led by John Newman III, who scored a career-best 16 points on a career-high six made field goals.
The Tigers (1-1) went 14-of-34 on 3-point shots and shot 46.0 percent from the floor. Ten different Tigers scored on the evening, with 32 of Clemson's points coming from its bench. The Tigers also scored 32 points in the paint, making for a well-rounded offensive showing.
In addition to Newman's career night, his three deep balls also marked a career-high. Curran Scott made a splash with 13 points and a trio of treys. Tevin Mack added 14 points and Chase Hunter went 3-for-5 from 3-point land in a 13-point performance. Hunter also finished an ultra-impressive +40 on the floor. Chris Martin was the Blue Hose's (0-1) leading scorer with 11 points.
Newman sparked the Tigers with two early 3-pointers, as Clemson used a 4-0 run to go up 21-5 at the 10:01 mark of the first half. An 8-0 Clemson run to close out the first half was capped off by a thunderous dunk from Newman that resulted in the Tigers boasting a 43-21 lead at the intermission.
Among others, center Trey Jemison, who corralled four total rebounds, provided a lift off the bench for the Tigers in the second half with solid rebounding and defensive play. Parker Fox, O'Neil McBride and Paul Grinde, all walk-ons, were able to get minutes. Fox scored two points and McBride tallied his first career rebound.
Clemson was able to coast to victory out of halftime, outscoring Presbyterian 36-24 en route to winning by a 34-point margin.
The Tigers will remain home for their next matchup, which is scheduled for Sunday, Nov. 10. Clemson will take on the Colgate Raiders (1-0), and the contest will air on ACC Network Extra.
Head Coach Brad Brownell
Opening Statement:
"Good performance by our guys, pleased with the way they bounced back. It was an emotional game the other day and it didn't end the way we wanted. To get our spirits back and get focused and play well was the goal, and I think our guys really met that. I feel like they were very focused yesterday, we had good meetings and walk-throughs, and they were excited to get back out here and compete and that's what I really like about this team."
On team hitting 14 three-pointers:
"It's one of the things we need to do, we need to hit some shots. Obviously we shot the ball well in the first half the other night, and not so well in the second half. Tonight we had good rhythm and took care of the ball well all game. I think we spread the ball around well, when we got the lead guys weren't selfish and still spread the ball around and took good shots."
"Defensively we were very solid, and kept them in front of us and made them take some tough shots. Overall it was a great game and it was good to see some guys bounce back."
On Aamir Simms:
"His job [tonight] was the leadership he showed in the day prior to this game. I thought he was a very good leader yesterday. He had our guys in a good frame of mind and had them focused and they are certainly looking at him for those types of things."
John Newman III:
On Clemson's 3-point shooting:
"I don't think there was much of a difference. I think we came out with the same focus. It's just the game Tuesday gave us more of an incentive and a different sense of urgency. We got a lot of guys that can shoot, and more shots fell tonight."
On Clemson's defensive approach:
"The game Tuesday left a sour taste in our mouths. It gave us more of a sense of urgency to play better. My focus was on rebounding and grabbing every rebound that I could get, and it also set the tone for my offense."
Curran Scott:
On his acclimation to the team as a transfer:
"For me, it has just been helping other guys out, especially with all the young guys we have. Trying to just share knowledge with them and helping them out. Even though I have played college basketball for a long time, I haven't been in this system for a long time, and we are all coming into this together."
On splitting time at both guard positions:
"I came to Clemson to help us win and help the team be successful, and if splitting time at the two positions is what Coach Brownell needs me to do, then it is something that I will step up and do. It has been an adjustment, but it is something I am getting more comfortable with as we go along."
Never miss the latest news from Clemson Sports Talk!
Join our free email list