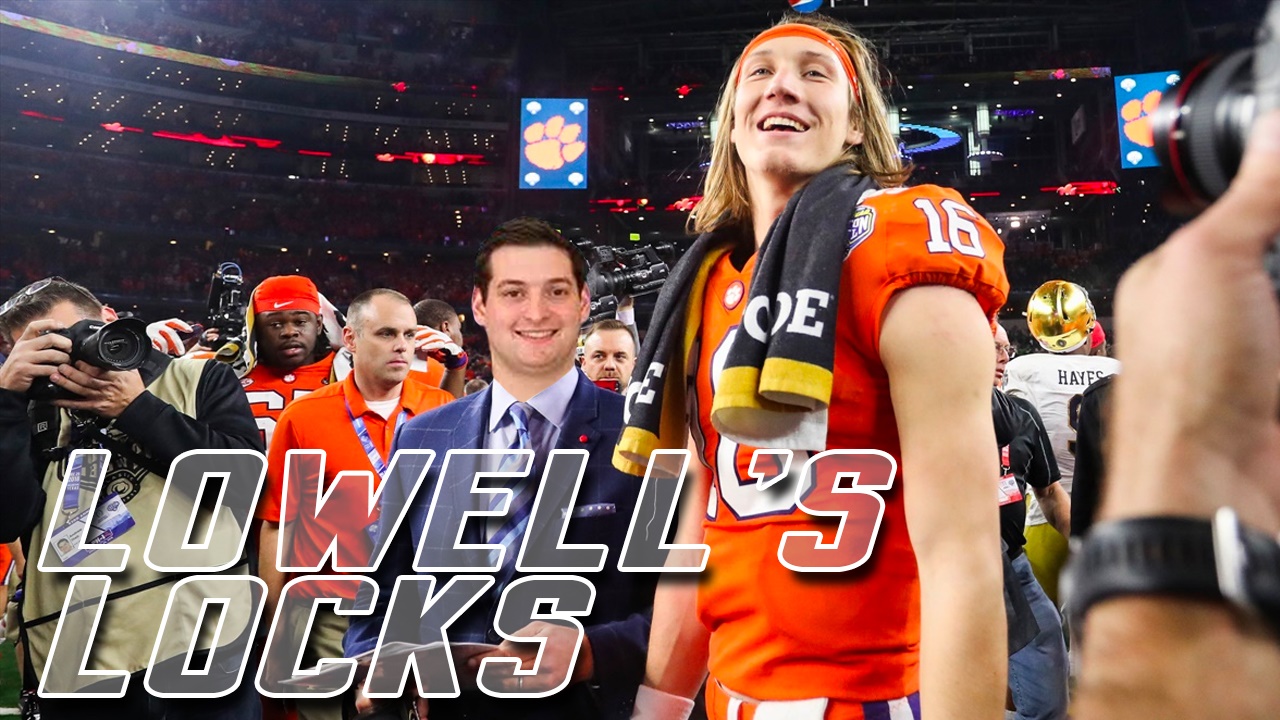 Clemson Football
Lowell's Locks: College Football week eleven
---
Feel the difference - The best user experience on mobile devices or personal computers. Avoid clickbait and sites bloated with advertising! Join us today for just $1 or get a full year for $63.17.
Register for a FREE ACCOUNT today and you are entered to win a LIMITED EDITION Clemson football. ← Learn More
---
Back to back 3-3 weeks. I'm not moving forward, but I'm not moving back. I just need to stay steady until I can bust off another big week, which I have a feeling is this week. Let's creep closer to .500! In the immortal words of Deshaun Watson, let's go be great in week eleven.
Saturday, November 9th
#4 Penn State (-6.5) at #17 Minnesota:
This one is going to be classic Big Ten football. Both teams have pretty stingy defenses, but Minnesota pairs that with an ability to hold on to the ball on offense. Only Wisconsin is better than Minnesota in time of possession, and Minnesota is going to turn this one into a grinder. The Gophers give Penn State a scare.
Lowell's Lock: Minnesota covers +6.5
#18 Iowa at #13 Wisconsin (-9):
Do we believe that these teams can even combine for 9 points against each other's defenses? I'm not so sure.
Lowell's Lock: Iowa covers +9
#16 Kansas State at Texas (-7):
How about Chris Klieman? A lot of K-State fans were upset for some reason at the hiring of the wildly successful coach, and all he's done in his first season is get the Wildcats to 6-2, a top 20 rankings and a massive upset over Oklahoma. Skylar Thompson has been fantastic at quarterback, especially on the ground where he has 331 yards and 10 touchdowns. Texas has not lived up to their lofty expectations this year, not even appearing in the initial college football playoff rankings. K-State should be able to move on Texas' struggling defense, and that will give them a shot at the upset late.
Lowell's Lock: Kansas State covers +7
#2 LSU at #3 Alabama (-6):
LSU has completely transformed this season. Can you imagine how good they might have been with Odell Beckham and Jarvis Landry running the offense they have now? Joe Burrow has played his way into the first quarterback taken in the NFL draft territory.
Meanwhile, there are serious questions about the health of the other highly coveted quarterback in this game, Tua Tagovailoa. How healthy is he just a few weeks removed from ankle surgery? In a battle that features two defenses that have struggled at times this year defending the pass and rushing the passer, give me the healthy quarterback to at least get the cover, which is the only thing that matters here.
Lowell's Lock: LSU covers +6
App State at South Carolina (-6):
This is a must-win for South Carolina if they're going to have any shot at a bowl game. Getting a win over Vanderbilt last weekend was a good start, but this App State team is significantly better. App State is coming off of their first loss of the season to Georgia Southern, a game in which they struggled against Southern's triple option, but the Gamecocks don't run that offense. The Gamecocks are a dink and dunk type of team, and with Feaster out, the Gamecocks are going to struggle against App State's defense. Meanwhile, App State boasts the 12th ranked scoring offense in the county. These numbers aren't adding up well for the Gamecocks.
Lowell's Lock: App State covers +6
#5 Clemson (-31.5) at NC State:
Dabo Swinney claims he doesn't care about the rankings. If we're being honest, they don't matter right now. However, Swinney will use anything he can to put Clemson back into the underdog role, and right now, he has plenty of material. The college football playoff committee made the statement that they haven't been impressed with the Tigers, and that's putting Clemson in a spot where they may need to run up the score on the rest of their schedule. NC State is a pretty easy target, as the Wolfpack are coming off a 44-10 shellacking at the hands of Wake Forest, which came two weeks after getting blown out 45-24 by Boston College. This one gets ugly in a hurry.
Lowell's Lock: Clemson covers -31.5
Lowell's Locks

Weekly Results
Season Results
Week 1
3-3
3-3
Week 2
2-4
5-6
Week 3
1-5
6-11
Week 4
4-2
10-13
Week 5
1-5
11-18
Week 6
2-4
13-22
Week 7
2-4
15-26
Week 8
5-1
20-27
Week 9
3-3
23-30
Week 10
3-3
26-33
Week 11
Week 12
Never miss the latest news from Clemson Sports Talk!
Join our free email list