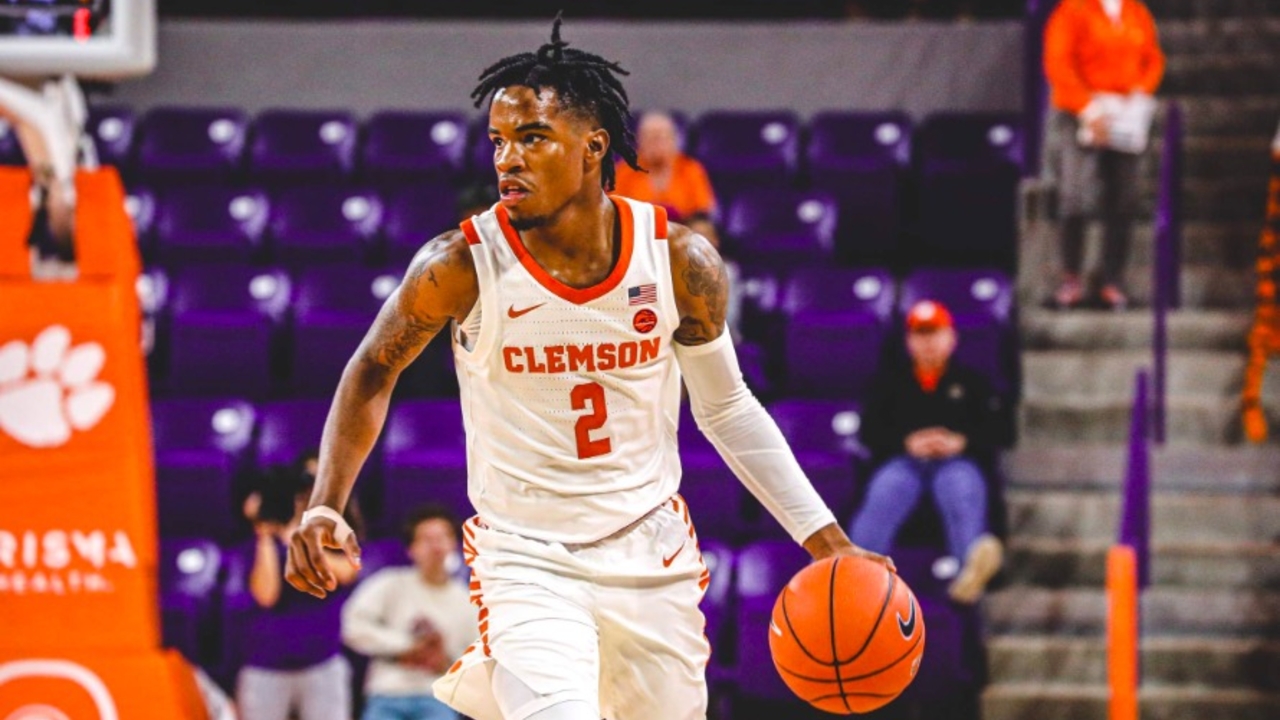 Clemson Basketball
Clemson Goes on 23-0 Run, Races to Victory Over Alabama A&M
---
CLEMSON, S.C. – Controlling the action from start to finish, the Clemson University men's basketball team picked up a commanding victory over the Alabama A&M Bulldogs on Thursday. The Tigers won 87-51 at Littlejohn Coliseum to round out their 5-game homestand to kick off the season.
The Tigers (4-1) were highly efficient from the field, compiling a field-goal percentage of 53.1 percent. Bench production was key for the Tigers, as 40 of Clemson's points came from players inserted into the game off the bench. The Bulldogs (0-5) committed 18 turnovers, and Clemson took advantage by racking up 31 points off turnovers. The Tigers also made a mark beyond the arc, knocking down 12 3-point shots.
Al-Amir Dawes served as Clemson's floor general on the night, with the freshman leading all scorers with 19 points to go along with his five rebounds. Tevin Mack recorded 16 points for the Tigers, going 3-for-6 on 3-pointers. Trey Jemison chipped in 10 points and five boards, both career-high marks, and Hunter Tyson tabbed 10 points and nine rebounds. Brandon Miller led the Bulldogs with 17 points on 6-of-11 shooting.
In the early goings, the Tigers took an 8-0 lead before the Bulldogs got on the board. A 23-0 run was what provided Clemson with plenty of breathing room, though, resulting in the Tigers going up 34-7 at the 7:24 mark. John Newman III highlighted Clemson's dominant first half by posterizing his defender on a two-handed slam dunk.
Leading 54-19 at halftime, the Tigers did not let up in the second half, racing to a 36-point victory. Walk-on Wells Hoag made his Clemson debut in the second half. Hoag excited the Littlejohn crowd by connecting on a 3-ball after chasing down a loose ball. Ten different Tigers etched their names into the scoring column in the 87-51 triumph, with Hoag contributing five points.
Clemson will journey to Las Vegas for its next contest, as the Tigers are set to take part in the 2019 MGM Resorts Main Event. The Tigers' first action in the tournament will see them match up with the TCU Horned Frogs on Sunday, Nov. 24. The contest is scheduled to begin at 10:30 p.m. and will air on ESPN2.
---
Brad Brownell Postgame Quotes
Opening Statement:
"We played a pretty clean game. It was a fun night because we got to put some guys in that were working pretty hard for us. At the end of the game, they got to play some significant minutes, so it was fun for them, as well. I am really pleased with O'Neil [McBride], Parker [Fox] and Wells [Hoag]."

On Wells Hoag:
"You know it's funny. It's kind of an interesting story. He's a guy who was a Bridge student his first year, so this is his first year at Clemson. Now, he's a part of the team. We already have a lot of walk-ons, so we've done this with a couple of guys where they become manager. We know this is a guy who could become a walk-on next year. You need to earn your spurs and see if you really want to do it for the right reasons. He's been great, and he's worked really hard. We put it into motion, and it took about a week to get him where he could actually play in a game. We've been working on it. He only knows about a quarter or a third of the playbook. Physically, he's a pretty good-sized kid. He's a bright kid. He's competed very hard and done stuff with our guys. He showed today that he can play a little bit. He was very good. All those guys did a very good job out there."

On Paul Grinde:
"He's comfortable. If you let him get set and get a dribble or two, then he's got a good chance of making it. He can make a three, and he's a skilled kid. He passes the ball very well. He's really fought hard to work to get to where he can play at this level. I've said it for a long time: There may come a time where he's going to be out there when we play a Florida State or somebody big and strong when there's fouls on the front line, and we need him for a couple of minutes in the first half. He's working towards that. We saw a couple of nice moves out of him. That is a regular occurrence in practice."
Never miss the latest news from Clemson Sports Talk!
Join our free email list